There has been a flurry of books about Everest published this year to coincide with the 60th anniversary of the first ascent by Edmund Hillary and Tenzing Norgay as part of a British team led by John Hunt. This one stands out, not only because it's one of the most scholarly books about Everest ever written, but because it's a brave book which challenges many widely held beliefs and provides a very different perspective of the 1953 expedition than most other accounts.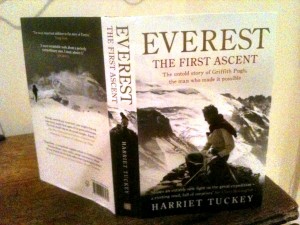 But the first thing to observe is that Everest The First Ascent is a puzzling title, because that's only a small part of what the book's about. The actual climb itself from base camp to summit is dealt with in a single 10 page chapter, and the 1953 expedition, its background and fallout is done and dusted by page 167 out of 320. This is not to the book's discredit, though, because its subject is so much broader. If you're interested in reading a general account of the 1953 expedition then try the classic contemporary accounts like John Hunt's The Ascent of Everest, Wilfrid Noyce's South Col or James/Jan Morris's hilarious Coronation Everest, or more recent ones such as Walt Unsworth's Everest or Mick Conefrey's Everest 1953. Then when you've read some of those come back to this one and look at the events in a new light.
What the book actually is, is a biography of Griffith Pugh, one of the early pioneers of high altitude medicine and sports science, a man who led a very interesting life, designed much of the equipment for the 1953 expedition, took part in it himself and just happens to be the author's father. More broadly the book is also an important tribute to all of the many unsung heroes who make essential contributions to the success of high altitude mountaineering expeditions, and as someone who needs a great deal of help from other people to get up big mountains himself, that's a subject very close to my heart.
The first half of the book covers Pugh's war years as a mountain warfare instructor in Lebanon, and early career as a physiologist working for the Medical Research Council (MRC). It describes how he came to be recruited into the Everest effort by Michael Ward, a young doctor and mountaineer who was worried Britain would lose the race to climb Everest unless the Joint Himalayan Committee, the establishment body (or to use Will Carling's words, the 57 old farts) responsible for organising British expeditions to Everest, started taking the science behind high altitude mountaineering much more seriously.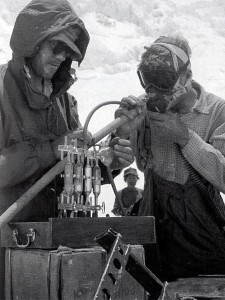 One of the first great romantic myths the book challenges is the belief that the first ascent of Everest was a heroic triumph for Britain. Here the British Everest story is portrayed as a story of incompetence and failure, mixed with a liberal sprinkling of diplomatic scheming. Harriet describes how the British failed seven times to climb Everest before the war and used their position of power and influence in India and Tibet to deny other nations the opportunity of climbing it themselves.
Pugh was drafted into Eric Shipton's 1952 expedition to the Khumbu region of Nepal, an expedition that has often been portrayed as a reconnaissance to map the land and test oxygen at high altitude. Here it becomes a Keystone Kops style attempt on Cho Oyu, the world's sixth highest mountain, culminating in a lame assault which ends at 6800m, and a disillusioned team splitting up and buggering off to explore other corners of Nepal. While Pugh was appointed to conduct research, in reality he had very little support from Shipton, met with suspicion from the majority of the team, and was only able to investigate the oxygen thanks to the support of more scientifically-minded climbers like Tom Bourdillon and Campbell Secord.
Despite this, he was able to observe that four litres a minute was the optimum flow rate, a statement that proved remarkably accurate. He also made two very important discoveries which are bread and butter to Himalayan climbers these days. The first was the matter of hygiene. Nobody would dream of carrying out an expedition today without paying meticulous care that crockery and eating utensils are clean, water is boiled or purified before drinking, and hands are washed before eating. Yet Pugh was shocked to discover climbers drinking from streams, shaking hands with snotty nosed kids, and sleeping on the floors of dirty houses. Unsurprisingly, most team members suffered from the shits. Diseases like giardia and dysentery are rare on Himalayan expeditions now because people take care of themselves, but back in those days it was common for climbers to be struck down for days, affecting their acclimatisation and leaving them much too weak to perform well on the mountain.
Pugh also noticed climbers were spending much of the time severely dehydrated, and he recommended everyone drink at least six pints of fluid a day. Nowadays the recommendation is four litres. Two of the most important rules for anyone going to high altitude are not to over-exert and not to become dehydrated. We have soup before every meal, and in high camps much of our time is spent melting snow to drink. We take such things for granted, but for Pugh's team mates such a simple instruction was a revelation that improved their performance massively.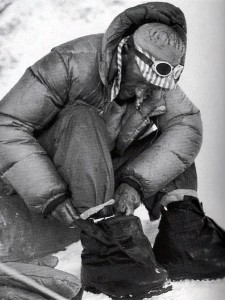 Despite the lack of cooperation from climbers, after the Cho Oyu expedition Pugh was immediately recruited to work full time on the 1953 Everest expedition. Shipton was sacked as leader in favour of John Hunt and Harriet spares no punches in her criticism of Shipton's bumbling style of leadership. While Pugh was conducting experiments at 6100m on the Menlung Glacier, he was off on a jaunt down the Barun Valley with Edmund Hillary and George Lowe. Pugh's report about Shipton's leadership to his bosses at the MRC, led to them threatening to withdraw their support for 1953 unless he was removed as leader.
More surprisingly Hunt's leadership is also criticised. While Pugh found Shipton "a very dreamy sort of man", he described Hunt as "pompous and out of reach". When left to his own devices Pugh thought Hunt was no good at choosing equipment. The walking boots he selected after a trip to Switzerland were found to be much too cold for use at higher altitudes, and he didn't think it worth providing snow goggles for any of the porters who didn't have to climb through the Khumbu Icefall.
The sheer amount of equipment Pugh was involved in designing is jaw dropping. He used a wartime discovery that one kilo on the foot equalled four kilos on the back to help design a lightweight high altitude boot which could cope with temperatures of -40°C. He tested nine different fabrics to choose a nylon-cotton hybrid for the tents and climbing suits. He insisted all the clothing was properly fitted, and added pockets and loops with zips rather than buttons. He recommended modifications to the tents including sewn-in groundsheets, better ventilation, and entrances better designed to keep out wind and snow. He helped to design the down sleeping bags, recommended a double-layered airbed, and insisted on plenty of sun cream. He responded to complaints from previous Everest expeditions that the weight of oxygen apparatus cancelled out the benefits of using it, by performing experiments in the field to calculate the work done by climbers with and without it. He proved scientifically that the complaints were perfectly true, and the apparatus was redesigned to be as light as possible.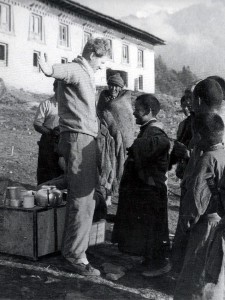 One of the main points the book makes is that Griffith Pugh has never received the credit he deserves for the contribution he made to the success of the 1953 expedition, and Harriet makes no secret of the fact that one of her principal purposes in writing it is to set the record straight. Until now Pugh has been a fringe figure in the Everest story. In some respects it's not that surprising, and this book is unlikely to change that fact. Most people aren't that interested in the science behind mountaineering, any more than they are likely to get excited about the design of Lewis Hamilton's engine or the hand movements of Bradley Wiggins's masseur. It's always going to be the leading participants who take centre stage.
Today most mountaineers focus on their own exploits when providing accounts of their expeditions, and fail to give due credit to many of the people who help them, with the possible exception of their sponsors (for those who have them). Sherpas lift heaven and earth to help people climb Everest, but often their contribution goes unacknowledged. A modern day Griffith Pugh is a man called Michael Fagin who sits in Seattle during Everest season producing astonishingly accurate weather forecasts. Climbers hang on his every word and make their summit pushes based on his predictions. Hundreds of people have summited Everest in relatively benign conditions in recent years thanks to him, myself among them, but many of them don't even know his name, and only once in a blue moon is his contribution acknowledged.
But there is also a more mystifying side to the story. You can forgive the general public, journalists and even some Everest historians for paying scant attention to Pugh's contribution, but if he designed so much of the equipment and gave so much important advice to the climbers in 1953, why was he not acknowledged by the climbers themselves?
Chapter 15 of the book describes how Pugh was portrayed as a nuisance in expedition photographer Tom Stobart's film of the expedition, hassling climbers for tests at base camp. In the official expedition book The Ascent of Everest, Hunt went out of his way to thank many people by name for their help in the expedition preparations, but Pugh's name is consigned to a couple of appendices at the back of the book which he wrote himself. Many people are mentioned for their help in designing the oxygen apparatus, but not Pugh. Forty years later in his autobiography Life is Meeting Hunt admitted that he didn't give Pugh due credit for his role in the first ascent.
Harriet provides two possible explanations for this public snubbing. One was Hunt's romanticism, and his wish to underplay the contribution of science in favour of portraying the ascent as a triumph of the human spirit. But with eight appendices devoted to planning, equipment and diet, this explanation is unconvincing. The other theory is that Pugh was a difficult character no one liked. But this is also contradicted elsewhere. The Times correspondent James Morris is quoted as saying he always enjoyed Pugh's company, and that it was Pugh who persuaded him to climb up to the Western Cwm to receive the news of Hillary's and Tenzing's ascent. Charles Evans found Pugh "amusing, vague, irascible and likeable". Expedition doctor Michael Ward always had time for him and there is a suggestion that Hunt himself thought it was useful to have someone other members of the team could laugh at. An example of this tendency was one occasion at base camp when Pugh climbed for five hours up the Khumbu Icefall with Sherpas in order to carry out experiments into anoxia, only to open his box of equipment and find it full of jars of mango chutney. These were known to be Pugh's favourite relish, and when he arrived back at base camp in a foul temper he noticed everyone was laughing, and realised they must have switched the boxes deliberately.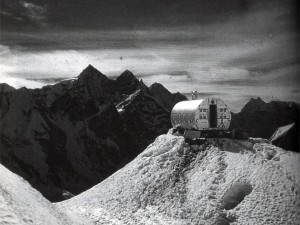 While his contribution to the 1953 Everest expedition went largely unacknowledged by the general public, it was not so with the scientific community. He went on to have a distinguished career in human physiology in extreme conditions, and became a great pioneer in the field of sports science. The second half of the book covers this period. He found more cooperative volunteers when he started studying the effects of hypothermia on long distance swimmers, and even persuaded one of them, Jason Zirganos, to swim the entire length of Windermere with a thermometer inserted five inches up his rectum.
Some of the most interesting chapters of the book are the ones devoted to the Silver Hut Expedition. Edmund Hillary raised funds for Pugh to spend a winter at 5800m on the Mingbo Glacier in the Everest region with a team of scientists researching high altitude physiology. After the research period Hillary arrived to lead a disastrous attempt on Makalu which would have ended in tragedy were it not for the efforts of one of the non-climbing scientists John West, who donned oxygen apparatus and climbed to 7400m to save several climbers' lives. Hillary emerges from this episode as a short-sighted and egotistical leader who ignored much of Pugh's advice, misinterpreted many of his findings, and ultimately tried to claim credit for much of his research. He even stole the text of some of Pugh's dispatches and quoted them verbatim and uncredited in his book.
Back in Britain Pugh started applying his scientific approach to the Outward Bound movement. He investigated a number of deaths from hypothermia in much less extreme conditions by youths out backpacking in the hills. He discovered jeans are no good for walking when they become soaked in wet and windy weather, and that youngsters would be better off walking naked. Many things hill walkers now take for granted were discovered by Pugh during his research.
His expertise at high altitude brought him to the attention of athletes concerned about altitude training for the 1968 Olympics in Mexico City. He took a group of distance runners there to train above 2000m, and discovered they needed to spend at least a month acclimatising for their performances to be even vaguely comparable to what they were at sea level. During this period he also conducted experiments on slipstreaming, and discovered athletes could gain a second per lap if they hung on the shoulders of the athlete in front. This is standard practice for athletes today, but back then it was a great discovery.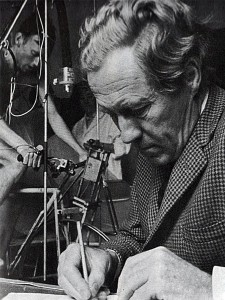 Perhaps the saddest aspect of Griffith Pugh's story is not his unrecognised contributions to science, but his relationship with Harriet. This book is no sentimental memoir by a doting daughter, but a candid warts-and-all tale of a man she never actually liked. It's clear she has tried as hard as she can to be objective, and the chapters about their relationship make uncomfortable reading. The story is all the more poignant because they were never reconciled during his lifetime.
She first became aware of the importance of his role to the Everest expedition in her forties. In 1993 in a speech at the Royal Geographical Society, Michael Ward stood up and sang his praises. The following year Pugh died, and it wasn't until 2003 she started researching his life with a view to writing his biography. She managed to interview all the surviving expedition members (only James, now Jan, Morris is still alive) and recovered Pugh's private papers from the University of California.
During their interview Ward told Harriet that "I would have thought he would have been absolutely dreadful to have been married to". This, it seems, was an understatement. He had a string of affairs and was still seeing prostitutes at the age of 80. He spent much of his wife Josephine's inheritance on sports cars he was frequently crashing when drunk. He often disappeared on holidays on his own, leaving his wife with the kids, and when he was left to look after them himself he frequently forgot about them. There are various anecdotes of him locking them in the car while he attended a function and leaving them there for hours
While this absent-mindedness was amusing to his colleagues, to his wife it was taxing, and when she ran away to India to attend a retreat he responded by shagging the au pair she had employed to look after Harriet. While Josephine was away he put their physically disabled son in an asylum because he couldn't cope with looking after him. In her teens Harriet rebelled. She was expelled from three schools and started work in a local shop. She went to live with her aunt, and only at nineteen did she return to school to finish her 'A' levels and go to university. She was supported by her mother's inheritance, and Pugh apparently said of her that "she must be thrown out on the streets where she belongs".
I expect time has healed some of these wounds, and it's to her great credit she has produced such a well-researched and objective tribute to his memory. It must have been very painful researching his life in such detail when he ended it estranged from her. She concludes the book with a moving statement:
"The pleasure of learning about his unique talent and recording his unusual life has banished the last vestige of umbrage from his daughter's unforgiving heart and replaced it with a hope that, had he been alive, he would not have been too displeased with my efforts."
He would have been a very hard man indeed if he rejected that.
I would like to thank Harriet's editor David for providing me with a review copy of the book. Nobody has asked me to review a book before, but as it was a subject very close to my heart I had no hesitation in taking up the offer. I should mention that I genuinely enjoyed it, and have felt under no pressure to write a favourable review.
To receive email notifications of my blog posts about mountains and occasional info about new releases, join my mailing list and get a free ebook.