If everything goes to plan then by the time you read this I'll be freezing my nuts off on a glacier in Alaska. In January my friend Dan and I decided we would book to climb Denali, the highest mountain in North America, also known as Mount McKinley.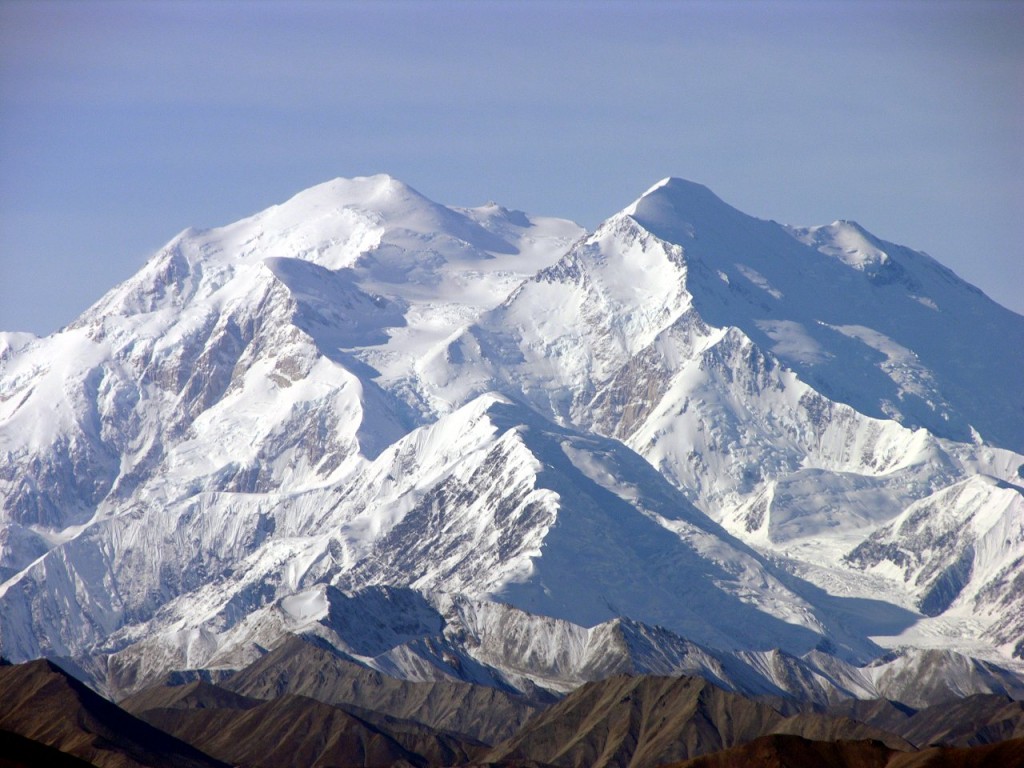 We talked about it for a while, and Dan was training very hard while I adopted my more laid back approach of running into work, walking in the hills and occasional sessions of heavy drinking (a training technique I discovered on Everest last year). I usually do enough climbing and trekking to retain some residual mountain fitness from expedition to expedition, but even so Denali is going to be tough. It will be my first experience of carrying a heavy pack while towing a sledge along behind me. It's difficult to know how to train for this. I once met someone who told me they trained for an expedition across the ice of Antarctica by dragging tractor tyres behind him, but neighbours from his village eventually complained that he was ruining the pavements. Personally I don't believe any mountain is worth humiliating yourself for beforehand, so I'm going to keep my fingers crossed I will be fit enough.
Meanwhile Dan decided to take things a bit more seriously and signed up to do British military fitness training every Saturday down in Richmond Park, rolling around in frozen mud and completing an assault course while being shouted at by a sergeant. He used to send me text messages every time he did it to try and make me feel guilty. Sadly for Dan things went horribly wrong in April, when he discovered he needed surgery to repair a herniated disc in his neck which was impinging a nerve. He also needed an additional operation to remove a mobile phone from the place an army sergeant had inserted it, which IMHO illustrates as starkly as anything the dangers of over-training. Unfortunately this meant Dan had to cancel his expedition, so I will have to climb Denali without the pleasure of his cheerful sense of humour. I will also miss his entertaining headgear.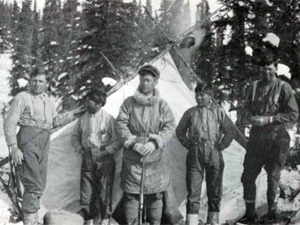 By happy coincidence I have chosen to climb Denali in the centenary year of its first ascent. On 7th June 1913 a 49 year old Episcopal missionary called Hudson Stuck reached the summit of the 6194m (20,320 ft) South Peak with his companions Harry Karstens, an expert wilderness explorer, and the youngsters Walter Harper and Robert Tatum. None had mountaineering experience, but the expedition had been well-planned. Approaching the mountain by dog sled from Fairbanks, they climbed from the north side via the Muldrow Glacier. Roped together and using a long pole to probe for crevasses in front of them, it took them three weeks to climb the Northeast Ridge by hewing a three mile staircase in the shattered ice. It was bitterly cold, dropping to -30°C at night, but they often found it swelteringly hot in the midday sun. Stuck described how their faces burned "as brown as Indians", but in case you think he was being racist, it's worth pointing out that he was one of the first people to insist on calling the mountain by its native Athabaskan name of Denali instead of Mount McKinley. He even called his account of the the climb The Ascent of Denali. Despite the cold the team were well equipped with large moccasins and thick gloves with fur mittens. At night they had down quilts, blankets and wolf robe bedding, and their tent was lined with sheep and caribou skins for insulation. Their ascent seemed straightforward compared with previous attempts.
It's possible the first non-native to see Denali may have been the great Yorkshireman Captain James Cook when he discovered Cook Inlet on the southern Alaskan coast in 1778. Sixteen years later Captain George Vancouver almost certainly did during a more thorough exploration of Cook Inlet, when he mentioned huge snow-capped mountains to the north. The first confirmed sighting was by the traders Arthur Harper and Alfred Mayo during an ascent of the Tanana River in 1878. It was the gold prospector William Dickey who decided to name it after the future 25th President of the United States, William McKinley, when he surveyed it in 1896. There have been numerous attempts to return its native Athabaskan name Denali (meaning The High One), and the national park was named Denali National Park and Preserve in 1980. While the Alaska Board of Geographic Names now calls it Denali, various attempts to make the United States Board of Geographic Names change it from Mount McKinley have been thwarted by the oddly named Congressman Ralph Regula from Ohio, William McKinley's home state.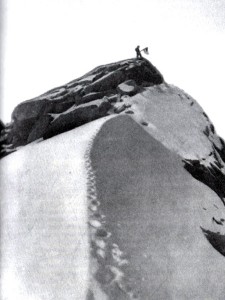 Judge James Wickersham made the first attempt to climb Denali in 1903, reaching 2500m on a spur of what is now known as the Wickersham Wall. The most notorious attempt was made in 1906 by the polar explorer Frederick Cook and his companion Edward Barrill, in what became the world's most ineffective false summit claim. Cook had already made a failed attempt with Professor Herschel Parker and the artist Belmore Browne, and had returned to the Pacific Coast, when he announced he was going to return for a further reconnaissance. Barely a month later he and Barrill returned to civilisation with a photograph of Barrill holding the American flag on top of an insignificant rock, claiming it was taken on the summit.
"I knew Dr Cook had not climbed Mount McKinley … in the same way that any New Yorker would know that no man could walk from the Brooklyn Bridge to Grant's tomb in ten minutes," the incredulous Browne said. It took him four more years to explode the hoax when he returned to the area with Parker and found the exact rock Cook's "summit" photo had been taken from, and contrived the same picture himself. By then Cook had become embroiled in another controversy by claiming to have reached the North Pole, another claim which is now believed to be a hoax.
Contrast Cook's feeble hoax with the performance of the Sourdough Expedition, which made the first ascent of Denali's 5934m (19,470 ft) North Peak in 1910. Sourdough is a slang term for the gold prospectors who came to Alaska during the Klondike goldrush of the 1890s. In 1909 a 50 year old prospector called Thomas Lloyd was having a few jars at Bill McPhee's bar in Kantishna a few miles away from Denali and ranting about Frederick Cook's false summit claim. Give him $1500 to launch an attempt, he said, and he could find a team of sourdoughs to succeed where Cook had failed. McPhee volunteered $500 of his own money, and found two more local businessmen to do likewise. The Sourdough Expedition was born, and as winter ended four gold prospectors with no mountaineering experience, including Lloyd, set out up the Muldrow Glacier with a 14 foot spruce pole containing a 12 foot by 6 foot American flag. They intended to plant it on the summit of the North Peak, as they believed it would be seen from Kantishna. At 3am on 3rd April, Charles McGonagall, Pete Anderson and Billy Taylor set out from their high camp at 3350m (11,000 ft) and climbed over 8000 vertical feet (around 2500m) in a little over 12 hours. Just short of the summit, McGonagall stopped.
"No, I didn't go clear to the top. Why should I?" he explained later. "I'd finished my turn carrying the pole before we got there. Taylor and Pete finished the job. I sat down and rested, then went back to camp."
Quite right, too. What self-respecting mountaineer carrying a 14 foot spruce pole would do otherwise?
It took them another six hours to return to camp, an 18 hour round trip. With the Cook controversy still raging, the astonishing performance of this team of mountaineering greenhorns was greeted with similar incredulity. During another attempt in 1912 which was turned back by high winds just short of the South Peak, Belmore Browne and Herschel Parker said they saw no evidence of the flagpole as they passed the North Peak, but in 1913 an eagle-eyed Walter Harper spotted it from their 16,600 ft camp during Hudson Stuck's first ascent expedition. Each of the team looked through binoculars and confirmed the discovery. The Sourdoughs were vindicated.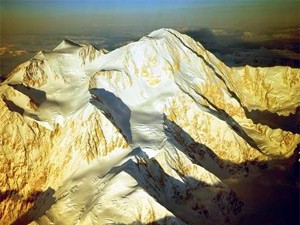 All the early ascents of Denali were made by the same northern route up the Muldrow Glacier, including two by Bradford Washburn in 1942 and 1947, but during some mapping flights over the mountain in 1936, he spied what he thought to be an easier route up the West Buttress. In 1951 he made the first ascent of this route with William Hackett and Jim Gale, and the climb was pioneering in more ways than one. Instead of the long trek in from the lowlands, with many perilous river crossings, midges and bears (judge for yourself which of these is more perilous), the bush pilot Terris Moore landed a ski plane at 2300m (7600 ft) on the Kahiltna Glacier. Around 1000 people a year attempt Denali these days, nearly all of them via the West Buttress after flying onto the Kahiltna. It's the way I'll be trying to climb it as well.
I say "will be trying to". Although it should be well within my capabilities, you always have to be prepared for bad weather on a mountain, and Denali is notorious for it. A combination of the extreme cold, high winds, avalanche risk and inexperienced climbers means that Denali has an abnormally low success rate of only 52%. Indeed, it's so cold that I'm told you sometimes need to pee through a sock to prevent frostbite. Last year conditions were particularly bad, and of 1223 climbers attempting the mountain only 498 reached the summit, a success rate of just 41%. Fortunately this year the reports have been good. By June 11th the National Park Service was reporting a long spell of good weather and an unprecedented 77% success rate. Of the 1035 climbers registered to climb Denali this year, 402 had already reached the summit. I hope this good weather will continue. My expedition is scheduled to extend into July, towards the end of the season. This means it should be warmer, but it also means crevasses will begin to open up, making the terrain more treacherous in places.
As the highest point in North America Denali carries the special attraction of being one of the Seven Summits (the highest mountain on each continent). I've already climbed four of them – Kilimanjaro (Africa) in 2002, Aconcagua (South America) in 2010, and both Everest (Asia) and Elbrus (Europe) last year. With a success rate of only 52% the chances are high that I will need more than one attempt to get up Denali, but I'm keeping my fingers crossed for good conditions.
The American Alpine Club is currently running an excellent online exhibition of historic photos on its website to commemorate the 100th anniversary of the first ascent. You may also be able to follow my progress via the American Alpine Institute's expedition dispatches.
To receive email notifications of my blog posts about mountains and occasional info about new releases, join my mailing list and get a free ebook.