I've been fascinated by the legend of George Mallory, and whether he was the first person to climb Everest, since long before I became a mountaineer. Many years and many mountains later I finally had the chance to follow in his footsteps earlier this year, when I climbed Everest by the Northeast Ridge where he disappeared in 1924. I have always assumed that he never reached the top, but it was an assumption I reached from books that analysed his last climb. Would going there and climbing the features I had read about so many times cause me to change my opinion?
The story has been written about many times, but for those who are unfamiliar with it, here is a summary. He and his companion Sandy Irvine were last seen climbing a rock step on the Northeast Ridge of Everest at 12.50pm on 8 June 1924 by a fellow team member Noel Odell, who was climbing from Camp 5 to Camp 6 (their high camp) behind them in support. They never returned, and ever since there has been speculation as to whether they were the first people to climb Everest 29 years before Edmund Hillary and Tenzing Norgay in 1953. The discovery of Mallory's body in 1999 did nothing to answer this question.
For many months after my climb I didn't give it much thought. But re-reading Noel Odell's description of the fleeting glimpse he saw of the climbers last week made me reconsider. I pulled out a few photographs that I took of the climb and tried to put myself in his shoes. This is what he said in his original expedition dispatch:
"There was a sudden clearing of the atmosphere, and the entire summit ridge and final peak of Everest were unveiled. My eyes became fixed on one tiny black spot silhouetted on a small snow-crest beneath a rock-step in the ridge; the black spot moved. Another black spot became apparent and moved up the snow to join the other on the crest. The first then approached the great rock-step and shortly emerged at the top; the second did likewise. Then the whole fascinating vision vanished, enveloped in cloud once more. There was but one explanation. It was Mallory and his companion moving, as I could see even at that great distance, with considerable alacrity … The place on the ridge referred to is the prominent rock-step at a very short distance from the base of the final pyramid."
Noel Odell, The Mount Everest Dispatches, Alpine Journal, No.229
There has been a great deal of speculation about which rock step Odell was looking at when he saw the climbers, so first it's necessary to acquaint ourselves with some of the features on the Northeast Ridge. Here's what Everest looks like from Base Camp on the north side.
As you can see, there are three possible candidates for Odell's rock-step. When he made the original dispatch, Odell assumed he had seen Mallory and Irvine on the Second Step. However, at high altitude and in the heat of the moment the memory often clouds. By the time he was quoted in team leader Edward Norton's account of the expedition, he seemed to be having doubts about whether it may have in fact been the First Step.
"There was a sudden clearing of the atmosphere above me and I saw the whole of the summit ridge and final peak of Everest unveiled. I noticed far away on a snow slope leading up to what seemed to me to be the last step but one from the base of the final pyramid, a tiny object moving and approaching the rock step. A second object followed, and then the first climbed to the top of the step. As I stood intently watching this dramatic appearance, the scene became enveloped in cloud once more, and I could not actually be certain that I saw the second figure join the first. It was, of course, none other than Mallory and Irvine, and I was surprised above all to see them so late as this, namely 12.50, at a point which, if the 'Second Rock Step', they should have reached according to Mallory's schedule by 8am at the latest, and if the 'First Rock Step' proportionately earlier … I could not be precisely certain at which of these two 'steps' they were, as in profile and from below they are very similar, but at the time I took it for the upper 'Second Step'. However, I am a little doubtful whether the latter would not be hidden by the face."
Noel Odell in The Fight for Everest by Edward Norton.
Why this confusion when the three rock steps seem to be very distinct? It's a question of perspective. Things start to look very different when you get higher up the mountain. A photo of the three steps from Base Camp won't tell us much, but let's go a little higher and try to get some idea of where Odell was at the time he made the observation.
Here's a view of climbers on their way up from Camp 1 on the North Col to Camp 2, with the route up to the Northeast Ridge shown in red. The point where the route joins the ridge is known as the Exit Cracks, and from there it follows the ridge all the way to the summit pyramid, at which point it's necessary to traverse beneath a rock band for a short way until a way can be found through it up to the summit. Modern day Camps 2 and 3 roughly correspond to Camps 5 and 6 in 1924, so Odell would have been following the red line approximately when he saw Mallory and Irvine. He left Camp 5 (or 2 on the diagram) at 8am and arrived at Camp 6 (or 3) at 2pm. He saw the figures at 12.50. To get some idea of the view Odell would have seen it's therefore necessary to look at a photograph taken somewhere between modern day Camps 2 and 3. We can't be certain precisely where he was, but the sequence of photographs below gives some idea of the change in perspective.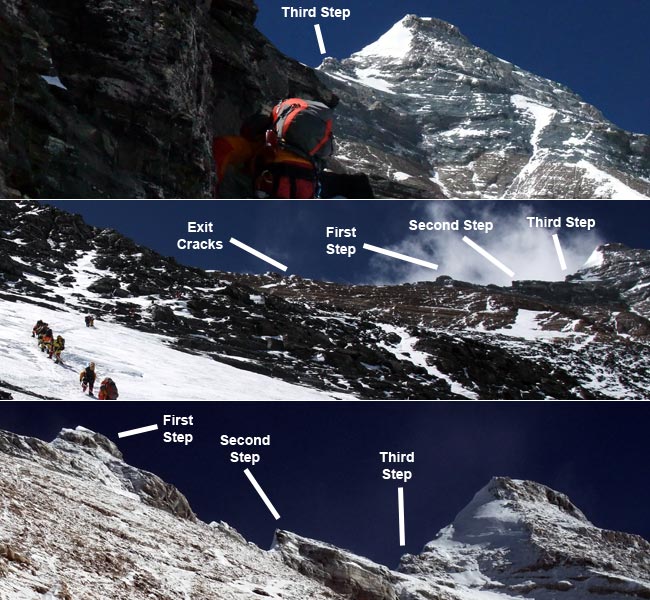 It took me four hours to climb from Camp 2 to Camp 3 (Odell, a geologist, was stopping to examine rocks, and so was taking it leisurely). The first picture in the sequence was taken about an hour out of camp at which point, as you can see, only the Third Step was visible. The second picture was taken at approximately the halfway point, while the third was taken from Camp 3 itself. It's probable therefore that Odell saw Mallory and Irvine at some point between the second and third photos in the sequence.
But what does this tell us? In my opinion, the most pertinent words are contained in his first statement, when he stated he was looking at the prominent rock-step at a very short distance from the base of the final pyramid. I believe Odell's statement in his dispatch, rather than the one he made in Norton's book, is likely to be more accurate. It was made when the incident was fresher in his mind and before he had the chance, possibly influenced by the questions from other people, to over-analyse. Speaking from experience, I find my memories of climbs tend to shift and change as they become merged with the descriptions of others, until I can no longer remember what I witnessed and what was simply told to me by other people. The only way I can separate the two is by looking at what I recorded in my diary immediately afterwards. I believe something like this almost certainly happened to Odell, who didn't return to the Northeast Ridge afterwards to re-examine things.
The prominent rock-step at a very short distance from the base of the final pyramid doesn't look to me like it can possibly be the First Step. If anything, it's more likely to be the Third Step. I think therefore that by 12.50 Mallory and Irvine were at least at the Second Step, possibly at the Third. They still had another seven or eight hours of daylight ahead of them, and this is what they will have seen.
Above the Second Step the ridge, which is narrow and precipitous between the First and Second Steps, broadens considerably and becomes much safer. The Third Step and summit pyramid are up ahead, and for the first time the climber feels that the summit is within reach. They may be unaware the true summit (indicated in the photograph) is in fact a little beyond the prominent rock pyramid up ahead.
By the time a climber reaches the Third Step, the summit seems to be very close indeed, though in reality there are still another two hours of climbing needed to reach it. One of my team, Margaret Watroba, made the agonising decision to turn round here on May 19 this year, but many are not so wise. A dead body currently rests at the bottom of the Third Step, shielded from view by the figure in yellow in this photograph. I counted a further three bodies as I was descending at around 1pm, roughly the time Mallory and Irvine may have been here, if indeed Odell had seen them climbing the Third Step rather than the Second. More poignantly, as I descended the Step, a single figure in a red down suit waited at the bottom. He was still going up, and he appeared to be on his own. I was exhausted and concentrating on my own very difficult descent. It did not occur to me how late it was and we passed each other without a word. He did not return.
As many as five climbers may have died on Everest this year as a result of summit fever, the determination to reach the summit at all costs, without consideration for the consequences of continuing on. Some of them had been told to turn around by their more experienced Sherpas, but chose to ignore the advice. With so many dead lying on or beneath the Third Step, a straightforward if exhausting scramble, I wonder whether this is because so many push themselves beyond their limit because the summit seems so deceptively close.
In 1933 Sandy Irvine's ice axe was discovered on the ridge a short distance below the First Step. George Mallory's body was discovered a few hundred metres directly below this in 1999. There was a hole in his skull and a rope around his waist which had snapped. His sunglasses were in his pocket, suggesting the pair may have been descending in the dark, when Mallory no longer needed to wear them. The ridge is wider at this point, and no trouble for fresh climbers during daylight hours. For exhausted climbers descending at night, a fall seems more likely. Perhaps it was Irvine, the inexperienced one. Perhaps he dropped his ice axe in the fall and the rope was cut on a rock as the pair plunged. Mallory was probably already unconscious from the blow to his skull by the time he came to rest a few hundred metres lower down.
Mallory was a man obsessed with "conquering" Everest. He saw it as his destiny, and he knew that after two previous attempts the expedition in 1924 would be his last chance. Having been there myself and seen how people behave with the summit apparently so close, I don't believe he of all people would have turned around above the Second Step, especially if he was still moving "with considerable alacrity". Once above the Third Step it seems unthinkable, except with the benefit of hindsight, knowing (as we do now) how far there is left to go. If it was dark by the time they were descending below the First Step then they must have climbed well beyond the Second Step after Odell saw them at 12.50, and some way beyond the Third one too, before they turned around.
You may be thinking that summit fever is something that only inflicts the inexperienced climbers. Someone like Mallory would surely know that the summit is only halfway? Maurice Herzog was one of France's most experienced climbers when he led the expedition to Annapurna in 1950, which was to become the first successful ascent of an 8000 metre peak (or so we think). During their summit day, his climbing partner Louis Lachenal realised his feet were frozen and he risked frostbite if he did not turn around. This is how Herzog responded:
"In an hour or two, perhaps, a victory would be ours. Must we give up? No, that would be impossible. My whole being revolted against the idea. I had made up my mind irrevocably. Today we were consecrating an ideal, and no sacrifice was too great."
Maurice Herzog, Annapurna.
Herzog and Lachenal reached the summit, but they had an epic, agonising descent, and were lucky to survive. Both of them lost all their toes to frostbite, and Herzog lost all his fingers as well. It is notable that Lachenal was a professional mountain guide whose career depended on remaining free from injury. Herzog was the more educated of the two. His expedition book became a worldwide bestseller, and his position as the leader of the first expedition to climb an 8000er opened many doors for him. It seems hard to believe now, but he never regretted losing his digits. It was a different era, and Mallory was cut from Herzog's cloth, not Lachenal's.
I now believe George Mallory and Sandy Irvine did reach the summit of Everest in 1924, but does it matter? There is a growing minority in the mountaineering world who believe that first ascents should only be credited to climbers who get down safely as well as up, and they have a point.
There was no camera on Mallory's body when they discovered it in 1999. Many people believe Irvine was carrying it, and if only his body can be found then summit photos (or lack of them) will finally solve the mystery. But where is Irvine's body, exactly? If the rope snapped and he fell below Mallory, then he likely plunged 2-3000 metres down the North Face into the Rongbuk Glacier. If this is the case then it will still be many years before it emerges from the glacier snout at Base Camp, and by then it will be unrecognisable. If the camera is still in one piece then it will be a miracle, and will mean they flew to the summit in a flaming chariot drawn by unicorns. And a yeti probably popped up to take the summit photo.
Whichever way you look at it Hillary and Tenzing were the first people to climb Everest and get down again.
You can read my report of our climb via the North Ridge and see photos and video of it here.
[UPDATE, JANUARY 2016: If you enjoy reading about mountaineering history then you may be interested in my first full-length book, Seven Steps from Snowdon to Everest, about my journey from hill walker to Everest climber. The book is full of historical detail about the places I visit, starting with Snowdon, the scene of many of George Mallory's early climbs.]
To receive email notifications of my blog posts about mountains and occasional info about new releases, join my mailing list and get a free ebook.