I'm a few hours late with my blog this week, but it didn't seem appropriate to post this last night, on April 1st. It's time once again to pay tribute to a friend who has sadly lost his life in the mountains.
Last week Samuli Mansikka stood on the summit of Annapurna, his tenth 8000m peak. He planned to travel to Pakistan later in the year to climb Gasherbrum I and Broad Peak. If successful he would only have Nanga Parbat and Shishapangma left to become the second person from Finland, after Veikka Gustafsson, to climb all fourteen 8000m peaks. Sammy climbed Shishapangma in 2012, but reached the top in a whiteout, and couldn't be sure whether he stood on the true summit or slightly lower central summit, so he intended to go back. He also wanted to climbed Everest and Lhotse again because these were the only two he climbed using supplementary oxygen.
It wasn't to be. Somewhere on the way down from Annapurna, either the day he reached the summit or the following day, he and a team mate Pemba Sherpa fell to their deaths.
I climbed Cholatse in Nepal with Sammy in November, and shared a rope with him and another Finn, Miikka, on summit day. Miikka had climbed Island Peak a few years earlier on an expedition Sammy was leading. He was relatively inexperienced to be tackling a difficult high altitude peak like Cholatse, but his dairy marketing company was one of Sammy's sponsors, and we joked that Sammy had to get him to the summit safely to keep up his supply of free cheese. Cholatse was a very happy experience for all of us, one of those rare expeditions when everything seems to go right, and the whole team reached the summit. Both Miikka and I had Sammy to thank as leader of our rope team on a tricky summit climb.
Even before I met him he was a bit of a legend in my mind, a fearless climber who ascended 8000m peaks solo, and knew how to party when he got down. He was rumoured to take a hair drier with him on tea house treks, and once lost his temper with a male security guard who complimented him on his nice blond hair while boarding a flight from Islamabad to Skardu. There was the time he woke up with backache after falling asleep on his ice tools after a few drinks. On another occasion he was having his fingerprints scanned on transit through the USA.
"Will you put your fingers on the scanner like I asked you to," said the immigration officer.
"I am doing," Sammy replied.
"Will you try again, they're not showing on my monitor." It was then Sammy confessed he had lost a couple of fingertips to frostbite while climbing Dhaulagiri. The official looked up from his monitor, and stared Sammy in the face.
"Man, that's fucked up," he said, slowly shaking his head. "You can go through."
These stories painted the picture of a happy-go-lucky individual, and I imagined him to be a bit of a joker, but the Sammy I met was a much more serious and thoughtful person than I expected, a trekking guide as well as a star climber, who loved the Himalayas for its landscape, wildlife and people as much as for the exhilarating climbing.
Our Cholatse summit day involved some airy knife-edge ridges where a fall would have had serious consequences. On the way up Sammy stopped frequently to belay us across, but by the time we came to descend he had gained a lot more confidence in our abilities. As guide he was at the back of the rope on the way down. I led confidently across the ridges at the front of the rope, and when I looked back at the end of the most difficult section I was surprised to see he had simply followed us across. On the fixed ropes between Camp 2 and Camp 1 the following day he stayed at the back to ensure the anchors were secure in the soft powder snow.
Sammy was safe and attentive as a guide, but he was more of a risk taker when climbing for his own personal enjoyment. This is almost by definition for climbers attempting all fourteen 8000m peaks. To date 34 people have succeeded, and although there is no record of how many people have died trying, it's likely the number is very much higher. While we celebrated our Cholatse ascent at a bar in Kathmandu a few days later, Sammy told me of his Dhaulagiri ascent when he thought he was going to die. He climbed many of his 8000ers solo, and on Dhaulagiri he became lost in a whiteout during the descent. He wasn't carrying a GPS, and it was only by chance he found the fixed lines which marked a route back to camp.
Annapurna alone has a death rate of 35%. In other words, for every three people who reach the summit, one does not return. Most of its routes are fearsomely difficult, and it has no safe ones. The closest it has to a standard route is the one taken by the French team of Maurice Herzog during the first ascent in 1950, which passes through the avalanche-prone slopes of the North Annapurna Glacier. The mountain doesn't care how good a climber you are, and its victims include such illustrious names as Anatoli Boukreev, Pierre Beghin and Alex McIntyre. Climbing it is like a game of Russian Roulette. Sammy told me the only way was to ensure you were sufficiently well acclimatised and to spend as little time on its slopes as possible. The rest was down to luck.
His final tweets from the mountain paint a harrowing picture of the conditions he was facing.
Pure hell climbing from BC to C2 today! Waist-deep snow and full white-out! My tent had to be probed to be found a good 2m under snow! WTF!? — Samuli Mansikka (@Samuli_Mansikka) March 17, 2015
Retreated from base of headwall (6000m) due to closing weather front! Really freakin' cold on the mountain today! Why can't it just be good?

— Samuli Mansikka (@Samuli_Mansikka) March 18, 2015
There's this one hanging glacier and couloir that wants to kill you! Shoot a fair size avalanche on us today. Didn't hit but dusted us good! — Samuli Mansikka (@Samuli_Mansikka) March 22, 2015
Annapurna showed today that it really is fu..in' dangerous! Anyway got through the icefall and am now at above 6700m looking at Dhaulagiri!

— Samuli Mansikka (@Samuli_Mansikka) March 22, 2015
At camp 4 (7000m) on Annapurna North-face! Spectacular! Last night was terrible with just as much snow inside the tent as outside! — Samuli Mansikka (@Samuli_Mansikka) March 23, 2015
He climbed Annapurna with a Nepali operator called Dreamers Destination. They arrived early on the mountain, before the main Himalayan climbing season began, hoping that by climbing in March they would avoid the perishingly cold temperatures of winter and be off the mountain before the heavy snow arrived later in the season. It was a new strategy, and when they posted a message on their website on March 24th saying 13 members of their team had reached the summit – 6 Sherpas and 7 western climbers – it looked to be a very successful one.
I got carried away, and even tweeted Sammy my congratulations. But it was a stupid thing to do. I knew perfectly well the summit is only halfway, and it's when a climber is at their most vulnerable. Most people who die on the 8000m peaks do so on the way down, when they are exhausted and unable to concentrate. But somehow I believed if anyone would get down safely it would be Sammy. He was strong, talented and sensible. He also seemed to be one of those people who lived a charmed life, who I thought would survive no matter what.
What happened next will never be known for sure, but the whole team got into difficulties on the way down. It seems none of them returned safely to camp that night. Those who survived had to bivouac at 7400m, roughly 400m above their high camp, for reasons unknown, though the likely ones are that either the weather closed in and they could no longer find their tracks back to camp, or they reached the summit too late and darkness overtook them long before they reached safety.
The adventurers' website ExplorersWeb kept a log of the confusion that followed. At one point there was talk of arranging a helicopter evacuation for the survivors. They eventually found their way back to base camp under their own steam, though two were still at Camp 2 (5700m) on 27th, three days after they reached the summit. We are still waiting for the survivors to blog about their experience, and it is possible more information may emerge in time. If and when they do I hope they will describe the whole story and not just speak of summit glory.
It is likely Sammy and Pemba continued onwards on the 24th in the hope of reaching camp that night. Their bodies were discovered by air the following day at around 6700m. Sammy usually climbed alone, but the fact they both fell suggests they were roped together, a precaution Sammy may have taken after his experience on Dhaulagiri, one that was done for reasons of safety, but may have cost him his life.
Many reports described Pemba as Sammy's guide, but this term is misleading. All of the clients on the Dreamers Destination team were experienced independent climbers who employed Sherpas to help them carry loads and fix ropes, rather than to guide. Dreamers Destination stated on their website they were providing base camp only services to Sammy, who was himself a professional guide. Although I am speculating, it is likely he was the more experienced climber on the rope. On those precipitous slopes if one person fell it would be impossible for the other to arrest them. They would both be thrown to their deaths. It doesn't really matter which of them played which role, the outcome was the same for both. It's not necessary to apportion blame when these accidents happen. Both climbers will have been aware of Annapurna's reputation, and knew their margins were slight. For their own separate reasons they accepted the risk when they chose to climb it. It's a risk those who live more sheltered lives find difficult to comprehend. My thoughts are with the families of both climbers.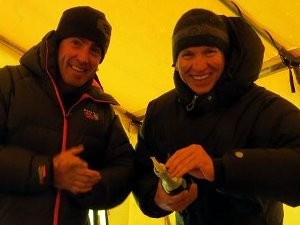 On Saturday Sammy's friend and former climbing partner Phil Crampton of Altitude Junkies tried to recover the bodies on behalf of Sammy's mother Erja Tolvanen. His team included Jason Laing of Simrik Helicopters, the New Zealand pilot we both watched make journey after journey into the Khumbu Icefall last April to recover the bodies of those who died in the Everest avalanche, Nepali pilot Capt Bibek Khadka, and a long-line rope specialist Chiring Dhunduk Bhote. This was an extremely dangerous operation, which involved the pilots hovering in the thin air at 6700m, perilously close to the side of the mountain, and lowering Chiring on a rope to clip in the bodies. They would need to do it twice, once for each body, and on both occasions Chiring would remain dangling from the rope while the helicopter returned to base camp. We saw a body recovered in this way last April. I don't know whether Chiring was the one swinging from the rope on that occasion, hundreds of metres above the Khumbu Glacier, but I would not have swapped places with him for all the summits in the world.
The team made numerous flights to try and recover Sammy and Pemba, but eventually they conceded they were pushing the aircraft's capabilities to the limit and endangering the lives of both pilots and long-line technician.
"I am now at peace after seeing Sammy once again and where he is. He will for ever be one with Annapurna," said Phil.
Short of bringing him home to Finland it's the most appropriate place for him to remain. It must be one heck of a place to spend eternity.
Sleep well, my friend.
Update, 15 June 2015
Yesterday Phil Crampton, who tried to recover the bodies, gave me more information about how he thought the accident happened.
He told me the bodies were found 250m apart. There was no evidence they had been roped together before the fall, such as a severed rope. Samuli was lying on his back, and Phil believed he had died instantly, while Pemba was lying prostrate with his arms in front of him in a swimming action, evidence that he had been trying to survive an avalanche. There was avalanche debris on the slope above them.
Phil believes Samuli triggered a slab avalanche while descending quickly from the summit, and Pemba was behind, trying to keep up. The avalanche took a substantial section of snow with it, enough to catch Pemba as well. As their bodies were both visible it is likely they both died from injuries sustained during the fall, rather than suffocation.
To receive email notifications of my blog posts about mountains and occasional info about new releases, join my mailing list and get a free ebook.