The headline Mallory's body discovered on Everest in 1936 appeared widely on social media sites last week. People were sharing an article by the mountaineering journalist Ed Douglas which appeared in the Guardian/Observer, believing that major new revelations had emerged about George Mallory, who went missing in mysterious fashion on Everest in 1924.
But George Mallory wasn't the main subject of this story, and the story of his body being "discovered" wasn't really a story at all, but a clever piece of marketing. But since the real subject of the story was arguably a far more interesting character than Mallory, I'm going to play along with the marketing and tell you a little bit more about him.
Contrary to the headlines, George Mallory's body wasn't discovered on Everest in 1936 at all. It was just that one of the expedition team members that year, Frank Smythe, thought he had seen a smudge somewhere on the North Face through a telescope, which he thought might have been a body. Smythe was at base camp at the time, 16 horizontal kilometres north and 3 vertical kilometres below, which by careful application of Pythagoras' theorem tells us he was 16.3 kilometres away. You may disagree, but in my book that doesn't really amount to a discovery.
Smythe may have been right though. He was scanning the slopes below where an ice axe belonging to Mallory or his climbing partner Sandy Irvine was found in 1933. In 1999 Mallory's body was found in that very spot, which means Smythe's "discovery" doesn't tell us anything new, other than that he had very good eyesight.
The real story that appeared last week wasn't about George Mallory, but Frank Smythe. His son Tony Smythe has just published a biography of him called My Father Frank, and during his research he discovered a copy of a letter Smythe had written to Edward Norton, leader of the 1924 expedition when Mallory and Irvine went missing. In the letter Smythe revealed what he had seen through his telescope while scanning the slopes, but he entreated Norton never to tell anyone because he expected the press would make an "unpleasant sensation" about it.
Goodness me, the press make an unpleasant sensation about dead bodies on Everest (like this, for example, and this, as well as this, and this) – surely not?
But anyway, that's by the way. It was a clever piece of marketing by Tony Smythe to draw attention to his biography by revealing new revelations about George Mallory, and I'm all in favour of it. Frank Smythe is something of a forgotten figure of Himalayan exploration, and his story could do with a bit of a revival.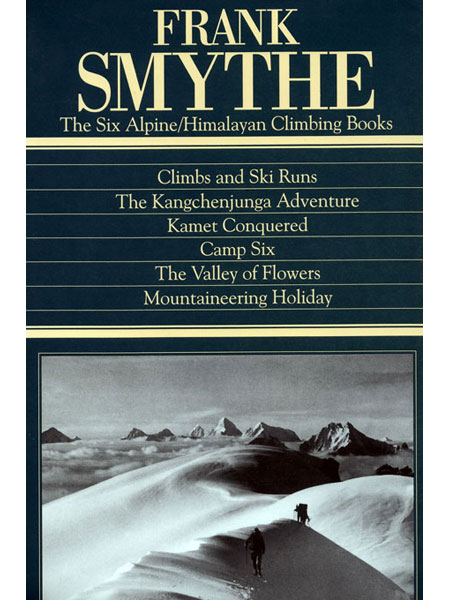 It wasn't always so. These days there aren't many mountaineers who are household names outside of the climbing community. The last British mountaineer to hold that status was probably Chris Bonington, who enjoyed sufficient fame to have entire TV series commissioned in the 1970s and 80s. But in the 1930s Frank Smythe and a handful of other climbers enjoyed that status, largely due to public interest in Everest expeditions, but also because of his writing. In an age when many mountaineers were either amateurs with a profession or gentlemen with an independent income, Smythe was one of the first to fund his expeditions through publicity, which for him meant writing and photography. He began by rock climbing in North Wales and progressed to alpine mountaineering in Europe, but he was best known as a Himalayan explorer.
I first heard about him when I read the compendium of his best known works, The Six Alpine/Himalayan Climbing Books, published by Baton Wicks. Four of these cover some of his most engaging adventures in the Himalayas.
In 1930 he was invited to join an international expedition to climb Kangchenjunga, led by the Swiss-German Gunther Dyhrenfurth, one of the earliest attempts on an 8000m peak. It was a badly planned expedition which involved numerous porter difficulties during the trek in from Darjeeling to Nepal. Dyhrenfurth chose to attack the difficult and dangerous ice cliffs of the Northwest Face, but they were driven back when most of the team were caught in an avalanche and were lucky to suffer just one casualty, the Sherpa Chettan. As a consolation they made the first ascent of 7483m Jonsong Peak, which at the time was the highest summit ever climbed, and perhaps uniquely for a Himalayan expedition Smythe celebrated another first ascent, 7154m Nepal Peak, by drinking champagne and playing a mouth organ. But the expedition's most enduring legacy was Smythe's book about it, The Kangchenjunga Adventure.
In 1931 Smythe led his own Himalayan expedition to the Garhwal region of India north of Delhi. His team, which included another giant of 1930s Himalayan exploration, Eric Shipton, made the first ascent of 7756m Kamet, once again the highest summit that had ever been climbed. Smythe's book Kamet Conquered describes this expedition. He is best known for his three expeditions to Everest in 1933, 1936 and 1938. During the first of these he reached a record altitude of 8565m while climbing alone after his partner Shipton turned back ill. While descending exhausted from this ascent he started hallucinating flying saucers above the North Ridge.
"I saw two curious looking objects floating in the sky. They strongly resembled kite balloons in shape, but one possessed what appeared to be squat, under-developed wings, and the other a protuberance suggestive of a beak. They hovered motionless but seemed slowly to pulsate, a pulsation incidentally much slower than my own heart-beats … My brain appeared to be working normally, and I deliberately put myself through a series of tests."
Yeah, right Frank. Luckily this particular incident is rarely mentioned, and he is more famous for the altitude record, which he described in his book Camp Six. Smythe's best book is The Valley of Flowers, about a three month exploratory trip to Garhwal pressing wild flowers (no, seriously). He restored his manhood by also making first ascents of Mana Peak, Deoban and Nilgiri Parbat.
He died tragically young at the age of 48, when he contracted malaria during another visit to Darjeeling in 1949. Tenzing Norgay, who had climbed with him during the Everest expeditions of the 1930s and was in Darjeeling at the time, described his sad deterioration in his autobiography Tiger of the Snows:
"He said to me, 'Tenzing, give me my ice axe.' I thought he was joking, of course, and made some sort of joke in reply. But he kept on demanding his axe, very seriously; he thought we were up in the mountains somewhere; and I realised that things were badly wrong with him. Soon after, he was taken to hospital, and when I visited him there he did not recognise me, but simply lay in his bed with staring eyes, talking about climbs on great mountains."
Tenzing also described Smythe as "the most famous of all Himalayan mountaineers". It's no longer true, and even now he's probably not as well known as his contemporaries Shipton and Bill Tilman, the other two leading lights of the 1930s Everest expeditions. His memory is due a revival. I expect many people will look at the headlines and wonder what it means for the legend of Mallory and Irvine, and whether they reached the summit of Everest. What they're supposed to be doing is buying a copy of Smythe's new biography. Better still, pick up The Six Alpine/Himalayan Climbing Books, a true doorstep of a tome that will keep you entertained beside the fire or inside your tent for weeks. You can even put it in your backpack and head for the mountains. Weighing in at a solid 1½ kg, it will be good training for you.
To receive email notifications of my blog posts about mountains and occasional info about new releases, join my mailing list and get a free ebook.