Yes, that's right, you read it correctly. Sorry about the Upworthy style headline, but before you click back to something else without reading the rest of this post, I must point out that I didn't say it – somebody else did.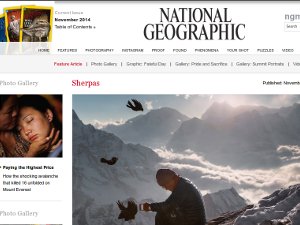 National Geographic has just published a series of articles about this year's Everest avalanche when 16 Sherpas died. The lead story Sorrow on the Mountain by Chip Brown covers the events of 18 April in detail. It's a bit of an action movie of an article with lots of graphic narrative about the actual incident (exploding ice, people shouting into radios, etc.), so it's worth a read if you're into that sort of thing (I'm not a fan myself), but buried further down the story is one startling statement that leapt out of the page at me.
The second part of the article covers the politics that overwhelmed base camp in the aftermath of the tragedy, and eventually led to all expeditions being cancelled. I've talked about all that in great depth in previous posts, so I'm not going to bore you with any more of it here.
I don't personally think there's a huge amount of new insight in the National Geographic article either, but Chip did manage to prise one jaw-dropping admission out of Ang Dorjee Sherpa, chairman of the Sagarmatha Pollution Control Committee (SPCC), the organisation responsible for much of what little regulation there is on Everest, and whose responsibilities include employing the Icefall Doctors who place the fixed ropes and ladders through the Khumbu Icefall every season. I hope Chip doesn't mind me quoting it here:
"You have to understand the culture. It's perfectly normal for us to say you are going to break someone's legs, as long as you don't actually break them. Every year there are four or five fights during the Dumchi festival in Namche. It's normal for us to exchange blows while drinking chang, and then tomorrow we're friends again, and everything is fine."
The article quotes at length from Sumit Joshi, a director of the Nepali expedition operator Himalayan Ascent, who was active in much of the politics that followed the tragedy, and said in his April 26 blog that:
"I never heard any rumours that threats were being made to mountain workers who wanted to climb, I never heard or saw acts of violence … I wonder if westerners who are reporting such rumours are misunderstanding the situation from miscommunication between them and their Nepali guides."
I remember being surprised when I read this in Kathmandu after my expedition had been cancelled, because I had been at base camp, and I heard plenty of rumours that threats were being made to mountain workers who wanted to climb. Was Sumit living in a bubble, or was he just in denial?
In the light of what Ang Dorjee Sherpa said to Chip Brown we need to be clear about one thing. The threat of violence at base camp following the tragedy was very real. Anyone who thought it wasn't may have changed their opinion after watching the video footage of the brawl at Camp 2 last year, which has recently been released by Outside.
And no, it's not OK to say you are going to break someone's legs, even if you have no intention of doing so. Neither is it OK to walk into a bank with a gun, ask the cashier to hand over the money, and walk out again without shooting him (many commercial clients on Everest felt robbed this year). I'm sure many rapists have no intention of using the knife, but they're still raping someone at knife point.
In Chip's article Sumit Joshi also laments that the Sherpas who wished to go on strike "shouldn't be branded militants or Maoists or a new breed. It's not a new breed; it's a younger generation".
Perhaps Ang Dorjee is right, it's a cultural thing. In the West going on strike and holding those who are relying on your services to ransom is known as militancy, just as threatening violence, whether or not you end up carrying it out, is known as terrorism. Perhaps there has just been a misunderstanding, but if any of you reading this are thinking of climbing with Himalayan Ascent you may want to make sure the misunderstanding is resolved before parting with your $52,500.
Nepal's tourist industry has a huge image problem now. An even bigger tragedy is unfolding as we speak. At the time of writing 32 western trekkers and Nepali trek staff are confirmed dead in a series of severe weather incidents across the Annapurna and Dhaulagiri region, and many more are still missing. My heart goes out to all of them and their families, as it did to the 16 Sherpas whose bodies I watched airlifted on long lines at base camp. While the mountains will always be dangerous, particularly for climbers, many of these deaths were preventable. In the case of the blizzards which swept across Nepal earlier this week, the severe weather was known about days in advance: warnings could have been put in place and heeded.
Many trekkers cancelled their holidays when they heard about the avalanche and Sherpa strike in April, and I have spoken to many Everest and Lhotse climbers who say they will not be returning because they are suspicious of what might happen next year. With the prices they are paying this is understandable. Many more trekkers will stay away from Nepal after this latest tragedy. The world is changing and cultural differences are receding; we need to stop using them as an excuse for not doing what we should be doing. If we don't then it will harm us in the long run.
There is a Facebook page for those seeking information about friends and family still missing in the blizzards, and the Trekking Agencies Association of Nepal (TAAN) has live updates of the rescue operation on its website.
To receive email notifications of my blog posts about mountains and occasional info about new releases, join my mailing list and get a free ebook.