With the news that a man climbed Snowdon last month pushing a brussels sprout with his nose, I thought it would be a good time to take a look at what other silly things have been done on mountains. So here without further ado are some of the world's more improbable first ascents.
1. First man to climb Snowdon pushing a brussels sprout with his nose
Charity sprout nudger Stuart Kettell raised nearly £50,000 for cancer research last month when he became the first man in history to push a brussels sprout all the way up Snowdon using purely his beak.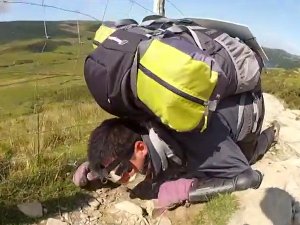 "Isn't it going to roll back down?" a bemused onlooker asked when she saw him training for the climb in the streets of his home town near Coventry.
Perhaps it did, but Stuart managed to maintain forward momentum and completed the 9½ mile climb up the Llanberis Path in 4 days, using 22 different sprouts. He explained that in order to maintain their shape on Snowdon's rocky trail and not fall down cracks, suitable sprouts needed to be both big and hard (which coincidentally is what his wife always says to him). Even so he had to be resupplied with fresh sprouts at regular intervals by his best friend Richard Crump. Richard performed the task ably, and all the more remarkably in view of the fact that he doesn't even like sprouts.
Stuart wore a baseball players' nose guard to protect his proboscis throughout the climb. He managed to gain speed by perfecting an innovative side swipe technique for propelling the vegetable. Despite wearing gloves and knee guards, by the end of the climb he had blisters on his hands, had lost all skin on his knees and had aching wrists.
Life is short, but if you're into that sort of thing it's worth frittering away 10 minutes of it watching this entertaining video about the ascent (especially if you watch EastEnders). The final day was completed in thick mist and 40 mph winds, but there were crowds at the summit to cheer his arrival (and Josh Groban to serenade him if this film is to be believed).
"It's a mental challenge as well as a physical one," says one of the spectators in the film.
Mental? Not half.
2. First man to climb Ben Nevis carrying a church organ
In 2006 a group of volunteers from the John Muir Trust were working on a project to reduce the number of cairns that had been built over the years on Ben Nevis's sprawling summit, when they discovered an abandoned piano beneath a pile of stones. But how had it got there?
From the sell by date on a discarded wrapper of McVitie's Digestive biscuits found within the wreckage, they could see it had been carried up in 1986. The culprits came forward as a team of removal men who had carried it up in an effort to claim a record in aid of charity. Unfortunately for them the representative from the Guinness Book of Records failed to turn up, and the piano remained abandoned with their claim unproven (though how the dozens of hill walkers who climb Ben Nevis daily failed to spot it in 20 years is a mystery).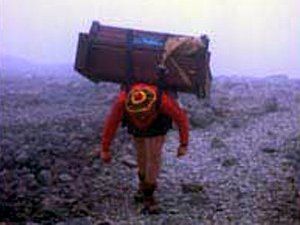 But there's more to the tale. When the story of the piano broke and the media were searching for the culprit a former Highland Games athlete called Kenny Campbell came forward claiming to have carried a 100kg church organ up there on his own in 1971. Grainy photographs of a man carrying a piano on his back in misty highland weather promptly circulated as proof of his story. He said he'd originally intended to carry a piano, but slipped and fell after climbing 300m, toppling over and smashing it in the process. When he raised his organ on the summit (ooer, missus!) he is said to have serenaded a group of bemused Norwegian tourists with a rendition of Scotland the Brave.
Mr Campbell said he intended to carry the organ back down again, but when he went back two months later there were only two small bits of wood left. It's not known what happened to the rest of the organ, but Ben Nevis's summit is big enough for a beach, so perhaps it was taken by sandpipers.
Times change and nowadays stunts like these are very much frowned upon. Earlier this year the Children's Hospice Association Scotland found itself in an embarrassing position when four well-meaning but jaw-droppingly naive fundraisers carried a bench to the summit of Ben Nevis to raise money for the charity and fixed it in place with cement. Angry messages were exchanged on Facebook and one furious hiker was so incensed he sawed the bench up into 27 pieces.
"We only ever had good intentions," one of the four men told The Scotsman newspaper. "We honestly can't believe the harshness of some of the comments some people are making online."

3. First dinner party on the summit of Huascaran
Chris Darwin is a distant relative of the great naturalist Charles Darwin, and living proof that evolution doesn't always mean forward progress. In his 20s he founded an organisation called the Dining Out Club, whose primary aim was to arrange formal black tie dinner parties in unusual locations, and after a few years he emigrated to Australia and hit upon the idea of getting into the Guinness Book of Records for having a dinner party on top of the highest mountain he could find.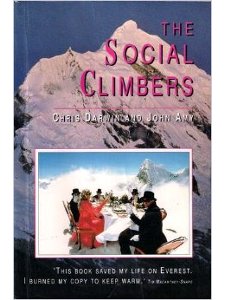 He managed to obtain the patronage of Tim Macartney-Snape, one of Australia's best-known high altitude mountaineers, who made the first ascent of Everest by the Norton Couloir in 1984, and a mountain guide called Milton Sams who was prepared to take him up 6768m Huascaran in Peru. He got a group of mates together and advertised for a butler and four female dinner guests to accompany them.
Glaciated, and riddled with crevasses and avalanche risk, Huascaran is not the easiest peak in the world to be attempting such a stunt, and why they didn't choose Aconcagua, which is both a higher and technically easier proposition for a group of climbing novices, is unclear. But somehow, with the assistance of some Peruvian guides and an army mountaineering training instructor called Derek Murphy, in 1989 Sams managed to get seven of the group to the summit, where they held their party in a white-out and claimed their record despite frozen champagne.
I read Darwin's book about the climb, which has the very droll title of The Social Climbers, while on my way out to Peru in July with the intention of climbing Huascaran myself. He describes it as a non-mountaineer's mountaineering book, which IMHO is a reasonable aim for any book about mountaineering. Although it contains plenty of laddish humour and may grate on the nerves if you believe high altitude mountaineering should be taken a bit more seriously by people with a few more skills, I found it quite entertaining. The humour is self-deprecating and never cruel, and if he's hard on anyone it's himself.
If you've been following this blog you will know we didn't make it up Huascaran in July because of dangerous snow conditions. Did it annoy me these jokers reached the summit and we didn't? I have only two words to answer that question, and one of them's grrrrrr and the other's nnnggggggg.
The record for highest dinner party has since been beaten by a team from the UK, who attempted to climb 7045m Lhakpa Ri in Tibet, but had to stop and eat at 6805m when they encountered high winds (I have climbed Lhakpa Ri, so I wasn't as upset about that one). This means Aconcagua is still a goer if you fancy a crack at the record yourself.
4. First man to bivouac on Cho Oyu using a backpack as a sleeping bag
If there's a record for obscurest record then it must surely go to Norman Croucher, who lost both his legs at the age of 19 when he fell asleep on a railway line on his way home from the pub in a drunken stupor, and was run over by a train.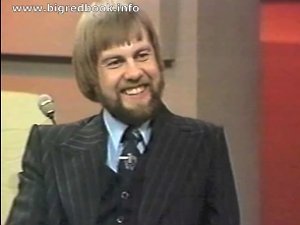 Although it would be considered a drawback by many people, absence of legs didn't stop Norman deciding to become a mountaineer. He has climbed in the big ranges all over the world, and believes having no legs has many advantages. He can take them off and stretch out on two seats on long distance flights. Because there is less of him, he says this gives him a shorter blood circuit, and although his prosthetic legs make him slower on lower parts of the mountain, his quicker blood flow gives him an advantage at high altitude where oxygen is in short supply. On one occasion a huge rock struck his calliper and would have shattered the femur of an able-bodied climber, but he survived uninjured.
But one of the lesser known advantages of being legless is the ability to use a backpack as a sleeping bag, and that's exactly what Norman did on 8201m Cho Oyu in Tibet. After reaching the summit at 3pm he realised he would be passing through an unsafe area in the dark during his descent, and opted for an overnight bivouac. He unravelled the extension on his backpack, took his legs off and tucked himself up inside. The following morning a Sherpa who had been sent up to look for him stumbled across his pack and had the shock of his life when Norman sat up.
Now 72, Norman still climbs and is available for public speaking engagements, but please don't get him drunk.
5. First man to take a leak on the summit of Everest
This post wouldn't be complete without reference to Everest, which attracts record attempts like flies to a turd. Some people even try and keep track of them. While the first ascent by Hillary and Tenzing in 1953, the first traverse by Hornbein and Unsoeld in 1963, the first ascent without bottled oxygen by Messner and Habeler in 1978, and the first solo ascent by Messner in 1980, are among many outstanding climbs which deserve their place in mountaineering history, the first ascent by an amputee, first cancer survivor, first blind person, and first teen with Down's syndrome, are all obscure Everest records which have been claimed over the years.
Every year someone announces they are the first from their country, the first woman, the oldest, or the youngest from their country. These are great achievements on a personal level, but they become quite tiresome when over-publicised and lead some people to believe climbing Everest is easy. As for people claiming to be the first to take a bike up there, or make a phone call from the top, or make the first live television broadcast from the top … well, these people are in danger of having their life's great achievement ranked alongside outlandish curiosities like the world's longest moustache, the most watermelons smashed with a single punch, and the fastest 100 metre sprint by a woman in high heels. The Nepalese government have even threatened to station a lookout at base camp to constrain bizarre records. Good luck with that one, but I think they have as much chance of succeeding as a man playing a banjo on the summit without getting frostbite.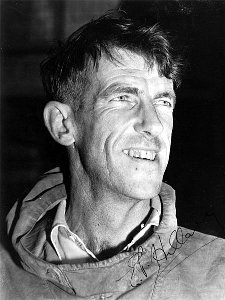 Various attempts have been made to remove items of clothing on the summit. In 2007 the Dutchman Wim Hof, known as the Ice Man because of his ability to endure long periods of extreme cloud, tried to become the first person to climb Everest in shorts, but had his attempt curtailed because it was too cold. There is a story (probably apocryphal) about an Australian lady who wanted to be the first to have sex on the summit, and actually succeeded in reaching the top, but when she got there she couldn't find anyone willing or able to perform. In 2006 Lakpa Tharke Sherpa found himself in trouble with his community by claiming to have defiled Chomolungma's summit with a display of public nudity. "I am too shocked to hear that a climbing Sherpa has crossed the thin red line just to set a new record. Everest is a holy mountain for us. What he has done is extremely shameful for the country," said Ang Tshering Sherpa, president of the Nepal Mountaineering Association. Unfortunately for Lakpa there don't seem to be any photos to verify his achievement.
But the first man to take his John Thomas out on the summit is a record that has been clearly documented. One of the strangest things I've ever been asked about my ascent of Everest is whether I took my mitts off when I needed to pee. Luckily I didn't need to, as there's one part of your anatomy you definitely don't want to get frostbitten. I drank only one litre of water during my 18 hour summit day, and when I got back to camp my throat was so dry I nearly dry-retched a piece of my gullet up in the vestibule of the tent. When he made the first ascent in 1953 with Tenzing Norgay, Edmund Hillary had no such difficulty, a fact he described quite graphically in his autobiography View from the Summit:
"We had been warned by expedition doctor Griffith Pugh that dehydration was one of the greatest risks faced by climbers going high. To compensate for this, Tenzing and I had spent a good part of the previous night quaffing copious quantities of hot lemon drink and, as a consequence, we arrived on top with full bladders. Having just paid our respects to the highest mountain in the world, I then had no choice but to urinate on it."
Hillary's announcement was quite low key, but these days people would probably make a big song and dance about it. So if you're thinking of raising money for charity by becoming the first to point percy on the world's highest summit, be warned: it's been done before. In fact, you're 61 years too late.
So there we have it, a small selection of silly things people have done on mountains. There are many others, and if you can think of any more do please share them with us.
To receive email notifications of my blog posts about mountains and occasional info about new releases, join my mailing list and get a free ebook.