There's nothing some journalists like more than a bit a death. It generates controversy, helps sell copy, and gives them an opportunity to drum up hatred against people who live more interesting lives than they do. And this year on Everest 10 people have died, the highest death toll since 2006. Combine this with German climber Ralf Dujmovits' photo of climbers queueing up the Lhotse Face that's getting buzzed around the world, and they've been having a field day.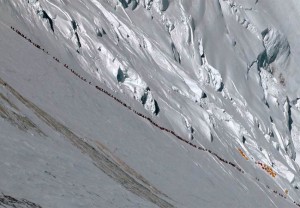 For example, when my team mate Grant 'Axe' Rawlinson got back to Base Camp on May 22, he decided to write a blog post about his summit day in his usual stream-of-consciousness style, which involves writing all the thoughts that are going through his mind as he climbs. When he got stuck behind slow climbers on the Second Step with teddy bears strapped to the back of their packs, one of Axe's thoughts was how much he'd like to stick those teddy bears up their backsides. A Kiwi journalist picked up on Axe's blog and decided to write not about his incredible climb (he was up to the summit and back down in Camp 3 again five hours before I was) but his lack of sympathy for other climbers. Very quickly Axe became the most hated man in New Zealand, and was getting comments on his blog along the lines of, "you're not so tuff [sic] Rawlinson, you've proved even jerks can climb Everest".
It's been a similar story for me when I returned home to the UK, where journalists have been writing all week about how Everest is now so easy to climb that it's become a stamping ground for middle class obsessives who are only doing it to get bragging rights. In most cases the comments in response to these articles are nothing more than an unmoderated stream of filth and hate directed against Everest climbers.
I've read so much ignorant nonsense in the last couple of days written by people who have clearly never climbed, that it's probably not even worth responding to, but because it's a sport I love, just for the record I'm going to clear up five of the most common myths getting propagated.
1. Climbing Everest is not easy
Or to put it how one representative of an adventure travel company (of all people) was quoted as saying, you "basically pay your way up Everest these days". While Everest climbers all pay for different levels of support, from the basic permit fees and base-camp-only services to full one-to-one Sherpa support, all of us still have to climb the bloody thing.
My summit push took 6 days, during which I carried around 12kg on most days at extremely high altitude. My appetite was so reduced that I could barely force down half a dozen mouthfuls of food without throwing up, and was living on a starvation diet throughout. More than once I arrived in camp and was immediately sick in the vestibule. My summit day lasted 18 hours, during which I drank no more than a litre of fluid and ate nothing. My mouth was so dry at the end that I felt like I was going to retch up a small piece of my throat. I was mentally exhausted because the North Ridge is basically one long rock scramble which demands concentration almost every single step of the way. We had good weather and frostbite wasn't a problem, but most Everest climbers also have to wrestle with extreme cold.
Anyone who says climbing Everest is easy has no idea.
2. Climbing Everest is not an expensive way of committing suicide
Mountaineering companies have become so organised on Everest that the mountain is now relatively safe for most people with sufficient climbing experience. Fixed ropes are put up the entire route before anyone starts climbing. These can be clipped into using the double security of jumar and carabiner. The risk of frostbite can be balanced with modern equipment (down suits, down mitts, thick mountaineering boots, electrically-heated hand and foot warmers, and also oxygen which helps with circulation). As you spend more time at high altitude you learn to understand how your body reacts to the lack of oxygen and how long you need to acclimatise. The best operators all carry high altitude drugs and have staff who are trained how to use them. Perhaps most importantly you are not alone on the mountain. I had a personal Sherpa on summit day, Chongba, who has now climbed Everest 13 times, and he never left my side throughout those 18 hours. We both carried radios so that we could get help if separated.
There are still low budget companies operating on Everest. Climbers are far more likely to die if they join one of these outfits and try to climb on a shoestring, but only a small minority of climbers do this and even in these cases other operators usually help out in an emergency.
3. I did not climb Everest to put a tick in my 'bucket list' and gain bragging rights
I hate the phrase 'bucket list', for it suggests box ticking rather than experiencing. This was my 9th visit to Nepal and my 3rd to Tibet. That's quite a few more ticks than I need if I'm only interested in bragging. High altitude mountaineering is how I like to spend my holidays, in the same way you may like to spend yours sunning yourself on a beach or partying in Ibiza. It's what I enjoy doing. And as for bragging, when I left work to join my expedition many of my colleagues had no idea I was going to climb Everest. I didn't tell them.
4. The tragedies did not occur because too many people are climbing Everest these days
Anyone who wishes to gain an insight into how or why deaths occurred on Everest this year should read Alan Arnette's summary of the whole season, a sensitive account written by a climber who has been on Everest 4 times and is familiar with how a season's events unfold. It tells of how Everest this year was unusually dry, leading to unseasonal rock fall on the Lhotse Face. Some of the early deaths were not in fact inexperienced clients but highly experienced Sherpas doing load carries. It tells of how heavy snowfall then made a short summit window even shorter.
All of the above happened on the south side, Everest's most popular route. But Everest also has a north side, where we were, which most journalists don't seem to be aware of. The north side was very quiet, only about a quarter of the numbers of the south, and the deaths on the north certainly can't be attributed to traffic jams.
And then you can look at the numbers. It is estimated around 550 people summited Everest this year, 250 of them in a single 48 hour period on 25/26 May, when not a single death occurred. This demonstrates that the mountain and climbers are capable of coping with traffic jams safely. While traffic may have contributed to the 4 deaths on May 19, it's not the overriding reason and certainly not the whole story.
5. Walking past a climber who is struggling is not showing a complete lack of compassion and humanity
Of all the myths that get written about by those with no experience, this is perhaps the most emotive, the most hurtful and the most damaging. People read stories of climbers stepping over dead bodies, or walking past exhausted climbers who later die, and conclude we're all a bunch of heartless bastards who are only interested in reaching the summit at all costs.
Here's an analogy that a leader from another expedition team gave me when we were back in Kathmandu. If you're walking home from the pub and you see a drunk by the side of the road who is struggling to walk in a straight line, do you stop and offer to escort him home? Supposing you do, and he becomes abusive and refuses your help, what do you do then? Do you consider it your duty to remain by his side until you see him safely home, or do you get on with your own life and leave him to his? Remember that your wife is waiting up for you and will not go to bed until you're home safely.
Many of the deaths on Everest occur because people don't realise when it's time to turn round, even when they've been told to by someone more experienced. When I reached the summit at 10am there was no sense of elation. It had taken over 10 hours, and I knew just how far I still had to go. I still had to get back down the Third Step, the Second Step, the First Step and lots more tricky scrambling demanding all my attention, and I was already exhausted. My only focus during my descent was my duty to my family, to get myself down safely, and to Chongba and the rest of my team, because if I got into difficulties I would be putting their lives at risk by helping me. I finally got back at 5.30pm, and it had been an epic. The idea that I could have stopped and escorted/carried an exhausted or dying person down with me would be laughable were it not so poignant. Also bear in mind that most climbers descending from Everest on summit day are exhausted and struggling, but nearly all of them make it down safely without help. The assumption that if you pass someone who is struggling then you should stop and help them, and if you don't they will die, is erroneous. Finally, remember that most climbers are members of well-supported teams with resources to call upon in an emergency. In the event of a rescue the casualty's own team will be the first to help, but other teams will assist where appropriate.
We all have compassion and humanity. We respect the mountain and other climbers. But we're not all heroes (although here's one of my Everest team mates who is), and very few of us wish to be martyrs. Unless you've been put in that extreme situation yourself and know for certain how you would react, don't be quick to criticise others.
You can read my report of our climb via the North Ridge and see photos and video of it here. My expedition diary The Chomolungma Diaries is also available as an ebook.
I would like to dedicate this post to the 10 climbers who died on Everest this year. I may not believe any mountain is worth dying for, but I do believe this: that you came from different backgrounds with different motivations, and you all rose above the norm and are resting proudly above the clouds.
[UPDATE, JANUARY 2016. This 4-year-old blog post has been getting a lot of traffic recently. For a more up to date discussion you may be interested in my first full-length book, Seven Steps from Snowdon to Everest, about my ten-year journey from hill walker to Everest climber.]
To receive email notifications of my blog posts about mountains and occasional info about new releases, join my mailing list and get a free ebook.