A shorter post today, as I'm going to let the words of another speak instead.
Last Saturday was the first anniversary of the avalanche I watched take the lives of 16 Sherpas as I walked towards the Khumbu Icefall, intending to climb up into it myself.
There were a number of articles published in memory of those who died, but few which actually remembered anyone in particular. I don't mean this as a criticism, as it's something we all do. For example, when we stand through a minute's silence at the start of a football match, few of us actually knew the people we are supposed to be remembering as we are silent, so we remember others who were close to us instead.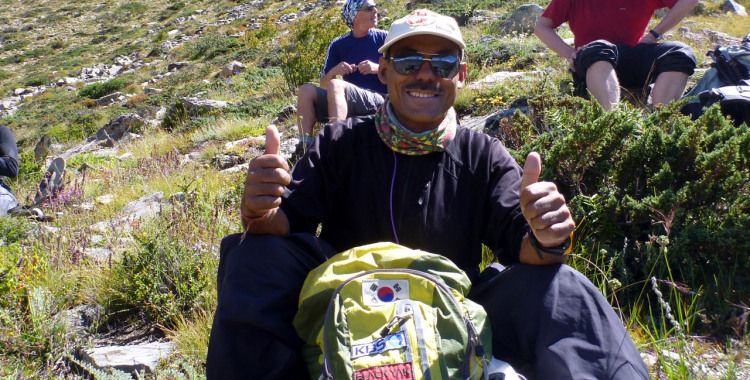 One exception was Edita, who also featured in my blog post last week about our climb up Monte Sirente. She was a member of our Lhotse team last year, but unlike the majority of us, she was close friends with one of the Sherpas who died, Dorje Khatri, and visited him at base camp the day before the tragedy.
On the morning of the avalanche we stood on the edge of the icefall, watching figures emerge from the ice as Sherpas and guides from many teams went up to help. We stayed for an hour or two, looking up and listening into radio conversations. We knew something terrible had happened, but the extent of the tragedy was still unfolding.
I returned to the camp of our own team, Altitude Junkies, where I learned more information from our Sherpas, none of whom had been in the icefall that morning. Edita returned via the camp of Madison Mountaineering, for whom Dorje Khatri was sirdar. There she learned he had not been responding to radio calls, and as she waited on the edge of their camp, worried about him, somebody came over and confirmed he was one of the ones who had died.
We found her hiding in our storage tent later that morning, dealing with her grief alone. In the evening she joined all of us in our Sherpa dining tent. Nearly all of our Sherpas knew someone who died, and some had lost family members.
Edita is currently back at Everest Base Camp, trying to climb Lhotse again. Nobody climbed into the icefall last Saturday as a mark of respect for those who died in the avalanche a year earlier. Some teams had puja ceremonies while others simply rested. Edita chose to mark it in the best way possible, by writing a few words about her friend Dorje.
Her post helps to bring him back to life as a human being, and not just a statistic, like many of the articles published about the avalanche last weekend.
Many people have been keen to present Sherpas as an exploited underclass following the orders of their western employers because they have no choice, but this is not the relationship Edita describes in her post. The Dorje she knew was more of a kind-hearted older brother, who always looked after her, even when she climbed with a different team and it was no longer his responsibility to do so. Many people who have climbed and trekked extensively in Nepal will recognise parts of him in other Sherpas they have known.
She describes how he spotted her as she was descending through Camp 2 on Everest's North Ridge, and helped her with her oxygen. A very similar thing happened to me as I was descending from the summit in 2012, in very much the same location. A Sherpa hailed me by my first name, and thinking he was a member of our team I asked him to help me with my oxygen mask. He did so without hesitation, and it was a few moments before I realised he was not one of our team at all, but Mingma, a Sherpa with Asian Trekking I had climbed the trekking peak Chulu Far East with a few years earlier. I saw him from time to time on other peaks, and we always exchanged a few friendly words. Sadly, Mingma also lost his father in the avalanche last year.
Edita's post is a tribute not just to Dorje, or even just to the others who died in the avalanche, but to all Sherpas who work the high mountains.
I was intending to mark the anniversary of the avalanche by writing about the progress in the last year on the issues surrounding it, but Edita reminded me that the best way to mark it is to remember those who died.
Nothing I write can do this half as well as she has, and I recommend you read her tribute instead.
To receive email notifications of my blog posts about mountains and occasional info about new releases, join my mailing list and get a free ebook.