Congratulations to the BBC for their fantastic documentary Climbing Everest with a Mountain on My Back, shown on BBC4 last night, which provided insight into the lives of the Sherpas who help western mountaineers climb Everest every year. The film is available on BBC iPlayer until 6th February, and I recommend you give it a watch.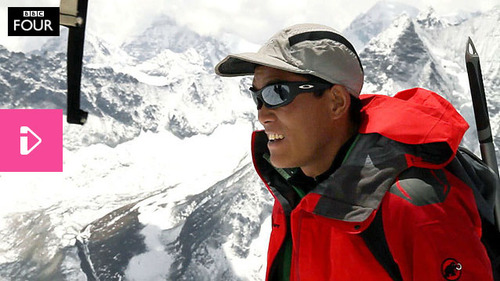 Unlike the usual brainless rubbish that film makers tend to make about Everest these days, the BBC put together a thoughtful and heartfelt programme oozing with a love of Nepal and its people, including Sherpa culture, Tibetan Buddhism and a little bit of mountaineering history.
I particularly enjoyed it because it reminded me of so many great memories, and so many places and moments I remember. This is going to take a while, but it included amazing footage filmed from the cockpit of a plane flying to the scary airstrip at Lukla, Pangkongma monastery on the Mera Peak trail, the market in Khandbari, rice and sorghum fields on the Makalu Base Camp trail, sipping Tongba through straws in a teahouse, picking leeches off boots and shoes on a monsoon trek, climbing the headwall on Island Peak, shopping for souvenirs in Thamel, the crazy traffic in Kathmandu, Swayambhunath Stupa on a hill above Kathmandu, Tengboche monastery on the Everest Base Camp trail, a puja ceremony to the mountain gods on Everest, and most vividly for me, climbing the north side of Everest with footage all the way up to the Exit Cracks on the Northeast Ridge.
How had the Beeb done it, and included so many things every visitor to Nepal and Tibet will be familiar with? One reason might be because the film was co-written by Jochen Hemmleb, a climber and Everest historian, who has spent a great deal of time among the Sherpas and their country, and whose motivation is to tell their story with fondness, rather than generate controversy. Well done to the Beeb for allowing him to do so.
To receive email notifications of my blog posts about mountains and occasional info about new releases, join my mailing list and get a free ebook.