Soon I'll be heading to Lhotse in Nepal for my sixth attempt at an 8000m peak and I very much hope my third successful one, although I know you can never be sure in mountaineering. One thing I do know, though, is that I would stand very little chance of getting up any of them were it not for the dozens of Sherpas who have helped me over the years.
As the Everest season approaches we will be hearing a lot about the successes of western climbers in the Himalayas over the next few months, but likely very little about the superstars of high altitude mountaineering who help them to achieve their dreams.
Many of you can probably name all the famous Sherpas you've heard of on one hand. It's time someone rectified this, so here's two hands worth of the greatest tigers of the snow.
1. Angtharkay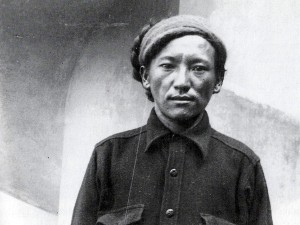 "Outstandingly the best of all the Sherpas I have known … he was a most loveable person: modest, unselfish and completely sincere," the mountain explorer Eric Shipton once said of Angtharkay, the first of the great mountaineering sirdars (Sherpa leaders), who can be considered the grandfather of them all.
Born and raised in the village of Khunde above Namche Bazaar in the Khumbu region of Nepal, like many Sherpas of the 1920s and 1930s he emigrated to Darjeeling in northeast India in search of work with mountaineering expeditions, which in those days all used Darjeeling as their home base rather than Kathmandu. While on his third major job, the 1933 British Everest expedition, he was recognised by Shipton for his strong performance at high altitude and outstanding leadership. He became Shipton's trusted right hand man, accompanying him on his two mountain reconnaissance expeditions to the Nanda Devi Sanctuary and the Shaksgam region north of K2. He also served as sirdar on three more Everest expeditions.
In 1950 he was sirdar for the French expedition to Annapurna, which became the first to climb an 8000m peak. He showed great wisdom by turning down his opportunity to be in the summit party with the following immortal line, quoted by Maurice Herzog in his classic book about the expedition:
"Thank you very much, Bara Sahib, but my feet are beginning to freeze and I prefer to go down to Camp 4."
Herzog and Louis Lachenal reached the summit, but they had an epic descent. Both lost their toes to frostbite, and Herzog lost his fingers as well.
During his 1951 Everest reconnaissance expedition Eric Shipton's party strayed illegally into Tibet while exploring a remote Himalayan valley. Travelling mostly by night to avoid detection there was a nasty incident when they were spotted by a group of Tibetans, who charged towards them brandishing swords and shouting. Shipton was worried about being arrested and thrown into prison, not only because he was carrying only 1200 rupees to purchase their freedom, but because it might jeopardise any future permission to climb in Nepal. But Angtharkay came to the rescue and immediately started shouting back at them.
"I have never known Angtharkay outdone in a shouting match," Shipton later observed. Twenty minutes later Angtharkay returned wearing a broad grin, and explained it was going to cost 7 rupees to buy them off (about $20). His anger with the Tibetans had been because they initially demanded 10.
2. Gaylay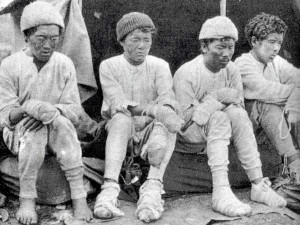 His name may elicit playground chuckles, but Gaylay has come to represent something more meaningful: the huge sacrifices Sherpas have made over the years to further the ambitions of their western employers.
He was one of the 6 Sherpas and 3 German climbers who died during a horrifying four day retreat high on Nanga Parbat in 1934. Exhausted and frostbitten they died one by one in lonely bivouacs as a storm battered them to submission. By the fourth day Gaylay, Ang Tshering and expedition leader Willi Merkl were the only ones left when Merkl said he could go no further. While Ang Tshering went to fetch help, Gaylay stayed with his leader, and neither were seen alive again. Three years later their perfectly preserved bodies were found on the Rakhiot Ridge by another German team. Gaylay had not left Merkl's side.
Of the 248 climbers who have died on Everest, 87 have been Sherpas, who do the lion's share of the dangerous work but share very little of the limelight. Since the very first attempt in 1922, when 7 Sherpas died in an avalanche while carrying loads up to the North Col for George Mallory, to the present day, when Mingma Sherpa died in the Khumbu Icefall last year installing fixed ropes and ladders for commercial expedition teams, Sherpas have been the unsung heroes of every expedition. When I stumbled back to high camp exhausted during my 18 hour summit day on Everest two years ago, my Sherpa companion Chongba remained by my side throughout, even though he could have returned hours earlier in good shape had he wanted to.
Gaylay symbolises all of these men, and deserves to be remembered as one of the great Sherpa mountaineers.
3. Tenzing Norgay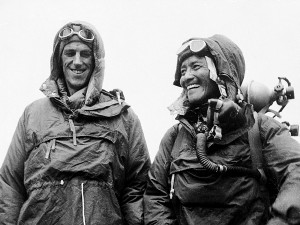 The best known of all, Tenzing was the man who brought Sherpas to worldwide attention when he reached the summit of Everest with Edmund Hillary in 1953. But while Hillary had only been climbing in the Himalayas for two years, and in many ways can be regarded as a man who happened to be in the right place at the right time, Tenzing was on his seventh Everest expedition, and his Himalayan mountaineering career had already spanned nearly two decades.
Tenzing was also raised in the Khumbu region of Nepal, and moved to Darjeeling as a teenager in search of work. In 1935 Eric Shipton was picking Sherpas for the latest Everest expedition when he noticed a "Tibetan lad of nineteen, a newcomer, chosen largely because of his attractive grin". Like Angtharkay, Tenzing was an outstanding organiser and leader of men, and became the trusted sirdar to many expeditions, but he also had another quality that marked him out among his people.
Until Tenzing, Sherpas had been content to carry loads high to give their employers a chance of climbing the mountain, but none of them ever had any desire to reach the summit themselves. Tenzing was different. His ambition to climb Everest was as great as any western climber's, and by the time the Swiss and the British took him to Everest as sirdar in 1952 and 1953, he had become so competent he was seen as an integral part of the climbing team. The rest is history, and you can read more about Tenzing in my post Why Tenzing is the greatest Everest climber.
4. Pasang Dawa Lama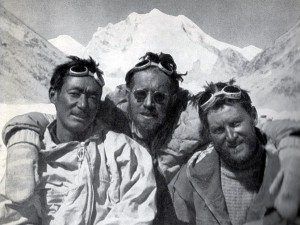 The disastrous American expedition to K2 in 1939 is sometimes described as a one man show by the energetic German-born expedition leader Fritz Wiessner, but this isn't strictly true. When Wiessner reached 8400m, just 200m below the summit, he wasn't alone. While Wiessner wanted to continue to the summit, it was his companion Pasang Dawa Lama who made the decision to turn around. Pasang's caution probably saved their lives, As they descended exhausted they discovered Wiessner's cowardly team mates had systematically stripped their support camps and were preparing to leave the mountain, believing them to be dead.
Pasang eventually had his chance to ascend an 8000m peak fifteen years later, when he made the first ascent of Cho Oyu with the Austrians Herbert Tichy and Sepp Jochler in 1954. He was back in Namche Bazaar restocking supplies when Tichy and Jochler discovered they were not alone on the mountain. A Swiss team had appeared without a permit and the Austrians suddenly found themselves in a race for the top. Pasang hurried back to join them, ascending 4250m in three days to join the summit party. It later emerged he had a special incentive: while back in Namche he struck a bargain with a villager, who had offered him the hand of his daughter in marriage and a substantial dowry if he reached the summit.
5. Gyalzen Norbu Sherpa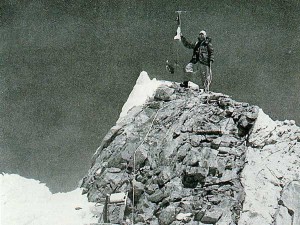 Only three men have been involved in two separate first ascents of 8000m peaks. Two of them, Hermann Buhl, who climbed Nanga Parbat and Broad Peak, and Kurt Diemberger, who climbed Broad Peak and Dhaulagiri, are world famous. The third, Gyalzen Norbu Sherpa, is virtually unheard of, yet he was the first man in history to climb two 8000m peaks.
Gyalzen Norbu was sirdar for the French expedition to Makalu in 1955, and one of the support climbers in an astonishingly successful expedition that put nine climbers on the summit in three successive days. He was a member of the second party and the only Sherpa in the climbing team. By the time he went to Manaslu with the Japanese in 1956 his reputation was firmly established, and as well as being sirdar he was one of the two lead climbers. At Camp 5 he and Toshio Imanishi were fed oxygen by tubes from the next door tent by expedition doctor Hirokichi Tatsunama, and six climbers supported their summit attempt by carrying tents to Camp 6. Imanishi's shot of Gyalzen Norbu raising his ice axe on the shattered rock tower of Manaslu's summit is one of the great iconic photographs of Himalayan mountaineering.
6. Nawang Gombu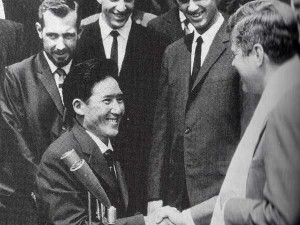 A nephew of Tenzing Norgay, Nawang Gombu was sent away to the Rongbuk Monastery in Tibet as a boy to train as a monk, but realising monastic life wasn't for him he fled across the Nangpa La back to his family in the Khumbu village of Thame.
In 1952 the Swiss attempted Everest with Tenzing as their sirdar, and Gombu went to Namche to plead with his uncle for a place on his next expedition. He didn't have to wait long, and the 17 year old Gombu was granted a place as climbing Sherpa when the British came to Everest the following year. Expedition leader John Hunt recalled an incident in the Khumbu Icefall when the two of them were doing a load carry and Gombu noticed his leader was only carrying one oxygen bottle to his two.
"Why you not have two bottles?" he asked.
Tenzing was furious when he heard about it, but Hunt found the incident very funny and Gombu later did two very important load carries to the South Col in support of his uncle and Edmund Hillary's successful first ascent. When the Indian government set up the Himalayan Mountaineering Institute (HMI) in Darjeeling as a result of Tenzing's success, Gombu was one of the Sherpas sent to Switzerland to train as an instructor.
Over the next ten years he went on expeditions to Makalu, Cho Oyu and Everest before being chosen to join the American expedition to Everest in 1963, and when Jim Whittaker became the first American to climb the world's highest mountain Gombu stood beside him on the summit. Later that year he was invited to the US to be introduced to President John F Kennedy. The following year he reached the summit of Nanda Devi, and in 1965 he joined an Indian expedition to Everest and became the first ever person to climb it twice.
He took over from Tenzing as Director of Field Training at HMI in 1976. He remained in that position for 23 years until his retirement in 1999, an achievement even Sir Alex Ferguson would have been proud of.
7. Pertemba Sherpa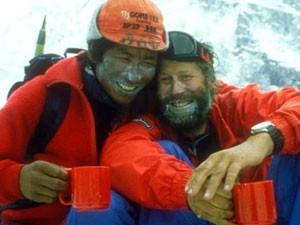 "He seemed at home in any situation in the West, and yet he hadn't lost the traditional values of Sherpa society. He had that combination of twinkling humour, dignity and warmth that is one of the enduring qualities of so many Sherpas." So said the great pioneering British mountaineer Chris Bonington, who took Pertemba along as his lead climbing Sherpa on a number of expeditions in the 1970s.
Pertemba was one of the first of a new breed of Sherpas who bridged the divide between east and west and moved comfortably among western mountaineers on an equal footing. A pupil of Sir Edmund Hillary's first school in the Khumbu village of Khumjung, in the mid 60s he moved to Kathmandu to work for the grandfather of trekking in Nepal, Col Jimmy Roberts, who had just opened Mountain Travel, the very first trekking agency for western tourists.
His first taste of a mountaineering expedition came in 1970 as part of Chris Bonington's team who made the first ascent of the South Face of Annapurna. His climbing skills so impressed his leader that he soon became a climbing Sherpa. When he made his first ascent of Everest in 1975, it was not by the standard Southeast Ridge, but by a much more technical route up the Southwest Face, where he reached the summit in overcast conditions with the climbing legend Pete Boardman. He climbed Everest again with a German team in 1979, and again with a Norwegian team in 1985. On this third and final climb he reached the top with his old friend and mentor Chris Bonington.
Pertemba eventually set up his own trekking agency, and climbed further afield in Britain, Switzerland and Alaska. He became a grandee of mountaineering in Nepal, serving as a committee member of Hillary's charity the Himalayan Trust, an executive member of the Nepal Mountaineering Association, and a member of the Kathmandu Environmental Education Project (KEEP), which educates both westerners and Nepalis on environmental issues.
8. Babu Chiri Sherpa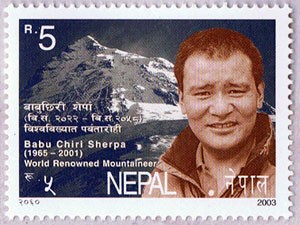 If Pertemba was one of the first Sherpas to take on western values, Babu Chiri was the first to eat them for breakfast, chew on them and spit them back again. He can fairly be described as the very first stunt Sherpa. Every year a handful of westerners turn up to Everest with film crews and down suits emblazoned with sponsors' logos in pursuit of some bizarre stunt they hope will garner media attention, but few of them ever do anything to match the remarkable achievements of Babu Chiri.
As many Sherpas do, he began his expedition life as a porter and moved up the ranks until he achieved his first 8000m peak summit, Kangchenjunga at the age of only 23. Summits of Dhaulagiri, Shishapangma and Cho Oyu followed, but it was on Everest that he made his name. He climbed the mountain 10 times between 1990 and 2000, and was one of the first to climb it twice in a single season in 1995. In 2000 he set off from Base Camp at 5pm on May 20, and was on the summit at 9.56 the following morning, having climbed the mountain in what at the time was a jaw-dropping, lung-squeezing 16 hours 56 minutes. It takes most people four days. It was the first Everest speed ascent and he later said he would have climbed it quicker had it not been for the blizzard he encountered on the way up.
But in 1999 he completed what was arguably an even more extraordinary achievement. When I reached the summit of Everest myself in 2012 I spent just 5 minutes there and took a couple of photos, conscious that I still had a long descent ahead of me. In 1999 Babu Chiri took a tent up there and pitched it on the summit. He spent 21 hours there without bottled oxygen, and sang the national anthem into a radio while it was broadcast live from Base Camp on Radio Nepal. Take note all those people who think it's significant to make a cell phone call or a short television interview from the summit.
Who knows what other amazing feats Babu Chiri might have achieved had he not died in bizarre fashion in 2001, when he fell into a crevasse at Camp 2 in the Western Cwm while stepping backwards to take a photograph.
9. Apa Sherpa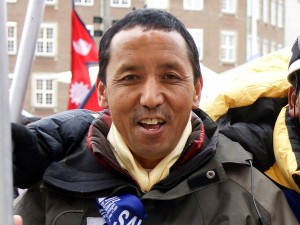 For much of his career Apa Sherpa found himself in friendly competition with Ang Rita Sherpa for the record of most number of Everest ascents. As the younger man at a time when commercial climbing on Everest was becoming firmly established, it was a competition Apa Sherpa finally won. He climbed the mountain nearly every year between 1990 and 2011, and by the time he retired at the age of 51 he had reached the highest point on the planet an incredible 21 times.
More recently Apa Sherpa has become something of an ambassador raising awareness of climate change in the Himalayas. His last four Everest ascents were as part of the Eco Everest Expedition teams, who while reaching the summit each time had a more important objective of removing historical debris from the mountain. By 2012 these expeditions had removed 13,500 kg of waste from Everest, including 450 kg of excrement and a number of dead bodies of climbers whose families had requested they be brought down. Thanks to Apa Sherpa and his team mates Everest is now a much cleaner mountain than it has been in the past.
10. Phurba Tashi Sherpa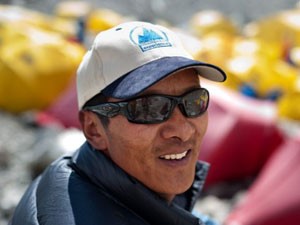 So far I have only listed Sherpas who either passed away long ago or are now retired. It seems fitting to end with someone who is still climbing, and one name stands out.
People who have watched the Everest: Beyond the Limit documentaries broadcast by the Discovery Channel a few years ago may remember seeing Phurba Tashi berating the figure of exhausted climber Tim Medvetz as he slumped on a fixed rope on the Northeast Ridge a few metres short of Everest's summit.
"You are so lazy!" he cried.
This may sound unfair, but Phurba Tashi wasn't being unkind or disrespectful to his client. He knew what a perilous situation they were in, and if he didn't get Medvetz moving there was a good chance he would remain up there. He stayed with him cajoling him into action, and eventually got him back down the mountain safely.
For many years he has been the right hand man of the New Zealander Russell Brice, one of the grandfathers of commercial mountaineering on Everest. He holds the record for the most number of successful ascents of 8000m peaks (30), and last year he equalled Apa Sherpa's record of 21 Everest ascents while climbing with Brice's Himex expedition team. This year he is very likely to beat it, and even then he won't be finished.
You never conquer a mountain like Everest, but Sherpas like Phurba Tashi seem to have found a way of living in harmony with it so that an ascent every season seems all but guaranteed. They have come a long way since Angtharkay's days in the 1930s, but despite being the superstars of high altitude mountaineering a surprisingly high number of Sherpas keep their feet firmly on the ground and maintain their great reputation for cheerfulness, hard work and humility.
Did you enjoy this blog post? This post also appears in my book Sherpa Hospitality as a Cure for Frostbite, a collection of the best posts from this blog exploring the evolution of Sherpa mountaineers, from the porters of early expeditions to the superstar climbers of the present day. It's available from all good e-bookstores and is also available as a paperback. Click on the big green button to find out more.
To receive email notifications of my blog posts about mountains and occasional info about new releases, join my mailing list and get a free ebook.