Everest climbing rules to be tightened, the BBC reported last week, in a strange story that needs to be taken with a few grains of salt.
The Nepalese government intends to set up an "Integrated Service Centre" at Everest Base Camp next year to regulate mountaineering activities, the BBC went on to say, and that "the move follows embarrassing incidents on the world's tallest peak, including a fight between sherpas and mountaineers".
Why should we take this with a pinch of salt? Well, for a start the story didn't seem to be accompanied by any official announcement from the Ministry of Culture, Tourism and Civil Aviation which regulates mountaineering in Nepal, or the Nepal Mountaineering Association, quoted in the article and the body most likely to carry out the activity proposed. While the story was widely reported in other news sources, they were all quoting the Beeb. That's not to say it's not true, but there are other reasons to remain doubtful.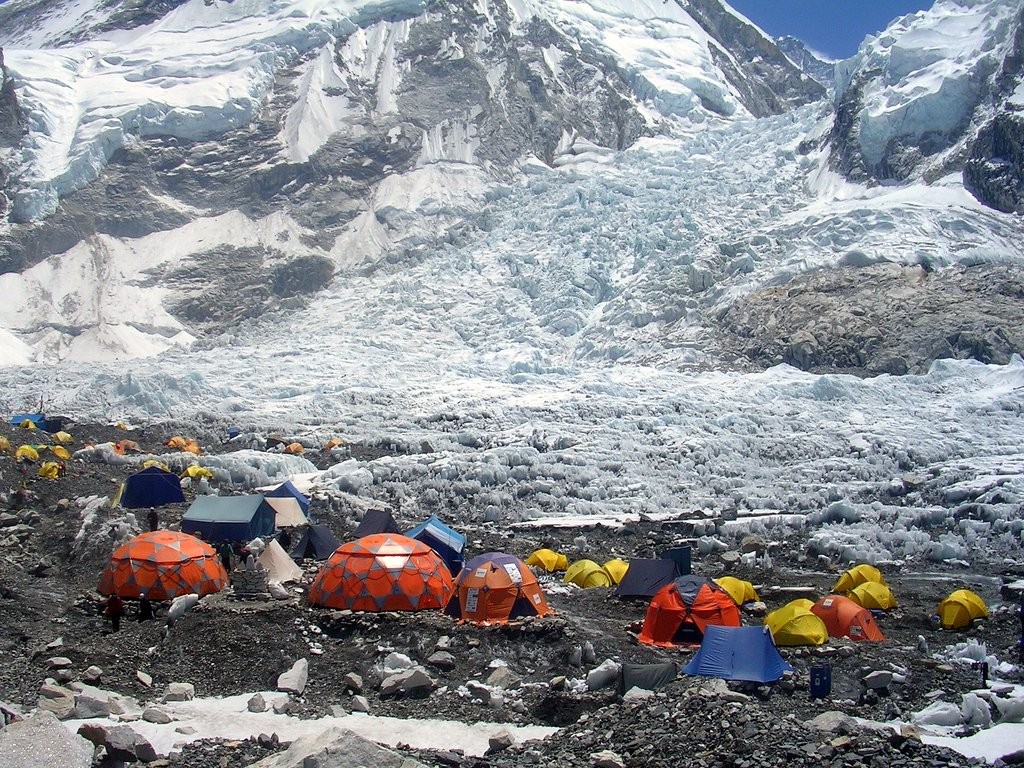 It's widely agreed more regulation is needed on Everest, but until now the Nepalese government has shown no inclination to do so, and progress looked far more likely to come through the cooperation of expedition operators than government intervention.
Despite this apparent change of heart, whether the Nepalese government is capable of doing anything useful in this area remains a big question. Since abolishing the monarchy and becoming a republic in 2008, Nepal has been through a series of coalition governments, none of whom have proved capable of producing a constitution, despite numerous deadlines. While I'm sure there are many hard-working and honest government officials, unfortunately there are many who are not, who give them a reputation for incompetence and corruption that makes Silvio Berlusconi look like a cross between Steve Jobs and the Dalai Lama.
An example is government liaison officers who are supposed to accompany mountaineering expeditions, assisting their smooth operation by facilitating better relations with the locals and ensuring teams obey the rules. I say "supposed" because many liaison officers simply pocket their pay and stay in Kathmandu, occasionally making a short trip to base camp to admire the view and have their photographs taken for the family album (I'm not being facetious here – this really happens and I've seen it in action). There is a joke which goes the Nepalese government is tackling disability by giving the job of expedition liaison officer to people without any legs.
Before I go on, I'm going to set out my position. I believe regulation on Everest is long overdue. More and more people try to climb it every year, and a lot of money is changing hands. This has resulted in a number of unsuitable operators, with insufficient experience to be running expeditions to the summit. Many are corrupt, with little concern for the safety of their clients or staff and no regard for the fragile mountain environment. Many climbers are also unsuitable, either too inexperienced and arguably climbing it for the wrong reasons.
However, I'm not an opponent of commercial mountaineering on Everest, as many people are. I climbed it myself as a paying client and found it both safe and rewarding, and I hope many more people are able to follow in my footsteps. There are always going to be mountains that attract large numbers of people. We shouldn't try to stop them, and there are many reasons why we should encourage them, but we do need to ensure we protect both the people and the mountain.
So what's this new Integrated Service Centre going to do – what do they mean by "regulate mountaineering activities"? Let's delve into the story in more detail. Here are some of the things the story reports the new government team at base camp will do:
Coordinate rescues
Protect the environment
Offer communication and safety related services
Check permits
Verify summit claims
Constrain bizarre records
Restrict helicopter flights
I'm going to look at each of these in turn and offer some observations.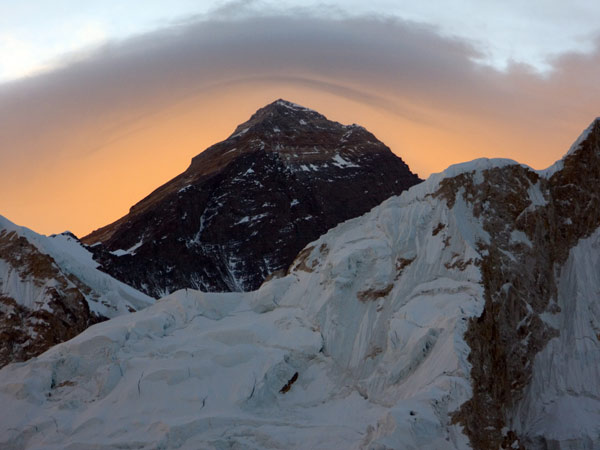 1. Coordinate rescues
Why? With no central coordination of rescues on Everest until now, climbers in trouble have had to rely on two alternatives: self-rescue (ie. help from within their own team), or help from other teams. Most of the bigger operators are well-resourced with Sherpa support and high altitude medicines such as dexamethasone, which is able to temporarily revive a stricken climber and get them moving to somewhere they can get help. The problem comes with the cheaper operators and so-called independent climbers who do not have the resources to carry out their own rescues. While the media have reported high profile cases of climbers being abandoned on Everest, in the overwhelming majority of cases, bigger teams divert their own resources to coordinate a rescue.
Is it practical? It's certainly possible. A good example is the Denali National Park service which operates on North America's highest mountain, who employ trained mountaineers and helicopter pilots to help with rescue. It's doubtful whether Nepal has the infrastructure or money to reproduce this on Everest, however. They could employ the Nepal Mountaineering Association to carry out this task, but Everest Sherpas are extremely well paid compared with other workers, and the best Sherpas are likely to work for bigger commercial operators.
What's the alternative? The root of the problem lies with the low budget operators and independent climbers, who are unable to rescue themselves. An alternative would therefore be to regulate the climbers and operators to ensure they can. Although for many people this goes against the spirit of adventure and discourages the intrepid alpinists and smaller expeditions, it can be argued that the numbers on Everest make it an exceptional case.
2. Protect the environment
Why? Ever since 1921 when George Mallory's British expedition trod on Everest's slopes for the first time, people have been collapsing their tents into crevasses, leaving trash behind because they have been too exhausted to carry it down with them, and defecating all over the place. While in recent years, since the advent of commercial mountaineering in the 1990s, teams have been better at cleaning up after themselves, not all do, and there remains a huge amount of historical trash from previous years.
Is it practical? It's very easy to police at base camp by ensuring teams leave the glacier in the same state they found it when they depart. This would normally be the job of the liaison officer if they bothered to turn up, but a dedicated service team at base camp could do the job just as effectively. Policing it at higher camps is more of a problem, though. The government would need to employ climbing Sherpas, and while it would be practical to have a team at Camp 2 in the Western Cwm monitoring what teams leave behind, it would be impossible in the inhospitable atmosphere of Camp 4 on the South Col. Clearing up historical trash would involve huge numbers of high altitude porters.
What's the alternative? Various measures such as weighing trash, providing toilets or issuing poo bags which need to be returned full, are employed on other more popular mountains such as Kilimanjaro and Aconcagua, though all have flaws. Dedicated clean up expeditions are probably a better way of clearing the mountain of historical debris, and incentivising Sherpas such as paying them by the kilo for trash they bring down. Part of the problem here is prevailing cultural attitudes and individual responsibility. Not everyone has the same respect for the mountain environment, and some nationalities (and operators) are better than others. Every climber should take responsibility for their team's environmental footprint.
3. Offer communication and safety related services
Why? This is very similar to no.1, and is all related to safety on the mountain. Communication falls into this category because not all climbers or teams on the mountain carry radios, and are sometimes unaware when members of their team are in difficulty. This is not such an issue at base camp, however. There are few teams now who are not equipped with satellite phones or internet connections.
Is it practical? The article is not specific about what services are being proposed. It's certainly practical for a government team located at base camp to offer sophisticated communication to less well-equipped teams, but to extend this service higher on the mountain suggests they would need to employ climbing Sherpas to patrol the higher camps.
What's the alternative? This looks to be another area which could be solved by better regulation of expedition operators to ensure they are sufficiently well equipped. It would be a simple matter to introduce a rule which required that all climbers carry a radio above base camp.
4. Check permits
Why? Permit fees for climbing Everest range from $7000 to $25,000 per person depending on team size and route, but nearby mountains which share a base camp with Everest, such as Lhotse and Nuptse, are considerably cheaper. Government officials aren't always aware who is climbing what, and often mountaineers change their plans when they're at base camp. It's not unknown for some climbers to sneak up an extra or different peak once they're there. While most of these ascents are in theory trackable given that most people these days publicise their achievements on websites, it would be a whole lot easier if the government had a team at base camp keeping tabs on what's going on every season.
Is it practical? Yes, absolutely.
What's the alternative? Trawling the internet, fining climbers retrospectively or banning them from climbing in Nepal.
5. Verify summit claims
Why? There are lots of reasons why people lie about reaching the summit, as I have described in a previous post. This is actually much less of a problem on Everest, simply because there are so many people on the standard route that everyone knows who climbed it and who didn't. Even so it's necessary for someone to check just to be sure. On other mountains throughout the Himalayas (and elsewhere) false summit claims are a big problem.
Is it practical? 400 to 500 climb Everest every year on the standard route, so it's certainly practical to interview all of them (or at least their team leaders) when they get back to base camp to verify their claims. Most will be able to produce summit photos on their digital cameras there and then before they've had a chance to doctor them in Photoshop.
What's the alternative? The venerable Elizabeth Hawley has been verifying and documenting ascents of peaks throughout Nepal for more than 40 years far more effectively than any government official is ever likely to, and adding them to her Himalayan Database. She is 89 now and still going strong, but she isn't going to live for ever and time will tell whether she will be able to pass her formidable crown onto a successor.
6. Constrain bizarre records
Why? This appears to be reputational. "These days we see people trying to make bizarre records like, for instance, standing on their head or taking off their clothes while on the summit," says Mr Ang Tshering of the Nepal Mountaineering Association in the BBC article. At the end of the day it doesn't really matter (although I would be concerned about frostbite to the extremities if I were the latter), but for people who don't know any better exploits like these tarnish the reputation of Everest and turn it into a bit of a joke. Not everyone climbs Everest for the right reasons, and many people underestimate what it involves. While this may seem a trivial and unimportant reason to have a government official at base camp, I for one won't be sorry if these people left Everest alone, although I'm realistic enough to know the highest mountain in the world is always going to attract record hunters.
Is it practical? Yes, but why this needs to be done by a team at base camp is less clear.
What's the alternative? Ask them when they apply for a permit. People who are there to claim records like to shout about it both beforehand and afterwards, so it should be easy enough to monitor from anywhere with an internet connection, although as one example last year demonstrates, government officials who see it as their business to police these things have proved mysteriously unaware of some records, even when publicised in advance and broadcast across major international news networks.
7. Restrict helicopter flights
Why? Pretty much every year now it seems someone sets a record on Everest for the highest helicopter evacuation. The latest one was set last year by the Italian pilot Simone Moro, who by coincidence was one of the mountaineers involved in the fist fight which seems to have spurred the Nepalese government to act on Everest. Helicopter evacuations at high altitude are particularly dangerous because the thin air lies on the very fringes of what is necessary to keep a helicopter aloft. Even flying to base camp at 5350m is more dangerous for pilots, and it's certainly dangerous for anyone who is not acclimatised to land at that altitude. The beautiful trek in from Lukla on the Everest Base Camp trail, stopping at tea houses along the way, should be part of the experience for every climber, but more and more people are skipping it and flying into and out of base camp. In addition to this teams are resupplying their base camps by helicopter instead of employing porters and yaks. This not only turns the Khumbu Glacier into a noisy flight path but provides business to wealthy Kathmandu helicopter pilots rather than more impoverished locals. The government is seeking to confine helicopter flights to emergencies, but landing a helicopter on a loaded snow slope can lead to the snow becoming unstable and trigger avalanches, so even emergency flights should be kept to a minimum and be used only when there is no other way to get a patient to Base Camp.
Is it practical? Yes, absolutely. Every helicopter pilot landing in base camp can check in and explain their purpose to a government official.
What's the alternative? Walk, you lazy b*stards.
Should there be an Everest Base Camp police force?
How accurate the BBC's story is remains to be seen, but we won't have to wait long to find out. Many people will be cynical about how effective the Nepalese government can be on Everest, and some expedition operators will resent the intrusion and believe the same ends can be achieved in other ways. It will be interesting to see whether the Integrated Service Centre proves to be a help or a hindrance to Everest and its climbers, but can it be any worse than corrupt and ineffective liaison officers?
Whether this is the right way of going about things I personally believe greater regulation on Everest is long overdue. It's also worth bearing in mind that some of the issues that exist on Everest exist to a lesser degree on other mountains, particularly environmental pollution. I hope it proves to be a step in the right direction.
To receive email notifications of my blog posts about mountains and occasional info about new releases, join my mailing list and get a free ebook.