The story of the Altitude Junkies 2014 Everest & Lhotse expedition
I'm pretty experienced at failing to get up 8000m peaks. It took me four attempts to summit my first one, and I learned very quickly the most important thing is not to reach the summit but to enjoy the whole experience of trying and failing and trying again, because however well prepared you are the weather can always thwart you. I was progressing quite smoothly with my modest ambition of reaching Camp 2 on all fourteen 8000ers, an ambition that seemed quite achievable and provided me with some satisfying climbing.
I was excited to be attempting 8516m Lhotse, the fourth highest mountain in the world which stands across the South Col from Everest. I climbed Everest from the north side two years ago and I was keen to sample the south side experience and visit the places I have read so much about. I wanted to follow in the footsteps of Tenzing and Hillary, and climb through the tumbling seracs of the Khumbu Icefall. If you're a regular reader of this blog you will also know that I'm often upset about the negative media coverage about Everest which is at odds with my own experience of climbing the mountain from the north. Much of that coverage focuses on the south side of Everest, and I wanted to find out for myself how closely it resembles the truth. Lhotse shares a base camp with Everest, and follows the same climbing route through the Khumbu Icefall to the Western Cwm, and all the way up to Camp 3 on the Lhotse Face. By attempting Lhotse I would learn about the south side Everest experience while climbing a new 8000er. Or so I hoped. Even if I didn't reach the summit I would surely reach Camp 2 at least, as I had on every previous occasion.
I was also excited when I met the rest of my team at the Courtyard Hotel in Kathmandu. Climbing with the mountaineering company Altitude Junkies is a bit like climbing with old college friends: the Junkies have so many repeat clients that on every expedition I know there will people I know, and there will be others I know a little about because they know the people I know. This year we had 7 clients on Everest and 5 on Lhotse. Expedition leader Phil Crampton introduced those of us on Lhotse permits – Louis, Edita, Margaret, Ian and myself – as the Dream Team, because we had all climbed Everest and had 27 8000m peak expeditions between us, but with me and my drinking buddy Ian Cartwright in the team, it would have to be quite a bad dream. We didn't know then that our dream would become a nightmare.
The expedition started with something of a novelty: a visit to the Ministry of Culture, Tourism and Civil Aviation (MoCTCA) for a briefing aimed at promoting peace and harmony on the mountain. I already had a fairly modest opinion of MoCTCA because of a series of bizarre announcements they made to the media in the run up to the start of the season. This somewhat farcical briefing confirmed me in my belief that Nepal's highest tourist body is being run by clowns. We all found it quite funny at the time, but this simple fact was to have serious consequences for everyone later. I described the briefing in more detail in an earlier dispatch, so I won't repeat it here.
That evening we had a team meal at Jatra restaurant in Thamel. Phil produced a special menu for us which had the following line printed at the top: "Please drink responsibly Ian, Mark, Margaret and Louis, as I'm paying for the alcohol". Ian proceeded to ignore this request, and Edita was so offended not to be listed that she spent much of the expedition trying to ensure she gets a mention on the menu next time.
Two days later, on 3 April, we flew by helicopters to Lukla to begin our trek into Everest Base Camp. Sending us by private chopper was a good move on Phil's part which has now become the only sensible means of getting there. The scary aircraft landing at Lukla is a remarkable experience, but a series of accidents has meant it's no longer a reliable means of reaching the Everest region. The Twin Otter planes have not been well maintained by airlines, there are only half as many of them as there once were, and rules for landing have been tightened. Having to wait for days for a flight has now become the norm, many holidays have been ruined, and some insurance companies have even stopped covering the flights. It's bad news for the people of the Khumbu region, who are now keen to extend the road to Lukla instead of relying on aviation. Tourist numbers are down, and I was surprised how quiet it was during our first few days on the trail.
That first night we stayed at the Buddha Lodge in Phakding, owned by the family of our sirdar Dorje Sherpa. Some of the team spent the afternoon watching the 1996 Everest IMAX movie on the 40 inch screen in the dining room there. It's not the way IMAX movies are meant to be watched, but Dorje is famous for being the man who carried David Breashears' 17kg IMAX camera to the summit, so the viewing was special for a different reason. I sat upstairs in my room reading, and was surprised to hear guffaws of laughter coming from downstairs. I watched the movie in the IMAX cinema in London Waterloo a few years ago, and I didn't remember it being particularly funny. I later found out they had watched a couple of episodes of the peurile British comedy The Inbetweeners afterwards. Mel, our Chinese team member, spent his afternoon more fruitfully. An architect by trade, we discovered he's also a brilliant artist when at dinner he produced a most amazing pencil sketch of the tea houses of Phakding and their mountain skyline.
The trail from Phakding to the Sherpa capital of Namche Bazaar passes through the wooded Dudh Kosi gorge, with impressive cliffs rising up on either side. For much of the way the holy mountain of Khumbila rises up as a perfect white pyramid straight ahead. While the scenery is dramatic, one thing this part of the trail isn't is remote. Villages and tea houses are encountered at almost every turn, and there seemed to be an unaccountable array of police, army and national park checkpoints manned by staff who were determined to take our permits off us for safe keeping (quite what they expected us to do at the next checkpoint without them I can only imagine).
It was today the first signs emerged that Dream Team wasn't perhaps the most accurate moniker for us Lhotse climbers. Something Louis ate didn't agree with him, and he arrived at breakfast claiming to have been to the toilet 40 times already that morning. He was badly dehydrated and couldn't walk far without having to stop and fertilise the bushes along the trail. But Everest summiteers who struggle on an easy trek don't get much sympathy. Louis' fiercest critic was his wife Dia, who was joining us for the trek into Base Camp. When her words of encouragement ("You've climbed Everest, stop being so pathetic!") failed to provide the necessary stimulation more drastic measures were called for. They next tried to find somewhere they could hire a horse to carry him up to Namche. When this also failed Louis was rescued by Robert and his friend Scott, a surgeon who was also coming along for the trek to Base Camp. Robert pulled out his climbing harness and prussic cords and proceeded to short-rope Louis up the trail, while Scott produced a needle and injected him with dexamethasone. These are tried and trusted mountaineering techniques which have been used many times to get exhausted climbers down from summits, but would they enable Louis to plod up the forested hillside to Namche? In the end he made it under his own steam, much to the disappointment of Phil, who was hoping he would arrive on four legs and had spent the afternoon thinking up horse jokes ("Why are you always making an ass of yourself, Louis?").
Namche is one of the most spectacularly sited villages anywhere, with colourful rooftops climbing above a horseshoe-shaped bowl in a hillside. The Bhote Kosi river crashes by hundreds of metres below and the dramatic snow-capped peak of Kongde Ri rises up on the other side of the valley. We saw nothing of this on our rest day the following day, when the village hung under a damp grey mist, but the next few days took us through undescribably beautiful landscapes which have become some of the world's most popular for a reason. As we rose above the treeline on trails clinging to hillsides high above dramatic river valleys, the land became increasingly alpine, with dwarf species of juniper and rhododendron giving way to rocky moonscapes. Grandest of all were the mountains; most of them are horribly technical climbs which rise in fluted spires of ice: Thamserku, Kangtega and Ama Dablam dominated the skyline to our right for the next two days, with Everest and Lhotse rising above the rocky mountain wall of Nuptse at the end of the valley.
We spent a rest day in Dingboche, where the trail turns north into the main Khumbu Valley which rises up to the foot of Everest. Here we acclimatised by climbing up to a viewpoint 700m above the village. Everest and Lhotse had disappeared behind a smaller peak, Pokalde, but two more 8000ers, Cho Oyu and Makalu were visible on separate horizons. More impressive still were a trio of vertical rock towers crowned with snow – Taboche Peak, Cholatse and Arakam Tse – that rose to our left and remained with us for the next two days as we journeyed north. Despite rising prominently in a popular mountain area, these peaks have had very few ascents, and it was easy to see why.
A new mountain vista opened before us as we climbed up to the Thokla Pass and the stone memorials to those who have died on Everest. As we walked alongside the lateral moraine of the Khumbu Glacier the Base Camp peaks appeared before us: triangular Pumori, wedge-shaped Lingtren and the crumpled black wall of Nuptse. I spent my rest day in Lobuche high up on that ridge of moraine savouring the wide mountain panorama and revelling in the tranquillity and silence of nothing but the wind. Although it was my fourth time in the Khumbu region I had never been this far up the valley before. People talk about how busy it is, but you don't need to move very far off the trail to feel like you're miles from anywhere, as indeed you are. Yaks were grazing on the short grass just below me, but everywhere else was snow, rock and sky, supporting no life but those of us who love the mountains.
The following day, 11 April, we completed the final section of the dusty trail and arrived in the natural amphitheatre of Everest Base Camp surrounded by towering walls of rock. It's a place I've long imagined being in, and now at last I was seeing it for the very first time. At first I was confused. I could see Everest's north peak of Changtse rising up across the Lho La, a peak I knew well from my ascent of the north side, and I recognised many of the others – Pumori, Lingtren, Khumbutse and the West Shoulder – from photos, but I could see no sign of the Khumbu Icefall. The reason for this only became clear when I was very close to Base Camp. The Icefall really is a secret opening into the Western Cwm and Everest's upper reaches from the south side, which remained hidden from view until I was very close. Everest appeared to be completely guarded by impossible faces, and for a long time I gazed at the hanging glaciers and rock wall of the Lho La thinking it must be the Khumbu Icefall. When they first explored Everest from the south side in 1950 Bill Tilman and Charles Houston must have gone right to the top end of the valley before they saw the route up into the Western Cwm and realised it might be climbable. Eventually as I approached the sprawling tented village of Base Camp below me on the glacier, the mass of frozen blocks spilling down between the steep walls of the West Shoulder and Nuptse was obvious, and the Khumbu Icefall then became the most dominant feature of the landscape, the dangerous road we all knew we must travel through several times before our adventure would be complete.
We settled into the comfort of the Altitude Junkies base camp which has now become familiar to me. We each had our own two man tent to sleep in. There were two sizeable bathroom tents with toilet, shower and sink, a storage tent for all our kit, a kitchen tent and a comfortable dining tent with carpet and heaters. We were introduced to our Sherpa team. Half of them I know well from previous expeditions, including Chongba, who was with me on the summits of Manaslu and Everest and whom I would be climbing with again. But the 30 strong Sherpa team was twice the size that it's been on previous expeditions, so this time there were some new faces. Luckily for us the US operator Mountain Trip had been unable to get a team together for Everest this year, but their loss was our gain and we were able to employ their experienced Everest Sherpas ourselves. Later that afternoon I reacquainted myself with one of the most enjoyable aspects of an Altitude Junkies expedition: base camp happy hour when we gather in the dining tent for red wine, cheese and Pringles.
Two days later, on 13 April, we had our puja ceremony straight after breakfast. A lama had come from Pangboche monastery to chant prayers beneath our puja platform and ask the mountain gods for safe passage. I don't know what we did differently from other teams, but this year the mountain gods were angry, yet they decided to be kind to us. The lama kept the ceremony relatively short, and finished his chanting after about an hour. A flag pole was raised onto the platform and prayer flags strung to all the corners of camp like spokes of a wheel. We threw rice into the air to the cry of lhagyelo ("victory to the gods") and were each presented with a tiny book of prayers to hang round our necks for the remainder of the expedition.
Then the lama departed for his next puja and the drinking started. Not all teams indulge in this particular part of the ceremony as eagerly as the Junkies. It's not without reason we are known as the Drunkies. I blame our Sherpas, who go about it as enthusiastically as we do, if not more so. Master of ceremonies was Pasang Nima, known as the Pocket Rocket due to his size and energy. Rarely did I see him without a bottle of Khukri Rum in his hand, ready to swoop. Three shots were obligatory each time we were caught, as it's an auspicious number in Buddhism. Despite having a tin of Tuborg in my hand I was caught three times in the first half hour, which meant nine shots. Next came the chang, a milky fluid that tastes like a weak beer. I was happy to give it a miss, but when I saw Margaret and Edita each take three large mugfuls in quick succession I knew I was in trouble. I hid behind a rock, but the Pocket Rocket soon found me. This part of the ceremony lasted rather longer than the chanting, and it was best summed up by Peter, a 61 year old attorney from Idaho who was climbing with the Junkies for the first time. "I can't remember the last time I was drunk before noon," he later said.
We spent the next few days resting and acclimatising. Our communications failed this year, and our comms tent, with its array of laptops, remained unvisited. The BGAN/Inmarsat satellite connection didn't work at all, and the NCell 3G cell phone connection stopped working from the moment the Asian Trekking team arrived at Base Camp and erected a huge satellite dish. Several members of the team made frequent visits to the tea houses of Gorak Shep, an hour's walk away, where there was wifi connectivity. These trips were invariably exhausting, but good exercise. The reason for this was the number of base camp trekkers clogging up the trail at their unusual walking pace, akin to that of an asthmatic tortoise. The trail between Gorak Shep and Base Camp undulates quite a lot to begin with, and it was usual for us to encounter a long line of trekkers on the uphill sections. Never once did they move out of the way, so we had to boulder-hop beside the trail at a canter in order to get past. On one occasion 64 year old Margaret, who has summited Everest from both the north and south sides and is known as Supergran back home in Australia, arrived back at camp and exclaimed: "Oh my god, I nearly killed a trekker!". In fact the trekker in question nearly killed himself after deciding that being overtaken by a 64 year old grandmother was something he couldn't handle. He chased after her and took the lead again before collapsing in a wheezing heap at the top of a rise. Margaret sauntered past him for a second time.
Then came that fateful day, 18 April, that will forever be one of the darkest days in Everest history. That morning we decided to go for our first foray into the Khumbu Icefall. Our Sherpas had been up twice already doing load carries, most recently the day before, and they reported the ladders weren't as safe as they should be and needed fixing. We decided to postpone a visit to Camp 1 until this was done, but it was time we started to do some climbing. Instead of leaving at 3am, as is usual for a first visit to the Icefall, and climbing all the way to Camp 1, we set off later, intending to climb for just a couple of hours to gives ourselves a workout. On such slender decisions are lives lost or saved.
At 6.45am I was walking through Base Camp on my way to the foot of the Icefall, deep in thought, when Jay cried out behind me.
"Hey, Mark, have you seen that? Take a look up there!"
I looked up to see a giant cloud of snow and ice on the skyline, extending across the entire width of the Icefall. It lasted for several seconds, but it seemed like minutes. I've seen avalanches that big before, but only rarely, and never on a section of mountain I was intending to climb. We stopped and photographed it, before completing our walk to the Icefall discussing other close shaves we've had in our climbing careers. With hindsight I realise I was probably numb with shock and it wasn't for a while I considered that although I wasn't up there myself there would almost certainly be other people who were. Up ahead of us Ian, Robert, Kevin and Louis had seen the event that triggered the catastrophe. They heard a loud crack and saw a huge section of ice fall off the West Shoulder.
"Man, this is bad news. There's people up there," said Robert when we arrived at the base of the Icefall.
"How many Sherpa?" I asked Dorje when he joined us.
"Maybe 40, 50," he replied.
I was stunned. It was clear we would be going nowhere today. It was our first visit to the Icefall and we weren't acclimatised. A major rescue was about to take place and we would only get in the way. Dorje and Ang Gelu set off immediately. Phil radioed back to camp to see if he could rouse any more Sherpas to come and help. They were having a well earned rest from their carry the previous day, but four of the strongest, Pasang Ongchu, Kami, Da Kusang and Samden, responded immediately. They joined Phil a few minutes later and headed upwards. For them it would be a morning they would never forget. They arrived at the avalanche site and spent hours digging out corpses. Injuries were horrific. Many had been killed instantly by shards of ice exploding like shrapnel, and there were mutilations.
It wasn't so traumatic for us, but even so it would also be a morning we are unlikely to forget. For the next hour or two I stood at the foot of the Icefall gazing up at tiny figures emerging from the ice. We could see a number of them clustered above a steeper section. Although they were clearly alive, few of them seemed to be moving. This was the main casualty site. At the moment the avalanche struck a large number of Sherpas were queueing at a bottleneck where a section of ladder had fallen away. It couldn't have happened at a worse moment, or in a worse place.
By 10 o'clock, when the first helicopters arrived, I was back at the Junkies camp but still in a daze. Our Sherpas were glad to see us, and we were glad to see them. All of us knew how easily any one of us might have been up there too. We shook hands and hugged, and for the next hour we watched in disbelief as the helicopters made journey after journey into the Icefall and emerged with bodies dangling on long lines which were lowered gently into the crowds of people gathered at the helipads. We lost count of the number of times they returned, but our Sherpas were listening to the radios crackling. Sangye told us that as many as 13 people were missing or dead, all of them Sherpas. The final figure was 16, and nearly all of them were known to members of our team. Edita returned to camp in tears after learning that Dorje Khatri, who had been with her on the summit of Cho Oyu, was one of them. Dorje Khatri was also Ang Gelu's cousin, and we knew he was up there helping to dig out the bodies. Even now I struggle to find the words to convey our sense of shock.
Darker events unfolded before dinner. We were settling down to eat when we heard noisy voices outside the tent. Robert and Phil went out to investigate, and saw a 30 strong mob of Sherpas passing through camp.
"What's going on?" said Robert.
"It's nothing," Phil replied.
"Don't lie to me."
It was the start of the troubles – threats, intimidation and eventually a full blown Sherpa strike – that would unravel over the coming week. Our Sherpas had no desire to join the mob, but wise and experienced sirdar that he is, Dorje sent two of our team to walk with them and make a show of solidarity.
Then later that evening a wonderful thing happened. I was on my way back to my tent after dinner when Phil emerged from the Sherpa dining tent, a place that is usually out of bounds to us clients.
"Hey, Mark, come in here, the Sherpas would like us to join them tonight."
I went inside to find all my team mates mingling with our 30 strong Sherpa crew. Rum and Tuborg was being passed around and they squeezed up to make room for me. Despite the horrors of the day, they were all smiling. Phil introduced the four new Junkies' clients – Jay, Peter, Caroline and Ricardo – and for the next hour we were able to enjoy ourselves in spite of the events that were engulfing Base Camp. I don't know whose idea it was to have this impromptu party on the night of a major tragedy, whether Phil's or Dorje's or most likely both of them, but in the context of events that were to follow it became significant.
The week that followed felt like a year. Some day someone will probably write a book about the twists and turns and the politics that swallowed up the tragedy and made it seem insignificant, if only for a while (and for sure, it won't be long before the first book of disaster porn is published). Despite the headlines about Everest being a walk-up, it will always be dangerous, and all of us who climb it accept a level of risk that for those who don't seems difficult to understand. When tragedy happens every climber makes a personal decision to call a halt or keep climbing. Some feel that to carry on is disrespectful, while others feel that were they to die themselves they would want their team mates to continue and ensure their struggles were not in vain. There is no right or wrong answer to this dilemma; it should really be a decision for the individual.
We expected a period of mourning to follow, then perhaps another puja to appease the mountain gods. We were lucky in the Altitude Junkies team. We had lost no one and all of us, client and Sherpa alike, wanted to keep climbing, but events were overtaking us as a handful of militant Sherpas from other teams agitated for an end to the season. The politics were complex. On 20 April a petition was handed to MoCTCA containing a number of demands. These included better compensation for the families of the Sherpas who died, expenses for the injured, a relief fund for future accidents, better insurance and cover for helicopter evacuation, an immediate end to the climbing season with full pay to staff, and helicopters to bring equipment down from the Western Cwm. It was a strange form of labour dispute. Instead of "these are our conditions or we go on strike", it was "here are our conditions and we go on strike and you must pay us". Many of the demands were reasonable, but all of it? How was that going to work? There would be many more losers than there needed to be. None of the Junkies Sherpas signed the petition.
On 22 April we watched a puja for the dead turn into a political rally. I was appalled. Western leaders were invited to speak, and they did the only appropriate thing under the circumstances by saying a few words for those who died and nothing more. The militants were less scrupulous and the movement to keep climbing was losing momentum. Stories started emerging about threats and intimidation to Sherpas who wished to keep working. There were rumours threats had been made against clients from Himex. That evening Phil took a helicopter to Kathmandu with Himex's owner Russell Brice for a meeting with officials from MoCTCA to see if he could persuade them to take urgent action to keep the season going.
On 23 April I escaped the Base Camp politics and joined Kevin and Edita for a walk to Camp 1 on Pumori, a notable viewpoint an hour or so above camp where we were told you could see right up into the Western Cwm. It was cloudy but we were pleased to be doing what we came here to do: to climb high and enjoy the lovely mountain scenery. We were still hopeful we would get our opportunity; some teams, those who had lost Sherpas, were going home, but there were enough of us remaining to fix the route and continue with our expeditions. Three teams – ourselves, Himex and Asian Trekking – all intended to stay, and although the biggest team on the mountain, IMG, didn't seem quite as committed, they were still here. We were relaxed and happy, and as we ascended the flanks of Pumori, Lhotse gradually began to rise into view above the Khumbu Icefall. It was still wreathed in cloud when we arrived at Camp 1, and Everest was completely obscured, but the rest of the view was clear and quite immense. We could see right across the Lho La to the North Col, from where Edita and I had both taken our journeys to the summit. On the other side we could see all the way down the Khumbu Glacier to a panorama of peaks, including Ama Dablam, Kangtega and Taboche. But the skies were gradually clearing, and just as some South African members of the Asian Trekking team joined us at the viewpoint the summit of Everest emerged. Were the mountain gods smiling on us at last? We returned to Base Camp full of hope.
As the most responsible member of the team Robert had been left in charge in Phil's absence. During happy hour he put us on speaker phone for a conversation with our leader back in Kathmandu. Phil was upbeat about his meeting that day. Officials from MoCTCA, including the Minister of Tourism himself, had assured him and Russell they would agree to most of the Sherpa demands, provide Icefall Doctors to maintain the climbing route through the Icefall, put pressure on the Sherpas to return to work by threatening bans for those who refused, and send army troops to Base Camp to provide protection for those who wished to continue working. A delegation would also fly into Base Camp tomorrow to announce the terms. It all sounded very positive, and as it was happy hour we decided to take advantage of Phil's absence and Robert's good nature by ordering more wine than we would normally drink. Ricardo, a musician by trade, entertained us with some singing. But the evening ended in despondency when we received a visit from a friend of Caroline's who was a client with IMG. He told us his team had been instructed to pack their things and leave Base Camp tomorrow. It was a shock. IMG were the biggest team on the mountain, with experienced Sherpas capable of taking on a large share of the rope fixing. If they joined ourselves, Himex and Asian Trekking, then we knew the mountain could still be climbed. But fixing the route all the way to the summit of Everest is a massive task, and without IMG the burden would fall heavily on the Sherpas of the three remaining teams. Would we be enough?
It was a forlorn figure who emerged alone from the helicopter the following morning, 24 April, and walked into camp. We watched Phil trudge wearily from the helipad and approach our tents. Although his meeting had gone well, the news about IMG had been a major blow and he was taking it hard. It must have seemed that nobody else cared about remaining on the mountain.
The farce of a meeting that followed ended any hope of climbing. The Minister didn't emerge from the helicopter wearing oversized shoes and an orange curly wig, but in every other respect we might as well have been watching performing clowns. Flying into Base Camp at an altitude of 5270m is a risky business. Those who weren't acclimatised would need to start breathing supplementary oxygen from the moment they stepped out of the helicopter, and it wouldn't be safe to remain there long. Whatever business they needed to conduct they would therefore need to do quickly and efficiently. Hundreds were gathered outside the tents of the Sagarmatha Pollution Control Committee (SPCC) where the meeting was taking place, an equal spread of westerners and Sherpas. We watched in utter disbelief as the delegation wasted time by disappearing inside a tent to be served omelette, garlic soup and pancakes. The speeches which followed were conducted entirely in Nepali with no translation into English, so most of us didn't have a clue what was being said, but after a while it became clear the militants were getting the upper hand. I didn't wait for the end, and I walked back to the Junkies camp knowing full well the season was over. I have no reason to doubt what Phil said about his meeting with the Ministry. Of all the things they told him they would do, the only one they actually did was fly to Base Camp. Still, I hope the garlic soup was tasty and worth the journey.
The following day, 25 April, our liaison officer showed up at Base Camp. She had brought her husband with her and looked exhausted after the trek into Base Camp, but where had she been when we needed her? In any case she was not a Sherpa and didn't look like she travelled much in the mountains; perhaps not the ideal person to handle the delicate negotiations associated with expedition work. Dorje was furious with her.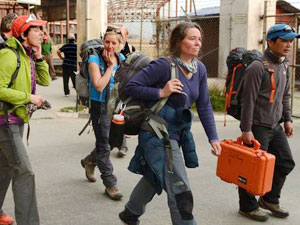 The next day we trekked down to Pheriche to board helicopters. On the evening of 26 April most of us were back in Kathmandu precisely 23 days after leaving, having got only as far as Base Camp. As Everest Base Camp treks go it had been pretty expensive. I was on a Lhotse permit, so mine was one of the cheaper ones. It had cost me only $20,000 USD. Our Everest team mates had paid over $40,000 for the same trip, and Altitude Junkies run one of the cheaper expeditions. Many of the things we had paid for – permit fees, government liaison officer fee, Icefall Doctor and rope fixing fees, costs for food, fuel and oxygen for the rest of the expedition – were gone. Phil agreed to pay all of our Sherpas in full and none of us objected. They had stood by us throughout the expedition and had been as keen to climb as we were. They have families to support, and why should they suffer for something that was not their fault? But for us westerners this was the year of the world's most expensive Everest Base Camp trek.
This is a trip report and I have therefore provided the perspective of a commercial client. Of course, there are wider issues associated with this season that I haven't talked about. These have been covered extensively elsewhere, but little by me. When we arrived back in Kathmandu we were besieged by journalists keen for us to help them with their stories. Some of my team mates agreed to talk, but I chose not to. This wasn't because I have nothing to say, but because I was still in a state of shock about what had happened. I knew it would take me a while to make sense of it all, and I didn't want a journalist to take my words and interpret them for me. Perhaps only four men and a dog read this blog and the media would provide a wider audience, but at least these are my words.
I still have plenty more to say and I intend to say it over the next few weeks. I'm sorry for those of you who are bored with Everest, but there are other blogs and I hope you will come back again later in the year. You can see the rest of my photos from the expedition here.
This post is dedicated to the 16 who died in the Khumbu Icefall this year, and all the Sherpas who work the high mountains. We couldn't do it without them.
Did you enjoy this blog post? This post also appears in my book Sherpa Hospitality as a Cure for Frostbite, a collection of the best posts from this blog exploring the evolution of Sherpa mountaineers, from the porters of early expeditions to the superstar climbers of the present day. It's available from all good e-bookstores and is also available as a paperback. Click on the big green button to find out more.
To receive email notifications of my blog posts about mountains and occasional info about new releases, join my mailing list and get a free ebook.