Insurance? Yawn, it must be time to watch another cookery show on TV. Yes, a boring subject, I know, but bear with me. For one reason or another I've talked quite a bit about insurance for climbing Sherpas this year, but how about expedition insurance for good old western climbers – is that up to the job?
For several years now Christmas has been the time to renew my annual travel insurance, and since I do two or three mountaineering expeditions every year it's felt natural to insure myself with the British Mountaineering Council (BMC). This year I won't be, and this post is all about why and where I'll be shopping around.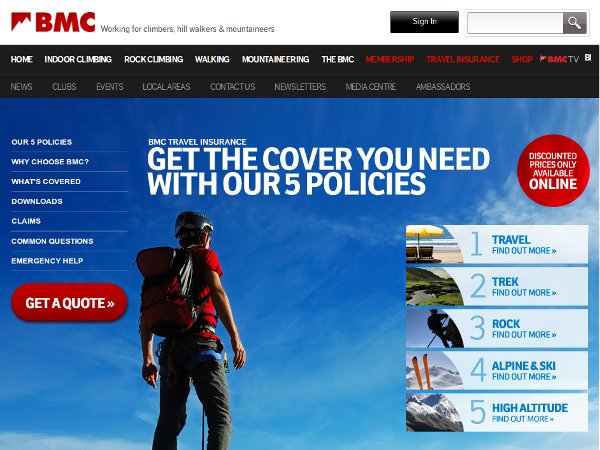 Every year I've checked the level of cover provided and paid my renewal fee, confident I will be covered should anything go wrong with my trip. But the thing about insurance is, you never really know how good the policy is until you have to make a claim. Most of the time you pay for a service that you don't receive, and only when it's time to call upon the service do you find out whether it's any good.
For years I haven't had to make a claim, but this year I had to claim twice for things I believed I was covered for. Despite providing the necessary proof and paperwork, both times BMC's insurance broker CSAL, who act on behalf of their insurer ACE Europe, refused my claim due to clauses in the small print I wasn't aware of, though one of these was later overturned after appealing to BMC.
BMC issues two documents when you take out a policy with them:
A 2 page policy schedule listing the circumstances (cancellation, accident, medical expenses, loss of property, etc.) and amount of cover for each.
A 35 page policy document written in legalese which contains the small print about precisely when the cover will be paid.
As I discovered this second document (written in language too impenetrable for customers to read) contains a treasure trove of clauses which enable them to wriggle out of paying. To put it more simply, many of the things I thought I was covered for after reading document 1, I really wasn't. While this may put BMC and their underwriters in a strong legal position, it's a bit like making a promise with your fingers crossed behind your back. In my opinion it's fundamentally dishonest and misleading, and unsurprisingly I'm not keen to give money to people I find deceitful.
Does this sound harsh, and are other insurers any better? Here are my two case studies, and you can judge for yourself.
Earlier this year I paid $20,000 USD to join a two month expedition to climb 8516m Lhotse in Nepal. I paid BMC around £900 GBP for a separate insurance policy to cover me for the expedition (BMC's annual policy only covers altitudes up to 6500m). A few days after trekking to base camp, a fatal avalanche in the Khumbu Icefall led to a strike by climbing Sherpas, and all expeditions were cancelled. On 26 April, less than halfway through the expedition, having not set foot on the mountain, we packed up and went home.
According to my BMC policy schedule I was covered for curtailment up to £5000 GBP. Although this was only a fraction of the cost of the expedition, it was some consolation. I filled in the necessary paperwork and filed my claim, but a few days later CSAL wrote back saying they wouldn't provide a single penny. Page 22 of the policy document listed all the situations where I was covered for curtailment and – bugger me backwards with a curtain rod – Sherpa strike wasn't mentioned, so they didn't have to pay.
A month or so later I needed to buy more insurance for my expedition to Peru, since I was again hoping to climb above 6500m. Since I'd already paid £1200 to BMC that year (for my annual policy and for my Lhotse expedition) and their service was found wanting, I didn't want to pay them any more, and I wrote and told them why I would be insuring with one of their competitors. They said they were reviewing my claim and, much to my surprise, a few days later I received another letter from CSAL to say the £5000 would be paid after all.
What happened? This year's Sherpa strike on Everest was high profile, attracting much attention in the media and on mountaineering websites. Hundreds of climbers were affected, many of whom were insured with BMC. I expect I wasn't the only person who complained: to refuse all of us would have been very bad business for them, and to lose BMC as a client would have been bad business for their insurer (or so I thought). Business reasons then, but I was grateful for the outcome and would have been happy renewing my BMC policy had it ended there.
In September I was climbing Mulanje in Malawi when Ethiopian Airlines rescheduled our flight from Lilongwe to Lusaka two days before it was due to depart. They tried to contact me, but there was no phone reception or internet connection in the mountain huts we were staying in (mountaineers have this problem often). We turned up for our flight in good time, only to learn it had departed that morning and there would not be another for two days. As Edita and I both had international flights from Lusaka back to Europe the following day we had no option but to hire taxis and travel overland across Malawi and Zambia to get there in time.
No problem, I thought. I was insured for a missed departure up to £500, and as long as I had receipts for the taxis we were covered. The second taxi from Chipata on the Zambian border back to Lusaka was a somewhat hair-raising experience (not that I have much hair to raise). On learning I needed a receipt for my insurance claim the driver's eyes lit up and he tried to charge us $1000. We didn't have many options, but we managed to negotiate him down to $580 for an eight hour night-time journey along unlit roads that saw us arriving in Lusaka at 2am. Often he was driving with one hand on the wheel and another on his phone as he argued with another potential customer, driving a few metres behind a big truck spewing up dust onto our windscreen. I tried to sleep and forget about where I was, but the noise and the emergency braking didn't make it easy. But we made it back to Lusaka without getting squished in a remote part of Zambia, and caught our international flights a few hours later.
Back home in the UK I put in my insurance claim, and a few days later CSAL replied with their get-out clause. Page 26 of the policy document said the following:
"We will pay up to the amount stated in the Policy … to enable you to reach … Your Home Country if You arrive too late at Your final point of international departure to Your Home Country on Your return Journey to board the Public Transport on which You are booked to travel to Your Home Country [sic]."
Yes, I know it sounds like it was written by an inebriated leprechaun and contains a number of unnecessary capitals, but if you've just nodded off you can WAKE UP NOW. In plain English it's saying I was only covered for flights to or from the UK. Had I made my leisurely way across Zambia and missed my flight back home they would have paid in part for that flight, if not for the flight from Lilongwe.
But why would I only need to be covered for flights out of the UK? I bought a worldwide insurance policy because I travel all over the world on flights that go to and from all sorts of different countries. In my search for compensation I learned about the EU Denied Boarding Regulation which would have obliged Ethiopian Airlines to compensate me for the missed flight had we been flying to any airport in the European Union. In other words I was covered by law for flights in and out of the UK, so the missed flight clause in my insurance policy was actually worthless. To charge me for something I get for free anyway is alarmingly close to being a scam.
Although I've found BMC's staff helpful and well-intentioned, and I can see the sense in a dedicated insurance policy for mountaineers, their policy document cannot be trusted, and gives their underwriter too many excuses for not paying. The prospect of having a get-out clause thrown back at me if I'm faced with a bill in thousands for medical expenses or helicopter evacuation doesn't bear thinking about.
Are changes afoot?
As things transpired this was no hollow fear on my part. I reached this conclusion entirely based on my own experience, but in the course of researching this post I came across this thread in the UKClimbing Forums from April this year about two climbers who called out the mountain rescue services while they were climbing in the Alps. One was insured by the Austrian Alpine Club (AAC) and the other by BMC. While AAC paid the claim promptly, BMC's insurer refused, and the climber was faced with a £2500 bill. The reason? The wording in BMC's policy which meant most genuine rescues wouldn't fit the criteria.
In a recent interview with the outdoor website Grough, BMC's chief executive Dave Turnbull said the incident caused BMC to fall out "big time" with their insurer to the extent that they are ending their relationship and intend to change the wording in the policy to match that of AAC's.
This is good news, and means BMC will be worth considering again in the future, but until it happens, insure yourself with someone else!
Other mountaineering insurance providers
So what are the alternatives? Next year is likely to be a work year for me, without too many expeditions, so I have a few months to find a suitable annual policy to replace the one I used to have with BMC. In any case, BMC limiting their annual policies to mountains under 6500m meant I was often having to pay for a separate single trip policy anyway. These weren't easy to apply for and required me to complete a long questionnaire about expedition logistics that, being a commercial client, I rarely knew how to answer.
I would be grateful for feedback from any of you about your own expedition insurance. Here are some of the alternatives I'll be researching over the coming months. Sorry if this is a bit UK-centric. I would also be interested in hearing about providers further afield.
For the benefit of UK climbers I've done a little comparison of prices for the three main UK mountaineering insurance providers. These have been obtained by submitting the online forms on their websites, but are only indicative. Not all policies are like-for-like and you may get slight variations in price if you submit the forms yourself. For example, amount of cover may differ; some require your age; BMC and Snowcard both define high altitude as over 6500m, while Dogtag defines it as over 4000m.
| Provider | Single trip alpine (21 days) | Single trip high altitude (45 days) | Annual multi trip alpine | Annual multi trip high altitude |
| --- | --- | --- | --- | --- |
| Dogtag | £127.43 | £235.95 | £185.60 | £339.41 |
| Snowcard | £199.59 | £699.25 | £259.60 | £644.35 |
| BMC | £174.73 | £919.95 | £322.06 | N/A |
And in next week's post I'll be comparing accountants specialising in tax advice for mountain guides … no, I'm only joking … come back!
To receive email notifications of my blog posts about mountains and occasional info about new releases, join my mailing list and get a free ebook.