I promised I would lay off the subject of this year's Everest season for a little while, and I have. It's been a full six weeks since my last post about it and the dust is starting to settle. With time comes the opportunity to put bewildering events in perspective. I still see articles about the Everest avalanche appearing in my various newsfeeds, but I have noticed a change in tone. Emotions were running high after sixteen Sherpas died in the Khumbu Icefall, and very few people really understood what was happening. Media reaction was one-sided and critical, and this produced an aggressive backlash from people keen to provide the other side of the argument (including myself).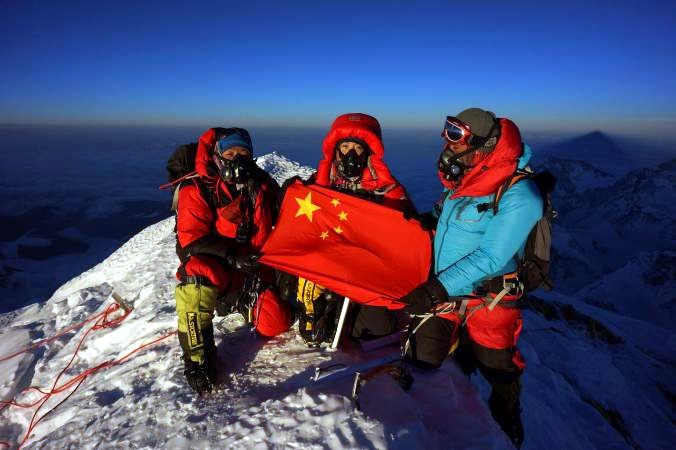 Now that we're beginning to understand things a little better, more recent articles on the subject seem to be more moderate and less judgemental in their approach. I thought it would be a good time to examine some of the things I've read more recently.
Last week National Geographic posted a detailed article and interview with Wang Jing, the Chinese climber who made a controversial ascent of Everest's south side after all the other teams had left the mountain by flying into the Western Cwm by helicopter [*]. Every word I've read about her climb until now has been negative, including my own slightly tongue-in-cheek post. She was criticised for being disrespectful of the dead, and insensitive to those whose expeditions had been cancelled. She was portrayed as the archetypal rich foreigner using her wealth to climb Everest, and she was of course accused of cheating (more on the subject of cheating on high mountains here).
All these charges are a matter of opinion, and National Geographic resisted the temptation to voice theirs, instead providing a straightforward description of her achievement. Ms Jing and her team of Sherpas (contrary to reports, all of whom had climbed Everest before) reached the summit just 13 days after arriving in the Western Cwm by helicopter. They had the mountain entirely to themselves and trod the knife edge ridge between the South Summit and Hillary Step without the benefit of fixed ropes, as modern commercial expeditions do. Their summit day was unusual in other ways. They left the South Col at 6am, when it was light, reached the summit at 6.30pm and descended in the dark, returning to camp at 11pm. By contrast commercial teams choose to climb in the dark and descend during daylight, often leaving for the summit as early as 9pm the night before.
Just how much of an achievement her ascent was is open to debate. While it's not in the same league as Everest's many first ascents on new routes and doesn't make her an elite mountaineer, it is much more of an achievement than the average commercial ascent (including mine). To climb like they did required considerable experience and confidence in their knowledge of the route. It was Ms Jing's third ascent of Everest, a notable achievement in itself, and her ninth ascent of an 8000m peak (she has also climbed Makalu, Manaslu, Broad Peak, Cho Oyu, Lhotse, and Shishapangma). A month later she completed her 9+2 challenge of the two poles, the seven summits including both Australasian summits and Mont Blanc thrown in for good measure, in just 149 days. Quite what the value of these manufactured firsts is I'm not sure (more on that here), but it deserves a pat on the back at the very least.
And let's not forget her Sherpas, of course. She singled out Pasang Dawa for particular praise after he led the route from the South Summit. I remember Ms Jing turning up at our dining tent in base camp to see our Chinese team mate Mel. Whatever you think about her ascent there is no denying she has a natural enthusiasm that is hard not to like, as this summit video demonstrates.
While it's refreshing to hear the other side of the story, the article left quite a few unanswered questions. Ms Jing says she was surprised by the angry reaction to her climb, both internationally and back home in China ("Helicopter Jing, you're imbued with the stench of your money-bought certificates and honors … The holy Everest has been dirtied by you, a cunning and ugly person!" one creative commenter on the Chinese social network Weibo was reported as saying). But how anyone who spent a week at base camp witnessing the angry scenes that followed the avalanche can claim they didn't think it would be controversial is hard to swallow. Likewise the debate about climbing purity is something every mountaineer has heard many times, so there should be no surprise that taking a helicopter might be seen as cheating. It would be like a contestant on the popular TV game show I'm a Celebrity, Get Me Out of Here being surprised when they are asked to eat a kangaroo's testicle.
National Geographic touched on some of the financial aspects of her climb, including rumours that she paid her five Sherpas around $12,000 each, roughly twice what they would earn during a normal Everest season. I would have liked to hear her questioned about any bribes she made to government officials. While initially telling her the helicopter flights were illegal and her ascent illegitimate the government changed direction in a way that would have impressed David Bowie. They eventually presented her with an award for her achievement in an elaborate ceremony in the same week they banned her helicopter pilot from flying in Nepal, which is about as two-faced as you can get, unless you're Zaphod Beeblebrox.
On the other hand perhaps backhanders weren't involved, and the Nepalese government just changed their mind. It happens to us all. Take a look at this:
Pleasantly surprised by this @outsidemagazine piece on the #Everest tragedy http://t.co/AUao4rZWqB balanced, informative and a nice tribute

— Mark Horrell (@markhorrell) August 6, 2014
While I was in Peru last month Outside magazine published a long and detailed article about the Everest tragedy. I bookmarked it when I returned, but only got around to reading it last week. I must confess I approached it with some trepidation. As I have reported in previous posts Outside's editorial line on commercial mountaineering on Everest can be likened to the Daily Mail's towards immigration.
As you can see from my tweet, I enjoyed the Outside article this time. As I read it I expected it to turn into a rant at any moment, and was surprised to get to the end and find it hadn't. There were one or two minor inaccuracies (for example, the Chinese climber who analysed the serac collapse was Mel from our team Altitude Junkies and not Jagged Globe; Madison Mountaineering's sirdar Dorje Khatri, who died in the avalanche, previously worked for Adventure Peaks rather than Adventure Consultants) but the general thrust of the events it describes is fair. It's very long and you need to set aside an hour or so to read it, but if you are interested then I recommend it.
On a less positive note, there is more to report about an ongoing saga. Nepal's Ministry of Tourism announced that life insurance for climbing Sherpas has been increased from $10,000 to $15,000 USD. On the face of it this is good news, but the problem is they are always making statements like this and rarely follow through with them.
"Yawning gap between pledges and delivery is becoming unbearable for the bereaved families of the Mt Everest avalanche victims," reported another piece in the Himalayan Times. On 20 April the government pledged the meagre sum of $400 to each of the victims' families. As of 26 July the families are yet to see a single rupee.
In other news the Everest operator Alpenglow made an interesting observation in their latest blog post.
"Conversation about the future of Everest guiding and expeditions was the top topic and one sentiment came out the strongest – Everest's top Sherpa are no longer going to be climbing through the Khumbu Icefall. One Sherpa said he will only support his team from Base Camp; another is looking for work in the USA; and a third is trying to move his team to the safer North Side (Tibet) … Their reasoning was uniform. The risk of the Khumbu Icefall is no longer acceptable and their families will not support their climbing if they choose to continue passing through it. What I quickly realized during these discussions is that if these leading Sherpa (from some of the biggest and most respected western guiding companies) stand by their beliefs, Everest's South Side in 2015 will be a less professional and less safe environment. More than half of Everest's best Sherpa will not be climbing on Everest's South Side (from Nepal) in 2015."
The conversation referred to took place at a climbing competition in Utah attended by 5,000 people which raised $10,000 for the Khumbu Climbing Center in Nepal. If the comments are true then there has been a significant change of attitude by Sherpas since the avalanche. While this may be the case my own feeling is to take these comments with a pinch of salt, as they may more closely echo the feelings of operators rather than Sherpas. I can understand operators switching to the north side of Everest next year because of the uncertainty and financial risk created by this year's events which are still unresolved. Sherpas, on the other hand, have families and businesses on the south side which are heavily dependent on Everest tourism and most would want to do everything they can to keep expeditions operating in Nepal rather than Tibet. The avalanche was a shock for everyone, but climbing Sherpas are experienced enough as mountaineers to know the objective danger is nothing new.
I don't want to speak too soon, but I hope some of the more recent coverage marks a mellowing in how Everest is reported by the media, and perhaps a change in editorial policy for some of them. Commercial mountaineering on Everest is here to stay, and portraying it as morally wrong, and all Everest climbers as socially retarded idiots, isn't very constructive. People pay to be guided up many other big mountains around the world, such as Aconcagua and Denali, in much the same way. It seems to be more accepted there, and some day I hope it will be accepted on Everest too.
Goodness me, I nearly forgot. While we're on the subject my latest expedition diary Denali Nights is now available as an e-book. If you have a spare $0.99 and an e-reader why not take a look.
[*] Is it Wang Jing or Jing Wang – can someone please explain? I have called her Ms Jing in this post as Ms Wang sounds smutty.
To receive email notifications of my blog posts about mountains and occasional info about new releases, join my mailing list and get a free ebook.