Good times are approaching again. On Sunday I leave for Nepal for my fifth 8000m peak expedition, and it's fair to say I'm just a teeny bit excited. After successive expeditions in 2009 (Gasherbrum I and II), 2010 (Cho Oyu), 2011 (Manaslu) and 2012 (Everest), I've taken a two year break from the 8000ers to do a spot of writing and replenish the funds with some contract work, but there was never any doubt I would be returning to the Himalayas to attempt another one.
My objective this time is 8516m Lhotse, the fourth highest mountain in the world and "the one next to Everest", as I've been telling everyone who has asked. I ended up choosing it more or less by chance when Phil Crampton, owner of the mountaineering company Altitude Junkies and my expedition leader on Everest two years ago, emailed me last June with a report on his 2013 Everest expedition. In 2012 we climbed Everest from the north side in Tibet and were blessed with a glorious summit day which enabled most of us to reach the top, and I did so wearing only liner gloves (on my hands, that is. I was wearing a down suit as well).
Last year conditions on the north side of Everest were much less favourable, with high winds and super cold temperatures, and only a handful of Phil's team managed to summit. He told me he was considering switching back to the south side the following year. While I don't have any plans to climb Everest from the south in the near future, I was very keen to sample the south side experience, trekking through the Khumbu region to Base Camp, running up Kala Pattar for that classic view of Everest, negotiating the ladders, crevasses and ice towers of the Khumbu Icefall, sampling the silence of the Western Cwm and plodding up the fixed ropes of the Lhotse Face, scene of last year's legendary fight between Ueli Steck, Simone Moro and a team of Sherpas that caused such a media furore. In fact, I have to admit the excessively negative media reporting of Everest that I moan about quite a lot in this blog, piques my interest. Is it really a giant garbage dump frequented by queues of incompetent climbers who don't even know how to strap on a pair of crampons, and fly in and out of base camp in private helicopters? I'm sceptical, but I'd love to find out first hand, unlike many of the journalists who sit at home writing about it without a clue how lovely the Khumbu region is. And then, of course, there is all the history attached to Everest. It will be a thrill as well as a great privilege to be following in the footsteps of Tenzing and Hillary at least some of the way.
Almost all of the negative reporting relates to the south side of Everest, and on the north side we could almost have been climbing a different mountain, until we reached the top and met people coming up the Southeast Ridge. People are sometimes surprised when they ask me about Everest Base Camp and I have to tell them I don't know. I've never been there, or watched the sunrise from Kala Pattar, although for a long time I've assumed that I will some day. On my first high altitude trek to Nepal in 2002 I walked as far as Tengboche and saw the rocky skyline of Everest and Nuptse for the first time. In 2004 I returned to the region to climb the popular trekking peak Mera Peak. From Mera's summit Everest peeps up behind the vast South Face of Lhotse, a massive wall of rock and ice I'm as likely to climb as I am to attend a fashion shoot. My most thorough exploration of the Khumbu region came in 2009, when I came off Island Peak and spent 10 days tea housing trekking by myself. I had intended to walk up to Base Camp then, but heavy snow meant I didn't feel confident of getting over the Cho La pass into the Gokyo Valley where I wanted to go next. I took an alternative route to Gokyo and spent an extra couple of days there, certain that I would return to Base Camp some day.
When Phil told me he was considering leading an expedition to Everest's south side my response was quite casual.
"Let me know if you're thinking of making a cheeky tilt at Lhotse as well, and I might well be up for it," I replied.
About a week later Phil wrote back to say his south side expedition was confirmed, and he would consider climbing Lhotse if enough people were interested. I emailed a few climbers I knew. One of them, my old pal Ian Cartwright whom I summited both Manaslu and Everest with, didn't take long to make up his mind. In all, Phil's Altitude Junkies team will have 7 clients on Everest and 5 of us on Lhotse, and there will be a few more old faces I know from previous expeditions, including a great many of our Sherpas.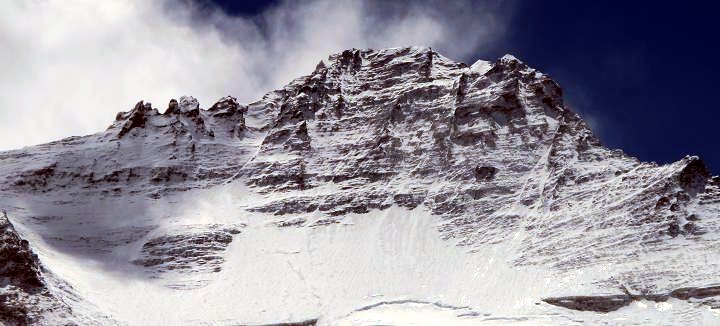 Lhotse was first viewed from close quarters by westerners in 1921, when George Mallory's Everest reconnaissance expedition, led by Colonel Charles Howard-Bury, viewed its northeast face from the Kangshung Glacier in Tibet. From that angle it appeared as a satellite peak of Everest, with the South Col in between, so they named it Lho Tse, which simply means South Peak in Tibetan. As there appeared to be no local name for the mountain, this name has stuck. Its proximity to Everest and impossibly giant faces meant no serious attempts were made to climb it until Everest itself had fallen. The first attempt was made by a Swiss expedition led by Norman Dyhrenfurth in 1955. In 1956 they tried again. This time the team was led by Albert Eggler, and during an astonishingly successful few days in May they succeeded in making both the first ascent of Lhotse and second ascent of Everest. They climbed the mountain's West Face, which is also known as the Lhotse Face to those climbing Everest.
For much of the way the routes up both mountains are the same. They share the same base camp, the perils of the Khumbu Icefall, and share an advanced base camp in the Western Cwm, christened the Valley of Silence by the Swiss team who pioneered the Southeast Ridge route up Everest in 1952. Both routes also share a camp on the West/Lhotse Face, but above this while Everest climbers continue on to the South Col and beyond it up the Southeast Ridge, Lhotse climbers divert to the right up a narrow couloir, imaginatively known as the Lhotse Couloir to Lhotse's knife edge summit ridge. Photographs of the Lhotse Face look hair-raisingly steep (not that I have much hair to raise), but the Swiss found the 5m wide couloir to be full of firm snow at an angle of 40° to 50°. There was a lot of snow in Nepal last autumn and winter, and I'm very much hoping we find it in similar condition, for steep snow is a good deal easier to climb than rock. It's the last bit I'm looking forward to least of all, should I make it that far. I was close to crapping myself when I scrambled along Everest's Northeast Ridge in 2012, and by all accounts Lhotse's ridge is a good deal narrower. When they reached the summit in 1956 the Swiss pair of Ernst Reiss and Fritz Luchsinger found it so small they had to hang their packs off a rock in order to take a summit photo.
Still, at least I'm only attempting the West Face. Once that had been climbed a handful of mountaineers focused on its giant 3000m South Face. I know this only too well, not from trying to climb it myself (that would be like wrestling an elephant) but from peering up at it from the 6189m summit of Island Peak, the only 6000m summit in the world where you can stare up at land two kilometres directly above you. Over a period of 25 years various hardcore climbers, including Ricardo Cassin, Reinhold Messner and Jerzy Kukuczka tried and failed. The legendary Kukuczka, who was the second person to climb all fourteen 8000ers, most by new routes or winter ascents, fell 3000m to his death when his 6mm rope snapped a short distance below the summit. It wasn't until 1990 that anyone succeeded, and that was in controversial circumstances. The Slovenian Tomo Cesen claimed a solo ascent of the face that had defeated better known climbers for years. There were no witnesses and no summit photos, and many people doubt whether he actually succeeded. A few months later a strong Russian team did succeed using siege tactics, but they also expressed disbelief about Cesen's climb. More happily Lhotse was the scene of Reinhold Messner's fourteenth and final 8000er in 1986, and in 1988 Krzysztof Wielicki made the first winter ascent by the classic West Face route.
During the months of April and May the West Face route has now become a commercial climb, with teams fixing ropes all the way to the summit. But while 658 people reached the summit of Everest last year, only 76 made the top of Lhotse in a 10 day period from May 13 to 23. And while Everest has now seen over 6000 ascents by around 4000 different climbers, Lhotse has still been climbed fewer than 600 times since the first ascent in 1956.
A special plea
Whether or not Lhotse's more technical nature ultimately proves beyond me, I'm going to give it my best shot, and I know I will enjoy the whole experience of being in the mountains for nearly two whole months. Because I enjoy going on expeditions and have been lucky enough to be able to pay for my own climbs, in the past I have always shied away from trying to raise money in sponsorship, but this time I have decided to dip my first toe in the water.
When I returned from Everest in 2012 I was invited to become a trustee of the UK charity CHANCE which funds education programmes in Nepal, and provides personal development for young Nepalis through the Duke of Edinburgh's International Award. I have been a volunteer with CHANCE since 2004, and you can read more about how I came to be involved in a previous blog post. I have also blogged about what the charity has been up to more recently.
It's a privilege to be able to give back to the country that has given me so many happy memories over the years, and if you too love Nepal and its people, or enjoy reading this blog, it would be fantastic if you could spare a few pennies and give me a big thumbs up for my Lhotse climb by making a donation through my sponsorship page. I can promise all of the money you donate will go to CHANCE, and none of it to paying for my holiday!
See how I get on
As usual I'll be trying to provide updates about my expedition through a number of methods. Base camp communications are notoriously unreliable, so how much success I will have remains to be seen, but here are some of things I'll be trying to do:
To receive email notifications of my blog posts about mountains and occasional info about new releases, join my mailing list and get a free ebook.