Here for your titillation is a photograph of some of the electrical equipment I'll be taking to Everest next month. I use the word 'titillation' because I know there's bound to be somebody reading this who loves gadgets, and much to my alarm I seem to be sliding that way too.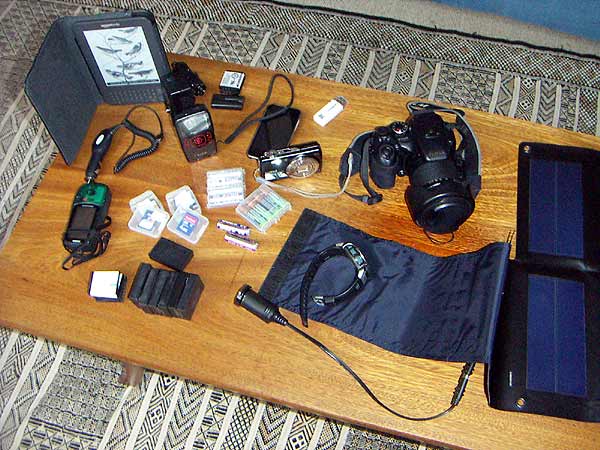 There was a time not very long ago that I would go to a remote part of the world on trek and love the fact that I'd be completely uncontactable for weeks. I would take a camera and a few spare batteries, but hardly anyone would ever see the photos, so I didn't need to edit them or post them anywhere till months later. And as to the idea that anyone would want to see a video of my travels – how preposterous!
Now people expect to know what you're up to in real time, and to tell them about it months later, as we always used to, seems terribly old-fashioned. To support this, I have three cameras: a large one for trekking with, a small one (my 'summit cam') to use in places where the big one's too cumbersome to climb with, and a mini handheld video camera. These all need a selection of different batteries and adaptors to plug into the solar panel for recharging them, and for transferring the files to a laptop.
In the past the phone would have been left in storage at the hotel, as it always used to be useless on trek. But now there's 3G coverage at Everest Base Camp, so an iPhone has all sorts of uses. The GPS unit and altimeter wristwatch are needed for navigation in case I find myself climbing in a whiteout. The Kindle is just gratuitous. I could easily be taking a library of books with me instead, and swapping them with other people.
And these are just my personal gadgets. We'll have a communications tent at base camp with several laptops, satellite phones and modems for internet access, and much bigger solar panels to recharge industrial size batteries even when it's cloudy. Blogging won't be a problem; it's not even very expensive by satellite if you know how to minimise connection time. Web browsing can be horribly expensive though, as can reading email. $10 a megabyte is a typical price, and there's always going to be someone who sends you a large unsolicited file attachment, unaware that it's going to cost $50 for you to download it. Consequently there's a lot more outgoing than incoming communication.
I read an article the other day about the latest top travel gadgets, and decided the most useful thing on the list was a towel. Most of the other stuff was non-essential, and some of it quite useless. When I thought about it later, though, I realised I've slipped into the mould of carrying unnecessary gadgets with me now as well. Perhaps my only virtue in this respect is that I never use an iPod when trekking or climbing. We only use four of our senses when experiencing the great outdoors, so to deprive yourself of one of them strikes me as a waste.
Yet despite this, at least I don't get as excited about gadgets as this man. Here's some footage of a very emotional Kenton Cool, complete with 'browcicles', making the very first 3G phone call from the summit of Everest.
I'd be overjoyed just to get there. If a great many uncertain circumstances come together and I'm able to do so, I won't be making a phone call, I'll probably be too exhausted to remember to take a video, and I'll be very relieved if my camera batteries aren't too frozen for a summit photo.
To receive email notifications of my blog posts about mountains and occasional info about new releases, join my mailing list and get a free ebook.