"I could no longer stand upright; I was but the wreck of a human being. So I crawled slowly forward on all fours, drawing imperceptibly nearer to that rocky spur, towards which I was struggling with such grim doubts."
Hermann Buhl, Nanga Parbat Pilgrimage
With the news last week that Sandy Allan (the Scottish climber, not the world's tallest woman) and Rick Allen (likewise the Scottish climber, not the one-armed drummer from Def Leppard) have completed the Mazeno Ridge on Nanga Parbat (8125m), the longest continuous ridge on any 8000 metre peak, I was reminded of the colourful history of this giant mountain in Pakistan, the most westerly of the 8000ers, once considered to be a German mountain, and now at least temporarily dressed in tartan.
The name Nanga Parbat translates from Sankrit as Naked Mountain due to its isolation from the rest of the Karakoram range (don't worry, this post is about a naked mountain, not naked Germans – the title was just to grab your attention). Compared with other Himalayan peaks which were only starting to be explored towards the end of the 19th century, it tasted climbing blood early in its history. The Briton Albert Mummery, one of the great alpine climbers of his day, died there with his two Gurkha porters Ragobir Thapa and Goman Singh in 1895. Mummery had no conception of the scale of Himalayan peaks and the effects of extreme altitude, and despite numerous retreats due to exhaustion, continued treating the climb in the same way he treated his alpine climbs, believing he could hop over a difficult ridge in a matter of hours like he could in the Swiss Alps.
When the scramble to climb 8000m peaks began in the 1930s, European nations decided to share the mountains between themselves in a gentlemanly way. K2, which was first attempted seriously by the Duke of Abruzzi in 1909, became an Italian mountain (note: mad magician Aleister Crowley's attempt in 1902 isn't considered serious enough). Everest, which was explored by George Mallory and co. in the 1920s, was a British mountain. Two disastrous expeditions in the 1930s, which claimed 26 lives between them, cemented Nanga Parbat's place as a German mountain.
Karl Herligkoffer, half-brother of one of the casualties, said this about the retreat of the 16 members of the German team from Camp 8 on Nanga Parbat on 8 July 1934: "for sheer protracted agony [it] has no parallel in mountaineering history". The two strongest climbers, Peter Aschenbrenner and Erwin Schneider, unroped from the party and were safely back in Camp 4 the same day, where they assured the climbers waiting for them the rest of the team would arrive any moment. As German history goes, this statement proved to be about as accurate as when Neville Chamberlain said he expected Herr Hitler would treat the Czech people fairly.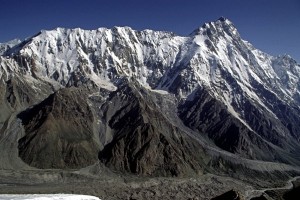 The Sherpas they had unroped from, Pasang, Nima Dorje and Pinzo Norbu, in fact made it no further than Camp 7, where they spent the night with no food and drink and just one sleeping bag between them. Expedition leader Willy Merkl, Willo Welzenbach, Ulrich Wieland and their eight Sherpas hadn't done quite as well as that, and were spending the night in a bivouac somewhere below Camp 8. Nima Norbu died there, and was the first of many to go. Three of the Sherpas, Ang Tsering, Gaylay and Dakshi, decided to stay there another night while the rest of the team descended. Wieland died a few metres short of Camp 7, where Merkl and Welzenbach spent the night after sending the four Sherpas, Kitar, Pasang Kikuli, Nima Tashi and Da Thundup, on to Camp 6. The four got lost and spent the next night in a snow cave. Unbeknown to them, Pasang, Nima Dorje and Pinzo Norbu, were sleeping not far away in another snow cave after losing their way in the whiteout. The seven Sherpas met up on the traverse of Rakhiot Peak, where Nima Dorje and Nima Tashi died on the fixed ropes just above Camp 5. Pinzo Norbu also died a few feet short of the tents. In the late afternoon of July 10, Pasang, Kitar, Pasang Kikuli and Da Thundup staggered into the relative safety of Camp 4, two days after Aschenbrenner and Schneider had said they would be just a few minutes.
Up above them all was not well. Dakshi had died in the bivouac above Camp 7, and Ang Tsering and Gaylay continued their descent on 11th, reaching Camp 7 and finding Merkl and Welzenbach clinging onto life there. All four remained in Camp 7 on 12th while the Sherpas tried to persuade their leaders to continue, as it didn't look like anyone was going to come and rescue them. Welzenbach died that night, and the other three left the next morning, but at a saddle in the Rakhiot ridge Merkl collapsed. Ang Tsering continued onward to try and get help, eventually reaching Camp 4 and safety, but Gaylay stayed with his master, and the pair of them died some time on the 15th or 16th, more than a week into the retreat.
If anything Herligkoffer's description of their descent is rather too understated. The disaster which struck the German team in 1937 was more straightforward. A huge avalanche at Camp 4 wiped the entire team of sixteen out while they slept, a slightly kinder way to go than Merkl's team in 1934.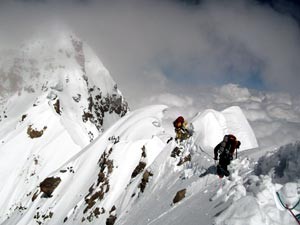 Not all early German attempts on Nanga Parbat were tragic failures though. Its eventual first ascent in 1953 by Hermann Buhl is one of the greatest feats of endurance in the history of mountaineering. He set out alone, without bottled oxygen, at 2.30am on 3rd July, with 1200 metres of ascent and about 6½ horizontal kilometres to traverse. He reached the summit 16½ hours later, at 7pm. Without enough daylight to descend, he spent the night standing on a ledge with his ski sticks in one hand, and grabbing onto a small hold with the other, then continued at dawn. Emaciated and hallucinating from exhaustion, he finally staggered into camp at 7pm on 4th July, more than 40 hours after he set out. And I thought my 18 hour summit day on Everest was a long one.
While perhaps not so historically epic, Allan and Allen's completion of the Mazeno Ridge to the summit last week is no mean achievement, and is likely to be the mountaineering highlight of 2012, certainly on the 8000ers. The ridge spans 15 horizontal kilometres, climbing from around 5300m to the summit at 8125m, and crosses no fewer than eight peaks over 7000m. The great Doug Scott made three attempts to traverse it, including with Sandy Allan in 1992, and with Rick Allen and the Australian Andrew Lock in 1995. Allan and Allen set off on 2nd July with the South African Cathy O'Dowd, Sherpas Lhakpa Nuru, Lhakpa Rangduk and Lhakpa Zatok, and eight days' supply of food, which they managed to stretch to ten. They traversed the ridge to the Mazeno Col and made their first summit attempt on 12th, but ran out of time and returned to the col, where Allan and Allen rested while the other four descended via the Diamir Face. The two Scotsmen made a second attempt and reached the summit on 15th. They then completed a full traverse of the mountain by descending via the normal (Kinshofer) route, reaching base camp on the 19th.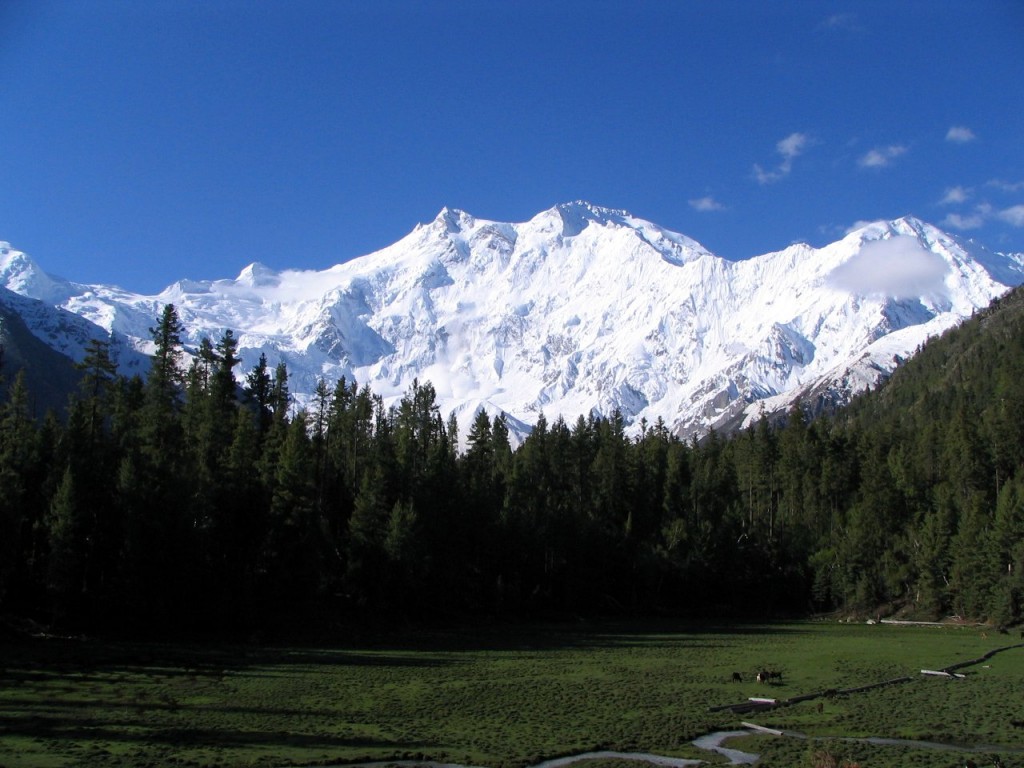 By chance I've crossed Sandy Allan's path twice in my own mountaineering career. In 2003 he was part of a team of guides who led a group of us up Gran Paradiso in Italy. At the time I found him a bit of a prickly character, but I bumped into him again in 2010 when Mark Dickson and I were attempting Baruntse in Nepal independently. On that occasion he appeared in our dining tent and introduced himself, and was extremely friendly and helpful, giving us some good advice about conditions on the mountain from the perspective of his own more experienced eye. Mark and I ran out of time on Baruntse and had to leave to catch our flight out of Lukla, but Sandy reached the summit with his clients a couple of days after we left. Whatever impressions I may have had of him, his and Rick Allen's achievement on Nanga Parbat deserves full respect.
Nanga Parbat's isolation means that all ascents must start from a much lower altitude than other 8000m peaks. The Polish climber Jerzy Kukuczka described it as the only mountain which is climbed through all four seasons, from baking summer at its base to minus 40º at the summit, and Willy Merkl, the leader who died in the 1934 tragedy, named his fantastically pastoral 1932 campsite the Marchenwiese, or Fairy Meadow, a name that remains to this day.
I'd like to climb another 8000m peak, but it won't be Nanga Parbat. We spent some time with Andrew Lock at Base Camp on Everest this year. Andrew attempted the Mazeno Ridge with Rick Allen in 1995, and reached the summit by the normal route in 1998. He eventually became the 18th person to climb all fourteen 8000ers in 2009, and decided to retire from 8000m peaks after this year's Everest expedition. We asked him whether he would miss it.
"There's two mountains I won't miss climbing," he replied. "Annapurna and Nanga Parbat."
To receive email notifications of my blog posts about mountains and occasional info about new releases, join my mailing list and get a free ebook.