This is part 3 of a series of posts about early tourism in Nepal. For the previous posts see part 1: How Nepal first came to open its doors to tourism and part 2: Bill Tilman: Nepal's very first trekking tourist.
The great mountain explorer Bill Tilman made three treks in Nepal in 1949 and 1950, to each of what are now the three main trekking regions: Langtang, Annapurna and Everest. His first to Langtang was not successful in mountaineering terms, but as an exploratory journey it must have been as enjoyable as any he undertook.
Although he pioneered the lightweight Himalayan expedition with Eric Shipton in the 1930s, Tilman's treks in Nepal were far removed from this style of exploration. Partly this was because of the Nepali government's requirement that expeditions had to include scientists. Partly it was because permits to travel there were rare and others were keen to join him. Undoubtedly part of the reason was also cultural. The authorities would never have allowed westerners to travel alone, and for the local people it would have been astonishing for them to travel without attendants, cooks and porters. When Tilman departed for Langtang, an area of high mountains immediately to the north of Kathmandu, as well as the four Europeans and their four Sherpas, there was the liaison officer Lieutenant Malla and his two orderlies, a havildar (sergeant) and two sepoys (privates), and no fewer than forty porters.
The whiskers on Tilman's moustache would have bristled at the need to be accompanied by scientists, but the lure of being the first western climber to explore the mountains of Nepal was too great. He found a botanist Oleg Polunin to accompany him, as well as a geologist J.S. Scott. Meanwhile he persuaded his friend and fellow climber Peter Lloyd to come along as a surveyor, observing that, "this would be of benefit to future mountaineers, and put all four members of our party on the same high intellectual plane". Four because Tilman had agreed to collect beetles, something he took to with great enthusiasm.
"They were to be all of one species – 'meligethes' – of which I had been given a rough description – small, black, shiny beggars – but having a poor memory for faces I decided to make sure by sweeping every beetle I met, regardless of age, sex or species, into what I called my battery of Belsen chambers."
H.W.Tilman, Nepal Himalaya
To be fair on Tilman, I'm not sure I'd be very good at sexing a beetle either.
One of the first hurdles confronting the team was getting into Nepal in the first place. Centuries of isolation had left it virtually inaccessible by modern transport. Their first stop was Raxaul, an Indian Railway terminal on the Nepalese border. Here they had to transfer to the narrow gauge Nepal State Railway, which will be familiar to anyone who can remember the 60s children's BBC TV programme Chigley, taking four hours to cross 29 miles of Terai plain while puffing cotton wool out of a big chimney at the front. From here they had a 27 mile journey by car to the roadhead at Bimpedi, stopping off on the way to leave their luggage to be transported up the hill and across the mountains to Kathmandu on a bizarre 14 mile electrically-powered ropeway. While the ropeway was able to transport 50 or 60 tons of equipment a day, Tilman's team had to get out and walk over two high passes. The ropeway could only handle smaller goods, and larger items such as (wait for it) motor vehicles had to be carried on porter back. Tilman explained that 70 to 90 people were able to carry a Rolls Royce by lashing two long poles underneath the vehicle and lifting it onto their shoulders.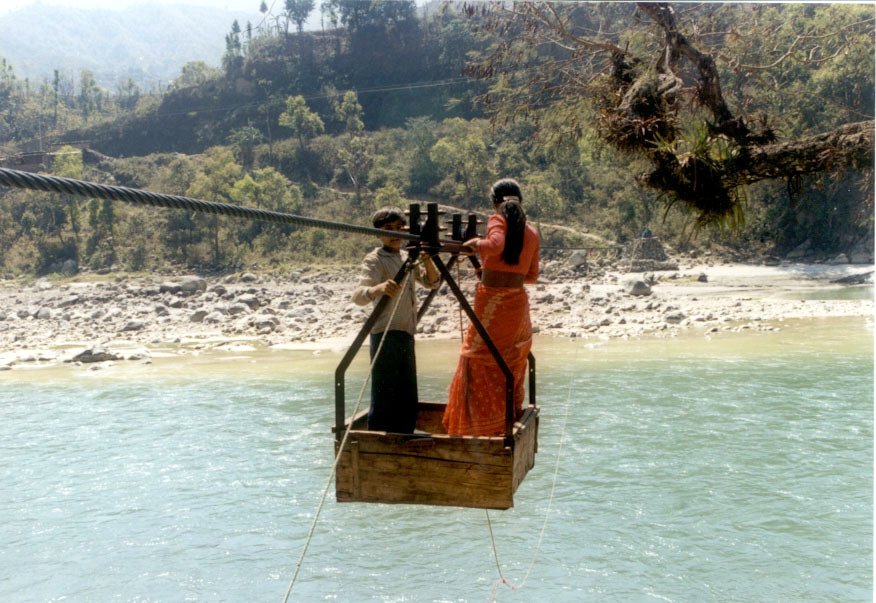 In common with many of Tilman's travels, both in the mountains and by boat, his objectives for the expedition were vague, and can best be described as exploratory wandering. He wanted to map as much new territory as he could, including Gosainthan to the north in Tibet (now known as Shishapangma, the smallest of the 8000m peaks). Being a mountaineer he also wanted to climb an unclimbed peak, but they had no idea which. They hoped they would find a suitable one – not too difficult but not too easy either – as they pootled along.
He had one huge advantage in the shape of his sirdar (or Sherpa leader) Tenzing Norgay (who, if you're a regular reader of this blog, you will know was the greatest of all Everest climbers). Tenzing was hugely determined, a fact of great benefit to Tilman and  Lloyd when it came to finding their unclimbed peak. Tilman already knew Tenzing from the 1938 Everest expedition which he led. In common with virtually all Sherpas of the time, he was extremely humble. On the Langtang trek he doubled up as both sirdar and cook, and Tilman lavished him with praise for having, "a deft hand for omelettes which he turns out nicely sloppy but firm." Which is useful, because there's nothing you need more than a sloppy but firm omelette when you're about to tackle a big mountain.
The party headed north along the lower altitudes of the Trisuli Valley to Syaphrubesi, a village which is now at the end of a bumpy dirt track which carries buses from Kathmandu. I completed this journey myself in 2007 with a few brain cells less than I started with, having smacked my head on the ceiling several times while flying out of my seat. Tilman and party had a much more comfortable journey on foot, but the downside was they were starting in May, just as the monsoon was about to break. The monsoon season usually lasts from early June until mid-September, and brings high humidity, low cloud, high temperatures and heavy rain nearly every day. Few tourists travel to Nepal during those months, and Tilman was to find out why. The low clouds meant the mountains were often obscured, which made mapping them very difficult and sometimes impossible.
It was a very wet trek, but what Tilman resented most were the leeches. I remember these very well from my own trek in the Langtang region in early June. They range in size from about a centimetre long and the diameter of a matchstick when thirsty, to an inch long and the diameter of a pencil when well-fed with human blood. While leeches sometimes drop out of trees and onto your clothing as you walk, their preferred means of access is from ground level. You don't have to stop for very long on a muddy trail during the monsoon season before you will see a dozen or more of them rearing up from the soil and wriggling their tiny heads in your direction as they smell a meal. I used to carry a leech stick with me, a small twig to flick them off my boots whenever I saw them crawling up intent on the warm flesh of my ankle. Tilman devotes nearly two pages of his book to the habits of leeches.
"The robust fellows, one or two inches long, black, brown or yellow, soon satisfy themselves there is no nutriment in leather and advance with great rapidity up the trousers, making for the soft under-belly."
H.W. Tilman, Nepal Himalaya
Despite his dislike of science, Tilman took an interest in wildlife. As they moved north from Trisuli Bazaar he watched barking deer breaking through the trees, and beyond Syaphrubesi, as they climbed east up the main Langtang Valley, he described the pine forests and the grassy glades of dog rose, white cotoneaster and orange berberis. To the west in a forested area of the Chilime Valley which is now part of the Tamang Heritage Trail he had an encounter with two black bears play-fighting in a streambed, snarling and dishing out hefty clouts to each other. Neither Tilman nor the bears were aware of one another until they were within 20m, but thankfully the bears were more timid, and crashed off into the trees as soon as they noticed him. His biggest discovery on the wildlife front was an encounter with yak herdsman in the higher reaches of the Langtang Valley, who showed him a cave which was reported to be the favourite haunt of a yeti. They pointed out some bear tracks and explained that bears never cross snow. Tilman concluded any bear tracks on snow must therefore be those of a yeti and stated their existence "is surely no longer a matter for conjecture", an interesting observation which proves, if anything, that he was right to steer clear of science.
From Syaphrubesi Tilman headed east into Langtang, a narrow valley just south of the Tibetan border, between the high peaks of the Himalayas to the north, the highest of which is 7227m Langtang Lirung, and a line a smaller 6000m peaks to the south. It's a Buddhist region which takes its name from the Tibetan words lang, meaning a yak, and dhang, meaning to follow. A long time ago a lama sped up the valley looking for one of his yaks. The yak took him to a place called Langshisa at the top end up the valley, a junction where three glaciated valleys spill down from the mountains. Unlike yetis, yaks aren't great glacier travellers, and this one keeled over and died when faced with the ice in preference to being caught by its master. The lama was keen to get his money's worth out of it, even in death, so he skinned it and spread the skin over a rock to dry; but in the heat of the sun the skin stuck to the rock. Tilman reported seeing a big red rock at Langshisa which he was sure must be the one in question.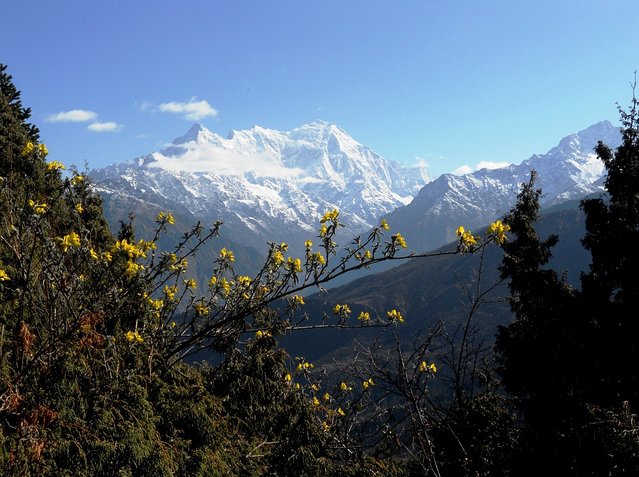 They spent several weeks mapping the glaciers on the Tibetan border and trying to get a view of Shishapangma. Although they did see it, they weren't sure at the time, and were only able to confirm it when they got home and performed the calculations on their data (these days of course, you just use Google Earth). They were less successful finding a mountain to climb. They tried to access Langtang Lirung from the north by returning to Syaphrubesi and approaching along the Tibetan border, but became lost in thick cloud. Before they could reach the flanks of Langtang Lirung, they were spotted by a Tibetan official, who noticed they were the wrong side of the Lende Khola river which divides Tibet from Nepal, and sent them back. They headed west and turned their attention to Ganesh, an intricate multi-summited massif whose highest peak Yangra is 7422m, and which even today has had very few ascents. They spotted a small outlying peak, 5928m Paldor, and made its first ascent, but still they weren't satisfied. Today Paldor is classified as one of Nepal's trekking peaks by the Nepal Mountaineering Association.
A couple of days later they camped further west in search of something a little harder when, "as if in answer to our prayer, the sight of a great mountain completely filling the head of the valley surprised and delighted us." It was Yangra, and that early dawn view convinced Tilman the southwest ridge offered a straightforward route to the summit, if only they could reach it. Alas, when they got closer they realised the only way onto the southwest ridge was by a rock buttress which could only be approached by crossing two icefalls. It was a bit like spotting a spare seat on a crowded train only to find it's next to a big hairy biker wearing deodorant that smells like a baboon's anus. "On such a dismal scene … I was ready to turn my back," Tilman concluded in disgust. Paldor was to prove their only mountaineering success. They returned to the Langtang Valley and tried to climb Ganchenpo, a fluted peak above Langshisa, but decided the route required too much step-cutting to be practical (coincidentally I believe this mountain may have been climbed for the first time as late as 2011 by Mila Mikhanovskaya, Dorje Sherpa and Pasang Ongchu Sherpa, all of whom I was on Everest with the following year).
They returned to Kathmandu over a high pass which now bears Tilman's name and through Helambu, a region of low level hills immediately north of Nepal's capital. The expedition hadn't been a roaring success in mountaineering terms, so perhaps it was a good thing he took scientists with him, as they discovered much.
Tilman wasn't finished with Nepal, and a few months later he returned to explore the Annapurna region. His limited climbing success in Langtang hadn't deterred him, for this expedition included an attempt on the world's 8th highest mountain, Manaslu. You can find out how he got on in the next post in this series.
To receive email notifications of my blog posts about mountains and occasional info about new releases, join my mailing list and get a free ebook.