I'd like to pay tribute to a man called Graham Uney. I've never met him and I probably never will, but thanks to his Backpacker's Britain walking guides I've had many an enjoyable weekend in the UK's hills, in places I would never have discovered otherwise. As their name implies, the guides are designed for walkers who like to carry all their kit on their back. The majority of the walks are two to three day hikes in wild and rugged landscapes, and finish each day in a pleasant spot for wild camping.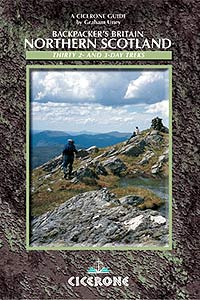 But if this appeals to you, first a warning: this man is HARDCORE. He has a penchant for getting off the beaten track, often over terrain without any footpath at all, and some of the walks involve very long days of up to 12 hours or more. This is ideal for me, as I need to keep myself in shape for climbing 8000 metre peaks, and there's no better training than walking up and down hills with a heavy pack on your back, but there have been several occasions when I've had to take a shortcut in order to arrive at his camping spot while there's still some daylight. And many's the time I've found myself slogging a route over difficult terrain to the sound of "confound this man, why did he direct me this way?" echoing through my mind (well, actually that's the polite version of my thoughts – the word 'Uney' has probably been associated with every expletive in the English language, but I've always thanked him for it later).
I discovered this to my cost on the very first walk of his I ever did in the Scottish peninsula of Knoydart one November several years ago. I chose November because the walk description said November was a good time to visit Knoydart, but of course with the reduced number of daylight hours it wasn't a good time for that particular walk. I set off from my campsite at Barrisdale beside a bleak sea loch at a rapid pace, knowing that I'd have to keep moving to have any chance of climbing two Munros and reaching the fishing village of Inverie with just eight hours of daylight. By the time I reached the summit of Luinne Bheinn, the first Munro, I was exhausted and hypothermic after slogging non-stop through the snow in order to keep to my schedule. I descended to a col and shivered my way through a sandwich, barely enough dexterity left in my fingers to get the packaging off. I realised I was in trouble and had no chance at all of completing the walk. I evacuated down a narrow rocky gully in somewhat hair-raising conditions. Fortunately I was still aware enough to take the necessary care. A slip then might have marked the end of my travels in the middle of nowhere, and when I arrived at Inverie in a rainstorm, I decided to take it easy for a few days. It looks like a brilliant walk, and one I hope to complete sometime, but I knew from that moment on that this man Graham Uney needed to be taken seriously!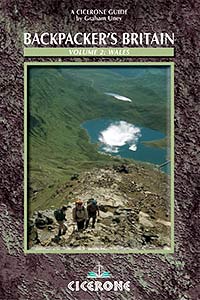 Since then I've had some more enjoyable adventures with his guidebooks, but they've always involved a certain amount of physical hardship. Last year I completed a three day walk in Glen Shiel that he described as his toughest while I was in training for Cho Oyu. The first day over the Five Sisters of Kintail and the Three Brothers took me 13 hours, and with only two litres of water in baking sunshine I was glad of a stop off at the Cluanie Inn as dusk was falling, where two pints of orange juice and lemonade went down in just 2 minutes and 36 seconds. The second day over the seven Munros of the South Glen Shiel ridge took a further 12 hours, but it was for the third 'short' day that I reserved my choicest expletives. An easy path led along a valley floor back to my car at Shiel Bridge, but Graham sent me over the Biod an Fhithich ridge, a pathless lump of tussocky bogland which probably only he and I have ever trodden. More than once my feet disappeared into the mire, and the final section through waist high sodden bracken left me so wet that I may as well have been swimming. And this was right at the end of the walk, with my journey's end in sight.
But still I go back for more; I would feel like a big softy now if I didn't follow Graham Uney's eccentric routes. My exhausting adventure in the Rhinogs earlier this month I recounted in my previous post. The remote and unpopular – but utterly beautiful – Rhinogs are a good example of why his walks are worth following. Some of my favourites have been in places I would never have thought of going, often in places I never even knew existed. One of my favourite wild camping spots was Bowscale Tarn, in the northern part of Cumbria, among the quiet rolling hills behind Skiddaw. On a busy bank holiday weekend we found a part of the Lake District which felt remote and quiet. Then there were the Abergwesyn Hills in the Cambrian Mountains, central Wales. Here I enjoyed a peaceful night in a palatial bothy nestling in a forest which I had completely to myself. The area was so remote and off-the-beaten-track that I wonder how many people ever visit it. It was great.
I know the British mountain landscape so much better now, but I've only scratched the surface of these walking guides. There are enough walks here to last a lifetime, and I will be enjoying many more.
So if you're a crazy backpacking wild camper like me, who likes a bit of exhaustion, dehydration and hypothermia every now and again as you explore a wild landscape, and you haven't already discovered these guides, get your hands on a copy now, strap your rucksack on and head for the hills.
The full set of Backpacker's Britain walking guides are:
This is not a sponsored post, but a belated thank you to the author for many happy weekends on the hills. If enough of you end up buying the books via this post, then I might be able to afford the odd Mars bar courtesy of Amazon's associate links programme.
To receive email notifications of my blog posts about mountains and occasional info about new releases, join my mailing list and get a free ebook.