Why great photography takes balls
It's a bit embarrassing to say this, but as far as photography's concerned I'm still something of a point-and-click man. I have several thousand photos on my website from dozens of expeditions worldwide, and some of them I'm even quite pleased with, but if I ever considered myself any good at photography (which I don't), then after spending two hours wandering around the Wildlife Photographer of the Year exhibition at London's Natural History Museum last weekend, I would have to think again.
It was all a bit overwhelming really, to see the lengths some people go to in order to get the perfect shot, the hours spent patiently waiting, the experimenting with different camera settings, the contraptions they rig up to get close to their subjects, and the incredibly ability to find extraordinary colours and light. It made my jaw drop and I'm surprised I didn't end up getting cramp from spending two hours walking around with my gob open. Every photo was unbelievably good, and even the ones in the under 10s category were enough to embarrass me. In the end it was all too much, and I had to leave before I'd been all the way round in order to go and have a pint.
It also reminded me that I don't do anything like as many wildlife trips as I'd like to. I'm luckier than most and manage to get a few months' holiday every year, but even so it never feels like enough, and I tend to spend it all in the mountains, either trekking or climbing. Occasionally I end up going somewhere where a bit of safari can be slotted in alongside the mountains, such as Uganda, Ethiopia and Tanzania.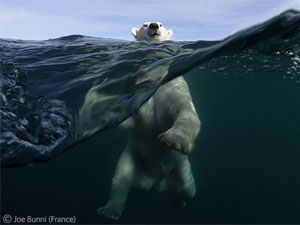 My favourite photo from Saturday's exhibition reminded me of one of my favourite wildlife encounters, when I sat just ten feet away from a pair of rhinos in Bardia National Park, Nepal; so close, in fact, that one of them snorted at me before retreating. I wasn't scared, though, due to the small but important detail that I happened to be sitting on the back of an elephant. The rhinos had been bathing peacefully in a small stream until our mahout (elephant driver) decided to take our majestic steed across it. Not very intrepid, I know, but very exciting for me at the time.
Contrast this with my favourite photo from the Wildlife Photographer of the Year exhibition, of a polar bear treading water. The camera lens is half in and half out of the water, so that the whole of Nanuq's body can be seen from nose to toe, its giant paws flapping in the water. Consider then, that a flail from one of those paws can knock a man unconscious and that the photographer had jumped in the water with him. The caption beside the photo went on to explain that a moment after the shot was taken one of those paws reached forward and touched his camera housing. As well as talent, patience, skill, and an amazing eye for spotting the perfect photo, some of these photographers also have massive balls. Then again, perhaps I'm better off just being a point-and-click man, after all.
The Wildlife Photographer of the Year exhibition is running at London's Natural History Museum until 11 March, 2012. All of the winning entries can be browsed online on the Natural History Museum's website.
Meanwhile, in other news, if you think the photographer was crazy, here's some footage of a man who gives him a run for his money.
To receive email notifications of my blog posts about mountains and occasional info about new releases, join my mailing list and get a free ebook.