"We were unanimous in our underestimation of the mountain."
Galen Rowell
"Our Cholatse climb proved to me the value of setting ambitions high enough to make life interesting but modest enough to let life in general remain the truer goal."
Andrew Selters
Last year was the first since 2005 that I didn't go to Nepal, so in 2014 I'm making up for it by going twice. By the time you read this I will be in Kathmandu and heading out to the Khumbu region for an attempt on 6440m Cholatse. I'm hoping it will be more successful than my expedition to Lhotse earlier in the year when, for various reasons, I got no higher than base camp.
This is far from certain though. Despite being officially classed as a trekking peak by the Nepal Mountaineering Association, Cholatse is likely to be the hardest technical climb I have ever done. The term trekking peak is misleading: there are 33 of them and many people assume trekkers can simply walk up them, but the word trekking simply refers to red tape. All you need to climb them is an ordinary trekking permit. By contrast any peak not on this list of 33 is classed as an expedition peak, and requires a higher permit fee, more paperwork, and the hiring of a liaison officer who (as is the custom in Nepal) doesn't show up for work.
Some people think it's even easier. After the Everest debate at the RGS a couple of weeks ago I was talking to Jagged Globe's medical advisor about my plans to climb it.
"What will you be doing, relaxing by the lakeside in Pokhara, going for a paddle and having a few beers?" he said.
"What on earth are you talking about – I thought you guys were supposed to know about mountains?" I replied, perhaps a little too tersely.
It turned out he thought I said chillaxing rather Cholatse. I can confirm I definitely won't be chillaxing. Despite being classed as a trekking peak there is no route up Cholatse that doesn't involve sustained technical difficulty (or to put it in layman's terms, it's steep on all sides).
We will be attempting it from arguably the easiest one (a relative term) along the Southwest Ridge which, as is often the case with mountains, also happens to be the one by which it was first climbed. Despite being classed as a trekking peak now, for a long time the Nepalese government didn't release any permits to climb it, until it was the very last mountain in the Khumbu region that had a name but hadn't been climbed.
Inexplicably labelled as Arakam Tse on most Nepalese maps, Cholatse will be familiar to trekkers who have been to Everest Base Camp or up to the popular viewpoint of Gokyo Ri. From the eastern side it appears as a horrendous looking wigwam of rock and ice rising up from the Khumbu Valley on the way up to Lobuche. From the western side above Gokyo it looks almost as bad, a black tower streaked with ice, although the slanted roof of its Southwest Ridge does offer the hint of a slightly less severe route to the summit.
The first permit was issued in 1982, and the same year an American team led by Galen Rowell attempted the Southwest Ridge from the Gokyo side. According to Rowell all five members of the team had previously seen it and believed they could rush up and down it in three days with suitable weather conditions. As you can see by the epigraph at the top of this post, it turned out to be a little harder than that, as the white coating on the Southwest Ridge they believed was snow turned out to be several hundred metres of brittle ice. Nevertheless, they succeeded at the first attempt after a tough battle and some brave unprotected climbing by their lead climber John Roskelley.
After carrying loads up a long icefall they established camp on a comfortable col between Cholatse and neighbouring Taboche Peak and placed 200m of fixed rope up the final headwall. Four days of bad weather then pinned them at base camp, during which team doctor Peter Hackett became ill. With limited supplies of food, he agreed the other four team members Rowell, Roskelley, Vern Clevenger and Bill O'Connor should make an attempt without him when the weather improved on the fifth day.
They returned to the col and established more fixed line on the harder and steeper ice above it, though not without damage to Clevenger's crampon, which sheared a front screw; Rowell's crampon, which tore a rivet; and Roskelley's ice axe, which broke clean off at the adze. The small matter of catastrophic failure of essential technical equipment wasn't going to hold them back, though. Later that afternoon as Rowell and Roskelley were traversing an 80º bulge in the ice Roskelley made a suggestion.
"Any one of us can climb anything on this mountain, but we're going to have to get up this fast, or we're not going to make it. I'm the fastest, and I can lead most of this without protection if it's okay with everybody."
I'm always happy for somebody else to do the more difficult leading, but it's unusual for alpinists. After establishing a second camp higher up the steeper ice section they set off on their summit bid at 3.30am the following morning. Roskelley led 15 rope-lengths (about 700m) of steep ice without placing a single piece of protection, before they reached easier ground and O'Connor took over the lead. Roskelley took over again when a huge crevasse blocked the route and more steep ice climbing was required to get around it. A false summit hid another 100m ice wall, but at the top of this the four found the summit after 12 hours of continual climbing. Rowell observed that:
"Roskelley and Clevenger reached the top in a full blizzard with their hair on end from electricity in the air."
Whether I have a hope of overcoming the technical difficulties they encountered on the Southwest Ridge at least I have the consolation of knowing that whatever the weather I won't have their experience on the summit, for I haven't got any hair. They bivouacked in a mild snowstorm at the top of the ridge before making their way back down to base camp the following day, after a more or less perfect first ascent.
Rowell described their descent as "twenty frightening diagonal rappels back down the ridge". I will have a bit more assistance with my own climb. I have signed up to a commercial expedition with Altitude Junkies, many of whose Sherpas helped to fix rope up the route on Manaslu last month. People who have climbed both believe Cholatse to be of similar technical difficulty as nearby Ama Dablam. While the latter is one of the most popular peaks in Nepal, Cholatse is rarely climbed and will be much quieter.
My preparation hasn't been great. I injured my achilles tendon back in June and have not been able to run since. My training has therefore been confined to a few sessions on the exercise bike and some hikes-cum-gentle climbs in Peru and Malawi. On the plus side I had exactly the same injury in the run up to my expedition to Everest in 2012 and it didn't stop me reaching the summit. On the other hand I'm nowhere near as mountain fit as I was then. On that occasion I had climbed Manaslu only six months earlier, but as we know, this year's 8000m peak expedition wasn't quite as successful. I have ballooned to 80kg in weight, which is the heaviest I have been for 10 years.
Whether fitness or technical expertise will be my biggest challenge on this expedition only time will tell. In recent years the ice slope above the col John Roskelley led in 1982 has become more of a rock climb, as these great photos of the route on Summitpost demonstrate. There has been an unusually late monsoon in Nepal this year. The monsoon is usually over by mid-September, leaving clear skies if colder temperatures for the autumn trekking and climbing season. This year the monsoon continued into October, and as you may be aware, blizzards swept across Nepal last week leading to terrible tragedy on the Annapurna Circuit and elsewhere. There is likely to be a lot more snow on the mountain this year.
Whatever happens I'll give it my best, and I'm happy to be returning to Nepal so soon after my surreal experience last spring. It's going to be tough, possibly the hardest mountain I have ever climbed, but life is more enjoyable if you step out of your comfort zone from time to time.
Here's a screen capture of the route from Google Earth, and the full text of Galen Rowell's account of the first ascent is available online in American Alpine Journal archives.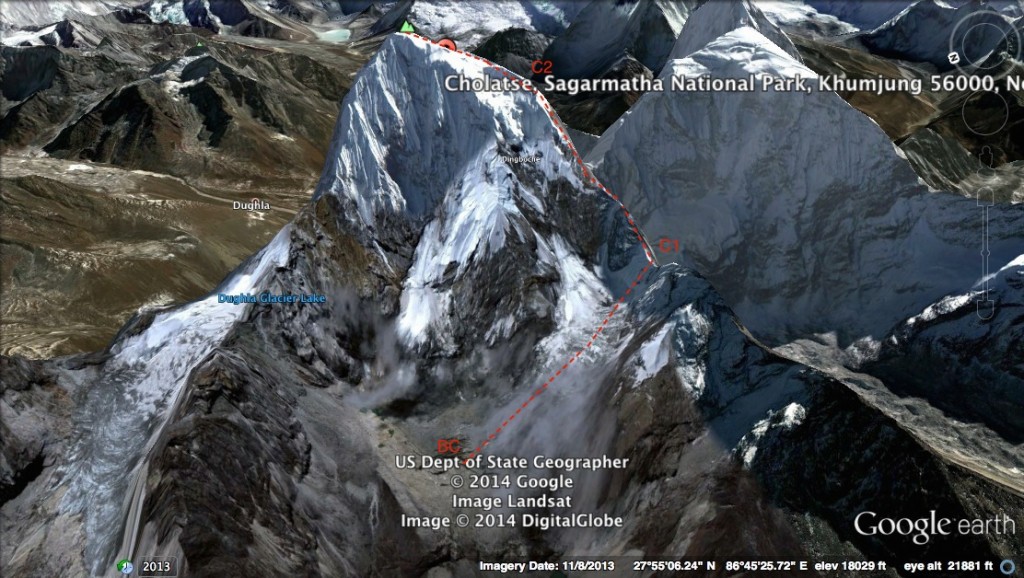 To receive email notifications of my blog posts about mountains and occasional info about new releases, join my mailing list and get a free ebook.