"But I shall go down from this airy space, this swift white peace, this stinging exultation;
And time will close about me, and my soul stir to the rhythm of the daily round.
Yet, having known, life will not press so close, and always I shall feel time ravel thin about me;
For once I stood in the white windy presence of eternity."
Eunice Tietjens, The Most-Sacred Mountain
Pete Boardman was only 31 years old when he went missing with his climbing partner Joe Tasker on the Northeast Ridge of Everest in 1982, but already he was a climbing legend who had packed an enormous amount into his short life. He climbed Everest by a new route on the Southwest Face in 1975 at the age of only 24, and the world's third highest mountain Kangchenjunga also by a new route in 1979. He was perhaps best known for his first ascent of the West Wall of Changabang in India with Tasker in 1976. He also had a day job as an administrator for the British Mountaineering Council (BMC) and was director of a climbing school in Switzerland. In between all of this he found time to write two books, which have both become mountaineering classics. He often focused on the contrast between his day jobs and the stillness of life on an expedition in his writing, and the poem he chose to introduce his second book Sacred Summits, by the American poet Eunice Tietjens, reflects upon how the experience of being in the mountains changes a climber's perception of everyday living.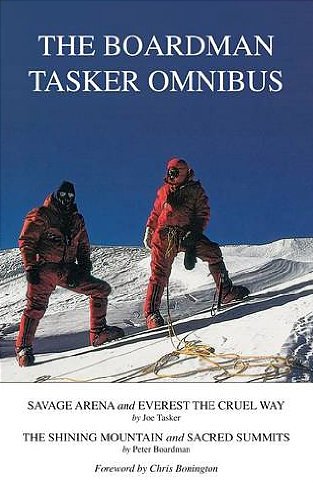 Sacred Summits is a book of three parts which covers three expeditions to very different mountains in the years 1978 and 1979, the link between them being that all the mountains are regarded as sacred by the people who live beneath them. In between each section Boardman adds a linking chapter describing the events taking place in his life between expeditions when he returns home to the UK and Switzerland. These chapters add a dose of culture shock to the narrative, what some people might call a reality check. There seems little doubt Boardman was very committed to his roles with the BMC and the International Mountaineering School in Leysin, but he was someone who lived for mountaineering, and the events taking place back home almost seem like a distraction to his life. We all have to earn a living somehow, and Boardman was one of a small minority of elite mountaineers who had a day job which bore some relation to his hobby. Mountaineers often refer to their life and work back home as "the real world". But is it really as simple as that? There are many times I've been on an expedition in an exotic location and reflected on how life is much saner than it is while I'm working. Sacred Summits often had me thinking about this theme.
The first part involves a trip to Indonesia with his girlfriend (and later wife) Hilary to climb the mountain Carstensz Pyramid, a rock peak rising out of the jungles of New Guinea. Carstensz, also known as Puncak Jaya, is situated in a very isolated location in tropical rain forest, surrounded by tribes of indigenous people who have very little contact with the modern world. The mountain now has a regular trickle of mountaineering traffic due to being one of the Seven Summits, the highest mountain on each continent, but even today there are occasional reports of expedition teams not being able to reach the mountain because of objections from local tribes. As events unfold Pete and Hilary's biggest barrier comes not from naked tribesmen wearing penis sheaths, but from unhelpful bureaucrats, none of whom are prepared to rock the boat of red tape and grant them a permit to travel to the fabled Snow Mountains. In the end they catch a flight to a remote airstrip beside a Dutch mission station and, finding the bureaucrats have deserted the area because of fears of unrest between tribes, they decide to sneak to the mountains without a permit. Despite having limited ability to communicate with the tribes, they manage to engage a handful of villagers as guides and porters to take them to the mountains. Their jungle trek takes them not far from a huge copper mine which Pete and Hilary are anxious to avoid, much to the astonishment of their companions. It's an intrepid adventure, and they're rewarded with a rare and successful ascent of Carstensz Pyramid, albeit in filthy wet jungle weather.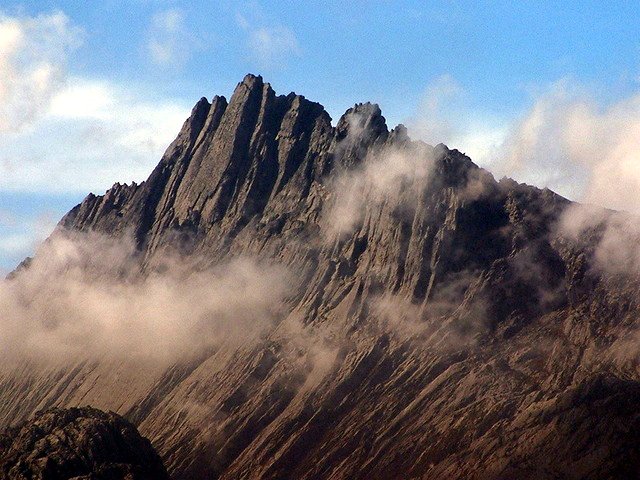 The second part of the book describes Boardman's successful ascent of Kangchenjunga on the border of Nepal and India with Doug Scott and Joe Tasker. They completed a new route by the Northwest Face and North Ridge without oxygen, a bold climb frequently bedevilled by high winds and avalanches. When Kangchenjunga was first climbed in 1955 by Joe Brown and George Band, the pair stopped a few feet short of the summit because local people had asked them to respect their belief that the summit is the abode of mountain gods. Boardman and his companions also respect this custom and leave the summit untrodden.
The final part of the book covers perhaps the boldest and most risky climb of all, a first ascent of the south summit of Gauri Sankar in Nepal, up an enormous four kilometre knife edge snow ridge. The ridge is laden with cornices all the way along, and Boardman and his companions face the danger of falling through them down the faces on either side at almost every step. They run out of food and are starving and emaciated towards the end of the climb. One of the climbers is injured after a fall, but somehow they manage to reach the summit and escape the mountain with their lives.
Pete Boardman is a very engaging writer with a great deal of humility. He often writes about the competitive macho posturing that goes on between climbers as they try to impress one another, and although he isn't immune from it himself, his descriptions of the rivalries between team mates are illuminating and at times humorous. He is very fair-minded and not afraid to write in detail about his own character faults. His books are as much about the people as the mountains, and he has a rare skill of being able to bring characters to life. While the banter between mountaineering superstars such as Doug Scott and Joe Tasker will be interesting to many people, one of the stars of the book is John Barry, a former army officer and director of an outward bound centre who accompanies Boardman to Gauri Sankar. Barry is a very forthright but diplomatic personality who helps Boardman to maintain team cohesion when arguments threaten to drive the climbers apart. Boardman describes arriving at base camp to find a note from Barry, who has been busy establishing camps higher up the mountain.
"You will need to bring: cup, spoon, soup bowl/plate, mattress, inner tent, water bottle … vibrator, cans of beer, kitchen sink."
Pete Boardman's early death was a great loss to mountaineering, but perhaps even more so to writing. The annual Boardman Tasker Prize for mountain literature has now been established in his memory. Not all of the winning books are as good as this one.
(See also my review of Joe Tasker's Savage Arena)
To receive email notifications of my blog posts about mountains and occasional info about new releases, join my mailing list and get a free ebook.