If you like books about mountaineering, here are some of my favourites. I make no claims that these are the 5 best books about mountain exploration ever written, because I can't claim to have read them all. They are simply five books about mountain exploration that I have enjoyed reading. And they are undoubtedly classics, covering pioneering feats of exploration which by definition can never be repeated.
I'd be glad to read about some more journeys of mountain discovery, so would be very happy to hear about your own favourites. In no particular order, here are mine:
1. Eric Shipton – Blank on the Map
"As I studied the maps, one thing about them captured my imagination … Across this blank space was written one challenging word, 'Unexplored'."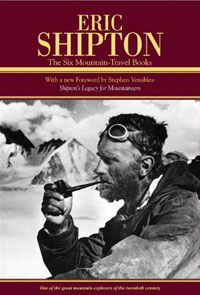 Although he'll forever be remembered as the mountaineer who was controversially overlooked as leader of the successful first ascent of Everest in 1953, in truth Eric Shipton's real passion was for mountain exploration rather than peak bagging. He was arguably the greatest mountain explorer of the 20th century, and it is difficult to travel far in the Himalayas or parts of Africa without coming across places which were first explored by him and with features named after him.
Blank on the Map is perhaps the book of his which best encapsulates the spirit of exploration, and describes an expedition to the Shaksgam area of the Karakoram mountains just north of K2 in 1937. Few climbers can travel to this part of the world without being tempted by the huge number of breathtaking peaks everywhere they look, from the 8000 metre giants of the Gasherbrums, Broad Peak and K2 itself, to the dramatic rock spires of Muztagh Tower and the Trango Towers.
Not Shipton, though. For him the expedition was all about exploration, and the most important members of his team were not climbing partners, but the surveyors Michael Spender and John Auden. Between them they mapped hundreds of square miles of totally unexplored mountainous country, opening up the area to legions of post-war climbers.
Shipton was a great observer of character, and his prose is peppered with anecdotes revealing the personalities of people he meets and travels with along the way, including the tomfoolery of his jovial and loyal Sherpas, the many altercations and strikes by the army of porters he employs to carry weeks' worth of supplies to this remote region, and the dry wit of his great friend and travelling companion the laconic Bill "HW" Tilman. A classic of exploration.
2. Edward Whymper – Travels Amongst the Great Andes of the Equator
"I proposed to carry exploration and research up to the highest attainable limits."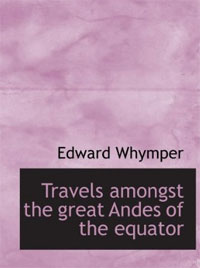 In contrast to Shipton, Edward Whymper was definitely a peak bagger. The early part of his mountaineering career was all focused on his obsession with becoming the first man to climb the Matterhorn, an ambition he achieved in 1865, but in controversial circumstances after four of his companions died on descent.
Conducted in an era when science was needed to justify the expense of equipping a journey of discovery, Whymper used experiments on the effects of high altitude on the human body as a pretext for his expedition to Ecuador in 1879-80. It's an excuse still used by mountaineers today, but Whymper was definitely the first to think of it!
Although his prose is frequently marred by turgid explanations about the effectiveness of aneroid barometers, or tedious discussions about whether so-and-so reached a precise height, when he switches off his tendency to write about science and turns his attention to the country and people he finds himself amongst, he becomes an engaging travel writer.
He was also a great explorer. The naturalist Alexander von Humboldt was one of the few Europeans to precede him to Ecuador, but by the time Whymper finished his seven month journey, he had pretty more covered the whole of the Central Highlands, with first ascents of Chimborazo, Sincholagua, Antisana, Cayambe, Sara-Urcu, and Carihuairazo, as well as a night on the summit crater of Cotopaxi.
3. Douglas Freshfield – Round Kangchenjunga
"Mountain worship in one form or another is as old and as widespread as mankind."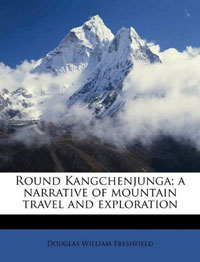 In the late Victorian and Edwardian period at the turn of the 19th century Kangchenjunga, the third highest mountain in the world, was the mountain that captured the public imagination in the same way that Everest does today. Few people knew much about Everest, and with Tibet and Nepal both out of bounds fewer still ever thought of climbing it. Stretching majestically across the horizon a short distance from the tea plantations of Darjeeling, by contrast Kangchenjunga was right there, and very much an attainable goal.
Many people had explored the regions of Sikkim and Darjeeling to the east of Kangchenjunga, most notably the Victorian naturalist Joseph Hooker, who introduced many Himalayan species such as rhododendrons to the gardens of Britain. But Douglas Freshfield's complete circumnavigation of the mountain in 1899 touched new ground by taking him across high passes into the uncharted territory of eastern Nepal on the west side of the mountain.
Although his colonial Victorian arrogance occasionally grates to the modern reader and it's necessary to read the book as a product of its time, there's no doubting from his writing that Freshfield was a man who loved the mountains, who writes sensitively and evocatively about the environment around him.
Round Kangchenjunga is one of the earliest accounts which details the trials of big expedition life with its inevitable delays and porter strikes, and the book's account of travels through twisted gnarly rhododendron forests, through hidden valleys and across remote glaciers is a joy to read for any mountain lover.
4. HW Tilman – Snow on the Equator
"Looking across to the Stanley Plateau, where we had played at Blind Man's Buff for four days with Alexandra and Margherita, we found it difficult to imagine that anyone could have had any trouble in finding them."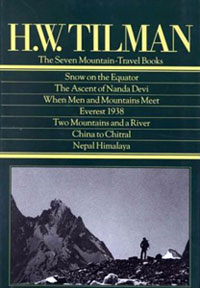 While it has to be one of the oddest books about mountain exploration ever written, for me Bill Tilman's Snow on the Equator is also one of the funniest in a laugh-out-loud kind of way. There is a hilarious sequence of events when Tilman and his great friend Eric Shipton are climbing the cloud ridden peaks of Uganda's Rwenzori mountains, coming across their own footprints and watching the mist clear to find they're on the wrong summit, which is just like something out of the fictional pages of WE Bowman's The Ascent of Rum Doodle, every mountain lover's favourite comic novel.
The book is Tilman's autobiographical account of his early years as a plantation owner in East Africa, where he spent his holidays exploring the highest peaks on the continent, such as Mt Kenya, Kilimanjaro and Mt Stanley, learning to climb with Shipton, who at the time was also trying to make a living as a farmer in Africa, in the days before either of them had become great explorers.
The final half of the book has nothing whatsoever to do with mountaineering, but is great entertainment for any reader with a zest for travel. When he finally decided to give up the plantations and return to his native Britain, instead of boarding the nearest boat out of Mombasa, Tilman decided to purchase a bicycle and pedal 3000 miles through the rain forests of the Congo to the west coast, living almost entirely on a diet of bananas. Native Africans were of course unused to the sight of a moustachioed white man pedalling through their territory, and wherever he went he found himself followed by hordes of fascinated villagers. Even at his most irritated, Tilman's writing oozes with dry humour.
5. Maurice Herzog – Annapurna
"With foresight Lachenal had removed his dressings himself and presented his first foot to the executioner ready for sacrifice. At the station before Gorakhpur two toes from his right foot went. The three others would have to be done at Gorakhpur itself."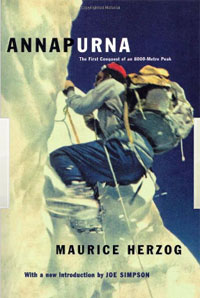 All the best films and novels have an iconic sequence that every viewer or reader instantly remembers it by. There are few books about mountaineering that have such a passage, but Maurice Herzog's Annapurna is one of them. But before we get to that sequence in an Indian railway station towards the end of the book, Annapurna has taken us on a fascinating journey of discovery through an area of the Himalayas which was just starting to open up to mountaineers.
This is the French expedition leader's account of the first ascent of Annapurna in 1950, the tenth highest mountain in the world, and the very first 8000 metre peak to be climbed. It begins as a tale of exploratory reconnaissance, as Herzog and his team survey the area around Annapurna and its neighbour Dhaulagiri, deciding which of the two mountains they should have a go at. Then it becomes a real thriller about a climbing trip gone wrong, as the team make their way up the mountain, eventually reaching the summit, but having to retreat in desperate circumstances.
Its denouement is a tale about Nepal and its people, as Herzog is carried on the back of a porter through hills and jungles on their way back to civilisation. Finally, it's a book about amputation, not that any reader will ever forget. A real page turner, and one of the most enthralling mountaineering books ever written.
To receive email notifications of my blog posts about mountains and occasional info about new releases, join my mailing list and get a free ebook.