The BBC reported last week that the International Mountaineering and Climbing Federation (UIAA) is considering a request from Nepal to reclassify five peaks within the country as 8000m peaks. The Himalayan Times has revealed a sixth peak in Pakistan is also being considered as part of a project which has been given the code name ARUGA (which if you Google it you will see, somewhat surprisingly, stands for Ailments Requiring Urgently God's Aid).
All six peaks are subsidiary summits of three existing 8000m peaks, Kangchenjunga, Lhotse and Broad Peak, and are as follows:
Yalung Kang (8505m), also known as Kangchenjunga West
Kangchenjunga South (8476m)
Kangchenjunga Central (8473m)
Lhotse Middle (8410m)
Lhotse Shar (8386m)
Broad Peak Central (8016m)
If the request is successful it will raise the number of 8000m peaks in the world from 14 to 20. It will also reduce the number people who have successfully climbed all of them from 31 to zero. It might even bring 69 year old Reinhold Messner, the first man to do so, out of retirement (but probably not).
An obvious question springs to mind: why?
According to the Beeb, the new peaks will appeal to experienced mountaineers because climbing them can make it "easier to secure sponsors". It will also "set an important precedent for Nepal because it plans to open several other new peaks in the future to climbers", something of a non sequitur, given the government of Nepal can open other peaks to climbers any time it wants to. The project appears to have been initiated by the Nepali expedition operator Asian Trekking, who in a press release on their web site state that:
"The international recognition of these new 8000m peaks will also encourage more expeditions to come to Nepal, which will increase royalty collection, increase job opportunities, stimulate the local and national economies and greatly enhance the global reputation and prestige of Nepal as a safe, secure and quality destination in the world."
Asian Trekking is owned by Ang Tshering Sherpa, a former president of the Nepal Mountaineering Association (NMA), and an advisor to Nepal Ministry of Tourism, who ultimately issue permits for mountaineering expeditions.
Piecing the statements together it seems leading figures in the tourist industry in Nepal are pushing to have these peaks recognised as 8000m peaks because they believe it means more people will want to climb them, and this will significantly boost Nepal's tourist income.
Before I examine this theory, let's look at the peaks in question and see if we think they should be classified as new 8000ers.
Whether they can be considered separate peaks depends on a measure known as topographic prominence, the amount of re-ascent from the col separating them from their parent peak. Of the existing 8000m peaks, the least topographically prominent is Lhotse, standing just 610m above the South Col which separates it from Everest. If any of the proposed new peaks have a topographic prominence of 610m then it seems reasonable for them to be considered separate mountains.
Thankfully, there is a marvellous website called Peakbagger.com, which not only lists the height of peaks and their subsidiaries, but their topographic prominence as well. I'm using this website as my source for the data below.
Yalung Kang, Kangchenjunga South and Kangchenjunga Central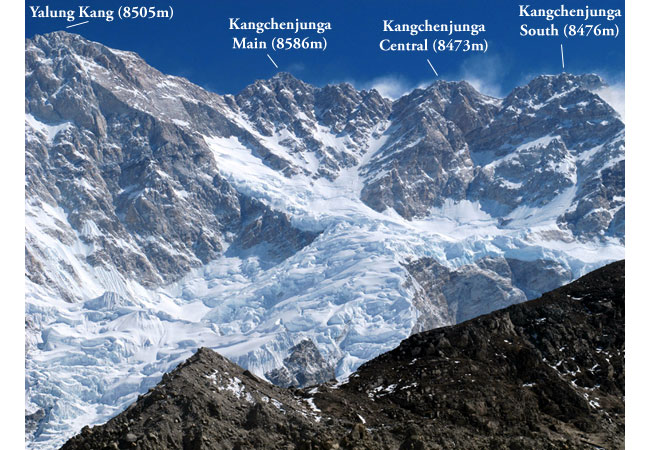 The above photograph shows the Southwest Face of Kangchenjunga, with the main summit and the three subsidiary peaks marked. Here are the stats:
| Peak | Parent | Height (m) | Prominence (m) |
| --- | --- | --- | --- |
| Yalung Kang | Kangchenjunga | 8505 | 135 |
| Kangchenjunga South | Kangchenjunga | 8476 | 116 |
| Kangchenjunga Central | Kangchenjunga | 8473 | 73 |
Lhotse Middle and Lhotse Shar
The above photograph shows the South Face of Lhotse, with the main summit and the two subsidiary peaks marked. Here are the stats:
| Peak | Parent | Height (m) | Prominence (m) |
| --- | --- | --- | --- |
| Lhotse Middle | Lhotse | 8410 | 60 |
| Lhotse Shar | Lhotse | 8386 | 86 |
Broad Peak Central
The above photograph shows the South Face of Broad Peak, with the main summit and the central summit marked. Here are the stats:
| Peak | Parent | Height (m) | Prominence (m) |
| --- | --- | --- | --- |
| Broad Peak Central | Broad Peak | 8016 | 196 |
I think it's fair to say if any of these summits are separate 8000m peaks then Ronnie Corbett is a giraffe. The most prominent one, Broad Peak Central is just 196m high and the least prominent, Lhotse Middle, is a meagre 60m. To put this in context, the highest mountain in Malta is 253m, while the Eiffel Tower stands a whopping 300m. I hope the UIAA will realise this when they come to consider it and laugh at the suggestion. Otherwise you might as well go the whole hog and throw in the South Summit of Everest as well. At 8749m the Nepalese would be able to claim the 2nd highest mountain in the world, and although its prominence is only 11m (the distance climbers need to drop before re-ascending to the Hillary Step), what does it matter if it means more people will want to climb it?
Which brings me to the other question.
Will more 8000m peaks mean more tourist income for Nepal?
The number of people wanting to climb these peaks will be neglible. It's undoubtedly true their status as 8000m peaks attract peak baggers to the existing 8000ers and bring them more climbers than the mountains which fall just below the magic number, like Gyachung Kang, Annapurna II and Gasherbrum III, but does it follow there will be a flurry of climbers to the new 8000ers?
Personally, I doubt it. Most people who go to the effort of climbing Kangchenjunga, Lhotse and Broad Peak will want to climb the main peak first, and if they manage that they are more likely to head to a different mountain than return to climb one of the smaller summits. It's possible people who have bagged the 14 main 8000ers will want to polish off the new ones, but as only 31 people have managed that so far it's hardly going to make a monster pile of cash for the people of Nepal. Difficult subsidiary summits are more likely to appeal to route baggers rather than peak baggers. This type of gifted technical climber is attracted by a new route and its difficulty, and doesn't care if it's classified as a peak or not. Often a route like this gets its name and its prestige only after it has been climbed and described. This initiative smacks of style over substance, like the recent announcement to rename two more of these insignificant hummocks Tenzing Peak and Hillary Peak in the hope that too will bring more ascents.
The idea of bringing in more climbers but reducing their impact on the environment by persuading them to climb lesser known peaks is an admirable one, but there are more concrete ways of going about it.
Here's a better idea. Instead of trying to get a smaller number of elite climbers to head for these insignificant avalanche-prone crags on a ridge, why not concentrate on getting large numbers of trekkers to climb much easier peaks. Nepal currently has just 33 designated trekking peaks. These are smaller peaks of only around 6000m in height. While some, like Mera Peak, involve little more than glacier walking for the most part, and are only a short step up in difficulty for many of the 1000s of trekkers who enjoy Nepal's mountains every year, others like Cholatse are difficult technical climbs. What they have in common is they require little more than an ordinary trekking permit to climb them (hence the name trekking peak, which has nothing to do with the nature of the ascent). The size of these peaks mean that for many of them ascents can be easily incorporated into a three week trekking holiday. An example of a mountain which does need reclassifying is Dhampus Peak, a straightforward 6012m summit easily accessible from the Dhaulagiri Circuit trek. Currently this is classed as an expedition peak, which means more paperwork and a much bigger permit fee if you want to climb it, putting off many trekkers and part time mountaineers.
Rather than spending time and energy headline grabbing by reclassifying dangerous minor ridge tops that are only going to appeal to a handful of people, the Nepalese tourist industry would benefit themselves far more in the long run by identifying and developing the infrastructure and attraction of these more accessible easier mountains.
To receive email notifications of my blog posts about mountains and occasional info about new releases, join my mailing list and get a free ebook.