A couple of weeks ago I reported from Africa on my mission to find, measure, ascend and if possible name the highest point in Zambia, and how identifying which peak to climb wasn't going to be as straightforward as you might think. I promised to provide an update, and the good news is I can happily say we definitely managed to climb the highest mountain in Zambia. The bad news is we found two points so similar in altitude that I'm unable to say for certain which one is the higher. This is the story of our quest.
But first some background. When I set out to join Edita in Zambia last month we had been unable to find a definitive answer to what its highest mountain was. Various sources placed it in a range of hills call the Mafinga Hills in the northeast of the country on the border with Malawi, but no source gave it a name, and there was no agreement on its precise altitude or coordinates. The best information available came from Robert Gondek of Poland, who is aiming to climb the highest peak of every country in Africa. Robert discovered the Mafinga Hills were more easily accessed from Malawi rather than Zambia, and climbed three peaks there last year and plotted them with his GPS, but due to confusion about where the border was he subsequently believed all three were in Malawi rather than Zambia. We are indebted to Robert for providing us with his data and putting us in touch with a local operator Franciwell Phiri of Small Steps Adventure Tours, to arrange the logistics for our expedition. Thankfully we are able to repay him by confirming he has definitely climbed the highest mountain in Zambia and has no need to go back there.
Our task was eased considerably the moment Franciwell met us in Chipata, Zambia. He discovered that the Government of Malawi's Department of Survey has comprehensive topographic maps of the whole country and can print out any sheet for just 6,000 Kwachas (about $15 USD). He came prepared with the Mafinga Hills sheet, and we could immediately see its highest points lay in two small clusters linked by a ridge above the 7,500 foot contour. A dotted line bore the legend boundary follows watershed, and we could clearly see the border ran right along the ridge over both clusters. To find the highest point in Zambia we therefore needed to climb both clusters and measure the highest point in each. Our secondary purpose was to interview the local people and try and identify a name for it.
The following evening, after two long drives, we found ourselves sharing a meal of chicken and nsima (a doughy like wedge made from ground maize) by candlelight with a gathering of villagers, businessmen and theology students in a cosy little guest house in Chisenga, Malawi, close to the border with Zambia. Although English is the second language in both Zambia and Malawi, nobody seemed to make head or tail of our question about names for the peaks on the ridge behind us. All of them agreed the hills had only one name, Mafinga, and any request for more detail was absurd.
After an uncomfortable night on straw mats and deflating airbeds in a windowless concrete storeroom, we rose around 5am and drove in darkness along a dirt track between two small triangular hills to the edge of a small wood. The altitude was around 1500m, and the Mafinga Hills rose another 800m or so above us. Although Franciwell would be staying down in Chisenga, we had a substantial escort for our climb: our driver Steve; a police officer with a gun called Andrew; a forester called Kennedy, who was armed with a long-handled machete and completed the entire climb barefoot; and Alistair, the owner of the guesthouse we stayed in who is the nearest thing Chisenga has to a local guide.
For some reason Edita decided to start by telling them we've both climbed Everest and would be quite quick. I don't know how many of them knew what Everest was, but for the first part of the climb we walked so quickly we were virtually running. The trail climbed through forest and emerged into a burnt field, which we crossed fairly briskly. On the other side there was more forest and the trail became much steeper. Edita happily kept up with Alistair, Andrew and Kennedy at the front, but I was stopping for photos, which meant I dropped back and had to run to catch up. Steve stayed with me, and by the time we emerged from the trees again to cross another steeply sloping field everyone was knackered. I wondered whether they intended to maintain this pace all the way up, and I had my answer when Steve suggested we stop for a rest, and everyone slumped down on the bank, gasping for breath. We had only been walking for a few minutes, but already we had ascended 200m and I was sweating like a pig. Below us a magical sunrise shed its rays above the plains beyond Chisenga, and the clouds bathed the villages in a soft glow.
"Guys, we can maybe go a little bit slower," I tentatively suggested.
Everyone roared with laughter, and when we moved off again the pace was more sensible. We started curving up a ridge towards the rocky dome of a peak dappled with greenery. We skirted round it to the left, crossed a short saddle and slanted upwards across the left side of another small dome. We were still moving quite quickly and stopping regularly for breaks. Every time we stopped I quizzed our guides about names. They were all adamant the only name that existed was Mafinga, which denoted the hills as a whole, and there were no names for individual summits as none of them were especially prominent. I told them I would need to give a name for the highest point when I wrote about it, and it would be better for them to provide it rather than me. Kennedy expressed an interest, but the rest of them were indifferent. On the plus side we discovered Edita would be the first Lithuanian to climb the highest peak in Zambia (she gets this accolade for nearly every mountain she climbs), but as the British had an army post at Chisenga during the days of Empire I was unlikely to be the first Englishman.
We crossed the second dome and saw the high points of the Mafinga ridge ahead of us, almost broad enough to be called a plateau. I diverted off to the right to climb a smaller summit and plot its position on my GPS. The others knew it was lower and took a shortcut up a sloping spur, but Edita followed me, as did Andrew with his gun. This might have been disconcerting, but as he mostly slung it over his shoulder like a hobo carrying a stick with a handkerchief containing all his worldly possessions, I concluded he was unlikely to use it. At the top of the ridge-cum-plateau we turned left to cross all the points in the southern cluster marked on Franciwell's map. We were now walking along the watershed that forms the border between Malawi and Zambia, and the highest point turned out to be at its southern end. The ridge was dry and grassy, and a few succulent shafts of aloe vera appeared to be the largest plants, but we were surprised to find a copse of small trees on the summit, the only ones for miles on this windswept plateau. I measured the altitude as 2335m and Edita measured it at 2338m. This was the point Robert had measured as the highest when he came here last year, and Alistair was adamant we did not need to explore any further along the ridge.
"But that peak to the north looks higher," I said. It most certainly did, and there was a murmur of agreement from everyone else in the party.
"But it will take another hour to get there, and when we do you will think this peak looks higher, and you will see that it is," Alistair replied.
"That's OK. We have plenty of time," I said. "If we do then we will be able to confirm Robert's data and know for sure this is the highest point in Zambia."
There was no arguing with this, and we set off back across the plateau in the direction we came from to investigate the northern cluster of peaks. It was a long flat slog to where we joined the ridge, but the northern cluster was much more compact. We dropped down to a small col then climbed back up the other side. There were three sets of cairns in the northern cluster, and Edita and I both measured the middle one, which was marked by a horizontal bench-like cairn, as slightly higher than the point with the copse of trees (2338m on my Garmin and 2340m on Edita's iPhone). At the northernmost of the three cairns we had a shock when we saw yet another peak along the ridge further to the north which looked higher still. There was a much deeper col dividing us, and this time it would take much longer to reach the summit, but I needed to know for sure.
"What's that peak over there?" I asked.
"It's in Malawi," said Alistair.
"Are you sure?" I was pretty confident the ridge marked the border, and as the third peak was a continuation of the ridge it must be in both Zambia and Malawi.
We stopped for a bite to eat, and I unfolded Franciwell's map to look at the route we had ascended. In doing so I confirmed the third peak was definitely on the border, as I suspected, but that it didn't rise above the 7,500 foot contour. It was clearly lower. We had already climbed all the points we identified when Franciwell showed us the map in Chipata, and had therefore reached the highest point in Zambia. The only trouble was we didn't know for sure which of the two points we measured it was. As I studied the map and aligned it with the topography of the hills around me it also occurred to me that we didn't need to invent a new name for any of these peaks, and could identify them simply by adopting convention.
All of the highest points lie along a ridge which runs from north to south, and there are three which stand out: the peak to the north which we didn't need to climb, the peak with the bench-like cairn in the central cluster, and the peak to the south with the copse of trees. There was a time in the past when people named peaks after their patrons and sponsors, or even themselves, but these days this practice is very much frowned upon. Besides, neither of us have sponsors and I can't see names like Mount Horrell, Point Edita or Lithuania Peak taking off. I know it may seem a bit boring but by calling them Mafinga North, Mafinga Central and Mafinga South we are able to adopt convention and also retain the only local name these hills seem to have.
I have indicated these three peaks on the Department of Survey map below, along with the route we climbed in green. I have added two other features, the East Ridge as the route by which we came up and Mafinga Col between the two main clusters.
I have also provided a table with the coordinates and heights of the two peaks we measured. Clicking on the coordinates will open the location in Google Maps, but note: Google shows the border incorrectly, which is what originally led Robert to believe the peaks he climbed were not in Zambia. Franciwell clarified this point with the Department of Survey and was able to confirm the watershed marks the border.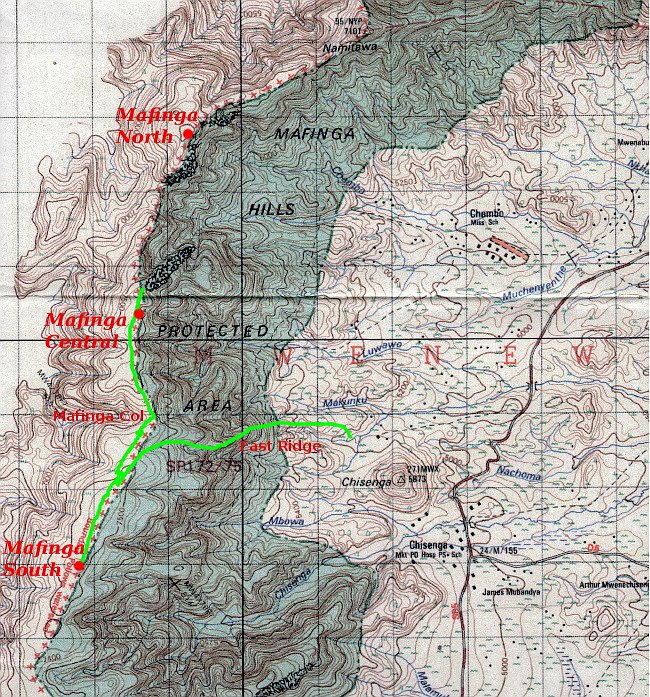 It was too windy to hear the sigh of relief when I told our party we didn't need to climb the northern peak, but they were all smiling enthusiastically when they gathered round the map and I described our route.
But for the vegetation, which was a bit more exotic, the entire climb had felt a bit like a day out in the Scottish hills, bagging a number of Munros along a central ridge (although I'm yet to see anyone in Scotland climb barefoot). We descended the way we came and were back down by 11am, ready for the long drive south to Mulanje and the highest mountain in Malawi.
Franciwell was there to greet us when we arrived. He had clearly found somewhere to wash, was much cleaner than the rest of us and wearing a flamboyant floral shirt that would not have looked out of place on Tom Selleck.
"Now you are true explorers," he said to us as he drove us back to Chisenga. "No one in Zambia knows what you know, and most of them don't even care."
Perhaps there's an element of truth in this. The hike was easy, and although we had no shortage of guides, we brought along the maps, the knowledge and the GPS, and I felt a sense of pioneering satisfaction I don't usually feel. But if we were explorers then Franciwell provided the local knowledge every explorer needs, and the work is not yet complete. We have been able to add to the knowledge Robert discovered last year, but some day someone will need to measure more accurately the heights of Mafinga South and Mafinga Central to say for sure which of the two peaks is higher. While they're at it they could climb Mafinga North and measure that one too.
Here's a short video documenting our quest, and you can see our photos of the climb here. Next week I will report on the second part of our expedition, our ascent of Sapitwa Peak, the highest point in Malawi.
To receive email notifications of my blog posts about mountains and occasional info about new releases, join my mailing list and get a free ebook.