The great Tyrolean mountaineer Reinhold Messner famously claimed to have seen a yeti when he was camping alone in a clearing in Tibet in 1986. Whatever it was, it moved adeptly on two legs and was too big to be a man. Not surprisingly when he returned home and described the encounter, people accused him of being bonkers, and he spent a good few years trying to back up his claim. Among his many books about climbing all of the world's 8000 metre peaks is the curiosity My Quest for the Yeti, about his search to uncover the truth about the elusive Himalayan beast. He eventually found another one in Lhasa Zoo of all places. The Tibetans called it a chemo, and he concluded that it was some unknown species of brown bear.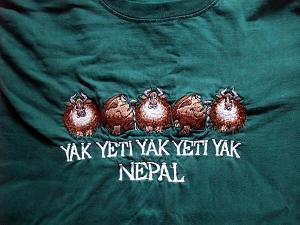 Frank Smythe devoted a whole chapter of his book The Valley of Flowers, about a mountaineering expedition to Garhwal in the Indian Himalayas in 1937, to the Abominable Snowman. He described seeing the enormous footprints of a 5-toed biped, as much as 13 inches in length and 6 inches in diameter, and followed them for some distance, concluding that they belonged to a very accomplished climber. His three Sherpas were so convinced that it was a yeti  they refused to follow him, saying that to even so much as set eyes on a yeti would mean to drop dead instantly. Smythe didn't believe a word of it. He photographed the footprints and later had them analysed by the Natural History Museum in London, who concluded they were the tracks of a bear. The size of the print was accounted for by snow-melt around the outside, making it appear larger than it was, and the fact that the bear is known to put its hind paws very close to where it lays its front ones.
More famously Eric Shipton took a photograph of a yeti's footprint during his 1951 Everest reconnaissance expedition. His Sherpa Sen Tensing was convinced of its belonging to a yeti because both he and Shipton were familiar with the tracks of a bear, and Sen Tensing said he had actually seen a yeti the previous year. Unlike Frank Smythe's Sherpas he wasn't afraid.
"Yeti will be very frightened tonight, Sahib," he told Shipton.
"Why?" Shipton replied.
"No one has ever been here before. We will certainly have scared them."
The hard-drinking Lancastrian climber Don Whillans also claimed to have seen a yeti near Machapuchare Base Camp during Chris Bonington's 1970 expedition to the South Face of Annapurna, but aside from him and Messner, few westerners have ever seen one, and for many of us their very existence seems ludicrous. Of course, Frank Smythe's Sherpas would easily be able to account for this – if you do see one you're unlikely to live to tell the tale. Which brings me to the point of this post. Whether you believe in yetis or not is largely irrelevant. The question is, would you know what to do if you saw one? If they rattle along on two feet and are such good climbers, how would you be able to escape?
Apparently it's quite simple. If it's a male yeti, just run up the hill. The male yeti's forehead is so pronounced that once you get high enough he won't be able to see you. If it's a female yeti, on the other hand, then you need to run downhill. The female's pendulous breasts are such an impediment that as long as you move fast enough she won't be able to keep up, and will more than likely knock herself out trying.
In the following video Bhutanese guide Lhap Tshering explains.
Did you enjoy this blog post? This post also appears in my book Sherpa Hospitality as a Cure for Frostbite, a collection of the best posts from this blog exploring the evolution of Sherpa mountaineers, from the porters of early expeditions to the superstar climbers of the present day. It's available from all good e-bookstores and is also available as a paperback. Click on the big green button to find out more.
To receive email notifications of my blog posts about mountains and occasional info about new releases, join my mailing list and get a free ebook.