This is part 4 of a series of posts about early tourism in Nepal. For the previous posts see part 1: How Nepal first came to open its doors to tourism, part 2: Bill Tilman: Nepal's very first trekking tourist, and part 3: Tilman's expedition to Langtang.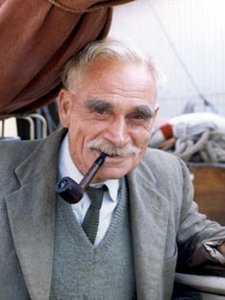 The great mountain explorer Bill Tilman made three treks in Nepal in 1949 and 1950, to each of what are now the three main trekking regions: Langtang, Annapurna and Everest. After his pioneering, if less than successful, expedition to Langtang in 1949, he returned to explore the Annapurna region the following year, starting off in the Marsyangdi Valley which nowadays forms the first part of the popular Annapurna Circuit trek.
As had been the case with his Langtang expedition, he was compelled to travel with a larger party than he would have liked, though the much-maligned scientists often ended up forming breakaway units and going off on their own with a few porters. Accompanying him this time were a botanist George Lowndes, a geologist Bill Packard, and a surveyor Emlyn Jones. To keep him company on the mountaineering front was Charles Evans, who very nearly became the first man to climb Everest, when he reached the South Summit with Tom Bourdillon during the 1953 British Everest expedition, two days before Tenzing Norgay and Edmund Hillary succeeded.
The most significant member of the party, at least in terms of the development of tourism in Nepal (which I talked about a little in a previous post), was Major Jimmy Roberts, an officer in the British Army's Gurkha regiment, who was taken along because of his knowledge of the Himalayas and ability to speak Nepali. He sometimes bumped into members of his regiment during the expedition, who were astonished to see one of their officers in such a remote part of Nepal, and no doubt as delighted to see him as a 17-year-old schoolboy sneaking into the local boozer and finding his headmaster propping up the bar.
Tilman set off a month earlier than the previous year to avoid the monsoon. They would be crossing over the Himalayan divide into the Manang region, a drier desert landscape bordering the Tibetan plateau, which meant clearer skies and no leeches. After walking from Kathmandu through the Gorkha region of Nepal, the party arrived at the village of Khudi in the Marsyangdi Valley. By the end of the 20th century thousands of trekkers would be walking through there every year as they began the 17 day Annapurna Circuit trek, around the whole of the Annapurna massif in a northern arc. I walked it myself in 2006, and it's a beautiful trek, containing a great diversity of scenery as it passes through different climate zones. Originally starting at only 700m in Besisahar, it rises to 5416m at its high point, the Thorong La pass, where it crosses over the Marsyangdi watershed into the Kali Gandaki Valley and descends gently back down along a vast flood plain. Its days as a single long-distance trek look to be numbered now roads have been built up both of the main valleys, though guides and operators are still finding variations to trek. It's strange to think that barely half a century ago Tilman's party were among the first westerners to travel there.
As he had in Langtang, Tilman was scouting for a suitable mountain to climb. And again he started by aiming high and reducing his ambitions as the expedition went on. The first decent mountain they saw was Boudha, an easy 6672m snow peak at the southern end of the Manaslu range, but they dismissed it after seeing 7893m Himalchuli just beyond. Four months later and still summitless, they regretted this oversight.
Trekkers on the Marsyangdi section of the Annapurna Circuit often find the trail diverted around a landslide – I remember having a three hour diversion up a rough grassy hillside when I walked it – and it was no different for Tilman.
"We found we were cut off … by a great ugly gash in the hillside scored by a landslide. To cross in safety, while boulders and debris were still slithering down, we had to climb high, thus prolonging an already long march."
The gorge narrowed and at times the trail was hewn into a rock face. More alarmingly some parts could only be crossed by walking along parris, wooden galleries strung along the cliff face. Tilman wasn't a fan and noted:
"When the river was low many of these cat-walks could be avoided by a little boulder-hopping in the river bed."
But it was clear the peasant folk of the Marsyangdi Valley didn't judge Tilman and his party suitable material for a cat-walk. He observed the following with obvious chagrin:
"At our appearance a number of Tibetan-like men and boys in a variety of queer hats burst into astonished laughter."
I remember having a similar experience in 2008. I sat on the roof terrace of a teahouse in Manang enjoying a relaxing glass of Tuborg beer, when an elderly Manangi with a creased face walked out of a doorway, looked at me and burst into hysterical laughter before turning round and walking back in again. I felt my face to see if my idiot companions had stuck a label on it with a drawing of a cock and balls or anything similar, but never did resolve the mystery of why I looked so funny. Luckily it doesn't happen to me back home in London or maybe it's time to join a circus.
Like the Sherpas, the Manangis are traders who for centuries have travelled far afield, sometimes as far as Delhi, Rangoon and even Singapore. Tilman noticed they were a bit more worldly-wise than the people he encountered in Langtang. Some wore wristwatches and army boots without laces, and he was astonished when, "a man whom we attempted to photograph retorted by whipping out a camera himself."
As a mountaineering expedition Tilman's Annapurna exploration wasn't a success, particularly compared with a French expedition in the area at exactly the same time. Led by Maurice Herzog the French succeeded in making the first ever ascent of an 8000m peak when they rushed Annapurna after a hasty reconnaissance. Tilman was past his prime and he knew it. Incredible as it may seem he may also have been falling out of love with the Himalayas, and he did not return there after 1950. He had a brief look at the northwest approach to 8163m Manaslu but concluded it was too great a mountain to pit an untried party against. Next they proceeded up the Marsyangdi Valley towards Manang and attempted to climb 7525m Annapurna IV. They made a decent fist of it, establishing a high camp at 6800m on the summit ridge, and made three attempts to reach the summit on successive days. The first two were driven back by bad weather, and by the third all of them except Packard were suffering from exhaustion to some degree. One by one they turned back, and when Evans quit at 7250m Packard had run out of partners and decided not to continue alone.
For Tilman it was a sobering experience as the realisation began to dawn on him he was no longer the climber he had once been. He broke two ice axes on the way up and complained of suffering from, "mountaineer's foot – reluctance to put one in front of the other." When it was his time to turn around he looked across at the fishtail of Machapuchare and decided it was making a two-fingered gesture at him. He must have thought even the mountain gods were against them. But they had one further die to cast. From their high camp they had seen the rounded 6981m summit of Kangguru across the Nar Phu Valley to the north and thought it might "go" (to use the language of the day).
After an orderly descent from Annapurna IV they set off immediately, crossing the 5300m Kang La pass above the village of Humde on the Annapurna Circuit, where Manang's airport is now located. I crossed this pass myself in 2008 coming the other way, and if Tilman was frustrated by his climbing, he couldn't possibly have been disappointed with the trekking. A little below the Kang La on its south side is what must be one of the finest views in the Himalayas, with the whole sweep of the Annapurna massif laid out across the Marsyangdi Valley, from Annapurna II in the east all the way to Tilicho Peak in the far west. In the space of a little over 30km is an unbroken chain of mountains containing six peaks over 7000m and one, Annapurna I, just exceeding 8000, and from the Kang La they all appear in breathtaking touching distance.
While a few wags in the Annapurna region have opened up teahouses with the name Kangaroo Hotel, the mountain Tilman hoped to climb has nothing to do with bouncing Antipodean marsupials. In Nepali the name Kangguru simply means mountain teacher, and if it was to teach the great Himalayan explorer anything it should have been to start using crampons. These days no mountaineer would ever dream of climbing a snow peak without strapping spiked plates to the soles of their boots to make walking up slippery ice a good deal easier. But Tilman came from an era when it was considered normal to climb a steep snow slope by cutting steps to walk up. The previous year in Langtang he had given up on Ganchenpo because he realised the amount of step cutting would be too great. Had he been wearing crampons on his boots, he could simply have walked up the slope using his ice axe to steady himself or arrest in the event of a fall. On Kangguru they established a camp at 6500m, but took four hours to climb the last 100m, mainly because of step cutting. Again Tilman was forced to concede the task was beyond him, but Packard and Jones both had crampons and were able to continue, although they only climbed another 100m before admitting defeat. Tilman's reluctance to use crampons seems extraordinary given the mountains he gave up on from step cutting. It's rather like setting off to cross the Atlantic in his later career as a mariner, equipped with a pair of oars but no sail.
They failed on yet another summit, but Tilman still had plenty of trekking ahead of him. From Kangguru he set off north to the village of Phu, an extraordinary community of mediaeval houses hacked into a large rock protruding from a desert valley. This part of Nepal lies across the main Himalayan divide and borders the desert plateau of Tibet to the north. Despite the arid terrain, when I went there in 2008 I found a landscape of extraordinary colours, with grey sandy rock interspersed with green juniper bushes and trees. Red leaves of berberis and dog rose bushes added a splash of brightness, while blue sky crammed with puffy white clouds crowned high snow-capped mountains.
Tilman found some local guides to take him across a remote pass, the Mustang La, which even today few people have crossed. This took him into the hidden kingdom of Mustang, a land of Buddhist horse traders north of the Annapurna Circuit which is now being touched more frequently by tourism. He travelled south to Muktinath at the foot of the Thorong La, where he found a total contrast. Muktinath is a famous Buddhist and Hindu pilgrimage site, which now has a helipad to bring in rich Indian pilgrims by chopper. Even by 1950 it had seen many visitors. In addition to the pilgrims, Emlyn Jones had already been there, as well as two members of the French Annapurna expedition. He crossed the Thorong La and returned to Kathmandu down the Marsyangdi Valley, stopping off on the way to injure himself beneath the Larkya La pass trying to gain access to one final mountain, Himlung. By the end of it all Tilman admitted they would "depart for home, poor in achievement but rich … in memories and in experience". It's a motto every mountaineer should adopt.
Tilman was 52 years old and almost finished with the Himalayas, but not quite. Next time – Everest.
To receive email notifications of my blog posts about mountains and occasional info about new releases, join my mailing list and get a free ebook.