It's a small world indeed. Two days ago I was sitting on the tarmac at London's Heathrow Airport, wondering if my flight was ever going to take off. The plane had already taxied down the runway in a howling blizzard while those of us inside it looked out of the window with mixed emotions.
"We're not really going to take off in these conditions," I thought to myself, yet at the same time I was keeping my fingers crossed that we would. If this was to be the start of another week of heavy snow then I knew flights would be cancelled and the airport might be closed for several days. I would be spending my Christmas in the UK after all.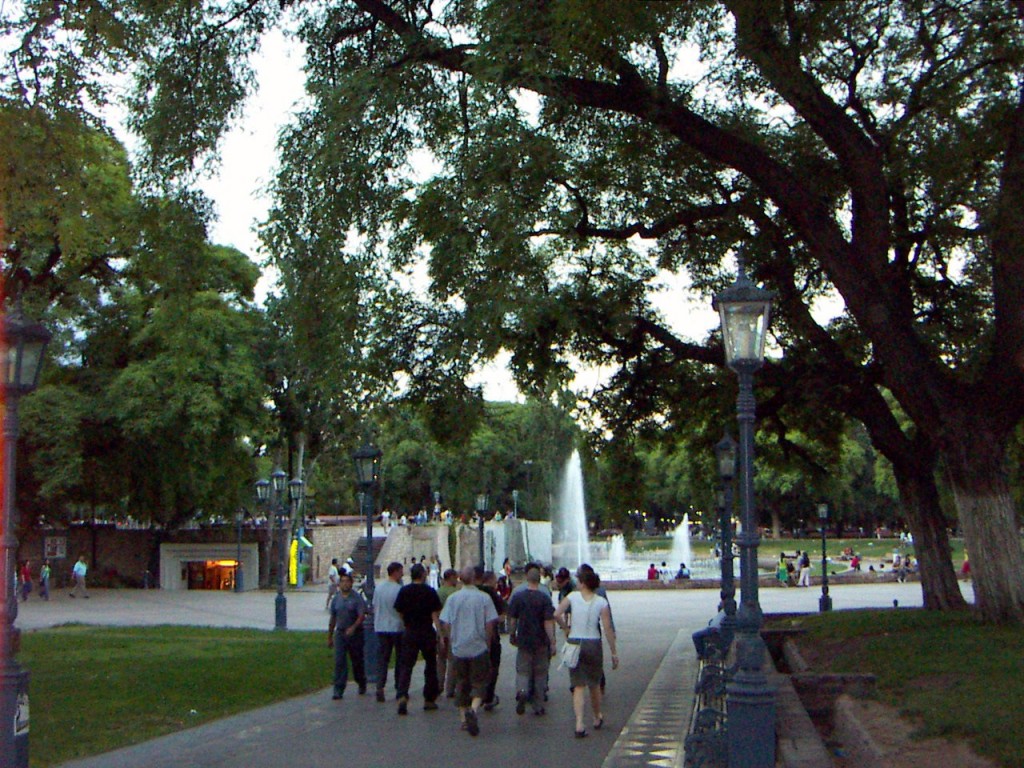 My heart sank, but it came as no surprise to me when the pilot announced that we were turning back so that the wings of the plane could be de-iced. There followed an anxious hour while we remained in our seats wondering if our holiday was to be ended before it began. Then, miraculously it seemed, the sun appeared and we seized our moment. The aircraft moved and we were off. A small window of opportunity it seemed certain, before the snow started in earnest and leaving the UK by air became impossible.
Two days later, here I am sitting in an internet cafe on the other side of the world. Leafy, tree-lined Mendoza, in the heart of the Argentinian wine-growing region, couldn't be more different than London at the moment. It's a beautiful climate here, the sun is shining brightly, and in a couple of hours time we'll be heading into the mountains.
Of course, not everything is perfect, for it never is. I've just learned that England have been thrashed as soundly in the 3rd Ashes test in Perth as we beat Australia in the last one at Adelaide. And I've also had to stomach the news that climbing permits for Aconcagua have recently trebled in price from around $250 to $750 USD. Having come all this way, however, there's not a lot I can do about it but bite the bullet and fork out for it.
This is something of a shock, though my reactions are not wholly negative. At best this could signal a desire by the national park authorities to limit the number of climbers visiting this fragile environment. The fact is glaring that, like Everest, too many people are coming to Aconcagua nowadays, when they could be going elsewhere. There are plenty of other beautiful mountains in this area, but because it happens to be the highest on the continent it seems to be the only mountain most people are interested in climbing. An illustration of this is that my expedition to Ojos del Salado in Chile, the mountain that I had intended to climb this Christmas, fell through because I was the only person booked onto it. By contrast the tour operator that I'm using, Aventuras Patagonicas, has so many clients booked onto their Aconcagua expedition that they've decided to split us into two groups.
I'm happy enough about the outcome so far, though. It's a good move on their part, as many expedition companies would simply have lumped everyone into one big group, to the detriment of everyone's enjoyment. Now we have a friendlier, more manageable group size of just eight clients. We're a very international team: English, Welsh, Irish, French, German, Canadian, as well as our Argentine guides and Peruvian leader Augusto Ortega, who I'm told holds the world record for successful ascents of Aconcagua, having climbed the mountain an incredible 56 times.
Our plan is to approach the mountain along the quieter Vacas and Relinchos valleys and depending on circumstances attempt a technical route up the Polish Glacier. Failing that we'll be traversing round the mountain to join the Normal Route at Independencia, a route commonly known as the False Polish Glacier. These circumstances include the condition of the glacier, weather on summit day, and also an assessment of the technical skills of the group, and whether our guides think we have a realistic chance of ascending by the Polish Glacier route. I have to say that on first glance, as a team we do seem to be a bit short of both technical and high altitude experience, and it wouldn't surprise me if our plans do change. I'm OK with this, as it's one of the things you have to be prepared for on Aconcagua if you choose to climb it with a commercial group. I would also be a bit gutted if we get halfway up the Polish Glacier then end up having to turn back if some of the team is struggling, when we could easily have just walked up to the summit from the other side.
Whichever route we end up attempting, our attention is to traverse the mountain and walk out along the Horcones valley, a trail I'm familiar with from my attempt on Aconcagua via the technically straightforward Normal Route five years ago.
Either way, I'd rather be here rather than in London right now. We can expect high winds and cold temperatures, as low as -20C on summit day, but then again, it was that cold in Yorkshire a couple of weeks ago.
To receive email notifications of my blog posts about mountains and occasional info about new releases, join my mailing list and get a free ebook.