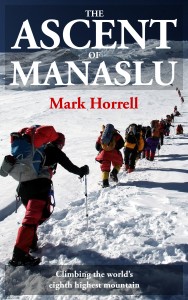 ISBN: 9781301292530 | ASIN: B007L88IQW

Goodreads | Buy this book | Praise from readers
About this book
The mountain gods were very protective of Manaslu, a huge two-pronged peak in the Nepal Himalaya, and the eighth-highest mountain in the world. When a Japanese team tried to climb it in the 1950s, the gods sent an avalanche in their wake which destroyed a nearby monastery and set the local population against them. They returned the following year, but were met with sticks and stones and made to undergo what in schoolboy parlance is known as a de-bagging.
While I've never returned trouserless from an expedition and intended to keep that record, I was determined to give the mountain a go, and set out to climb it with regular climbing partners Mark Dickson and Ian Cartwright in Autumn 2011.
A more luckless trio of wannabe mountaineers would be hard to find. Between us we had made no fewer than eight attempts to climb an 8000 metre peak without success, and I was on my fourth attempt alone. Would it be any different this time? And perhaps less importantly, would we keep our trousers? This is the story of our climb as part of a commercial expedition team.
Buy this book
Praise from readers
"This is my second of Mark's books, and I loved it. For those of us who would love to experience this life it really tells how it is – the dangers, the frustration, the disappointments – and the exhilaration if everything conspires for the good and it all comes together."
"Fantastic story, I felt as if I was one of the team."
"I have now read several of Mark's books and have enjoyed all of them. His style of writing is relaxed yet informative and entertaining. You almost feel that you've been on the expedition with him."
"I loved every minute of this book. He has a way of writing that makes the reader really feel like they are a part of the expedition. Buy it! I can't believe it was only .99 cents. It was the best dollar I've spent in a long time."
"For a lover of mountains and adventure these are not to be missed. Every one has been worth it."
"Great value and a really addictive read that tells it as it is without the gloss that often comes with this type of book."
"He writes in a lively style quite unspoiled by any of the 'fine writing' and philosophical pretensions which mar many other climbing books by better-known authors."
"You have the impression that he is telling it like it is – sometimes scary, sometimes funny, sometimes amazing, and with a refreshing lack of vanity."
"Great book ! Well worth the time to read and will keep you engaged!"
"He is the best mountain writer without doubt. The humility he feels as he leaves base camp matches perfectly with the excitement he feels. He brings the hauntingly beautiful Himalayas into your home and every page is fascinating"
"Maybe I'm turning into a Mark Horrell junkie, but I think The Ascent of Manaslu right up there with the best of mountaineering."
"I read everything he writes … and enjoy him a great deal."
"Cracking expedition account. I've read a few of Mark's books and they never disappoint me … he doesn't try to make himself sound like a superhero, he just shares a realistic account of how things are."
"I love to read about mountaineering, and I enjoyed the casual style. "
"I've read a lot of mountain climbing stories and enjoyed this one a lot … the author seems like a kind, decent guy who greatly enjoys doing what a lot of us wish we could do."
"This is a great book, enjoyable all the way through and easy to read. Well done Mark and keep them coming! "
"Good read, I had trouble putting it down. Recommended."
"Thank you, Mark. Like all your other diaries a special privilege to climb with you … Footsteps on the Mountain series? Always a brilliant read."