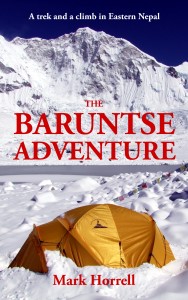 ISBN: 9781301133796 | ASIN: B015H5RH4O
Goodreads | Buy this book | Praise from readers
See all books in the Footsteps on the Mountain Travel Diaries series
About this book
A short distance south of Everest rises a giant 7,129m whale-back of a mountain called Baruntse, accessed to the south by a vast snow plateau guarded on each side by 6,000m passes.
I had just failed on my third attempt to climb an 8,000m peak, Cho Oyu in Tibet, and returned to Nepal for the consolation of climbing a smaller peak with my friend Mark Dickson.
One of the beauties of climbing in the Himalayas is that there are great adventures to be had just getting to the foot of a mountain. Setting out with a small army of Nepalese staff, we trekked for a month across jungle, moorland, hill, valley and alpine desert, enduring tropical heat, porter strikes, leeches, rain storms and peculiar lunches.
We hoped to cross both high passes and climb Baruntse, but as we arrived on its slopes we discovered all was not well, so we camped beside an alpine lake, and waited patiently for the mountain gods to grant us our chance at the summit.
(Previously published as The Tomb of Chewang Nima)
Buy this book
Praise from readers
"This is a great book. Buy it."
"Mark Horrell is the total package: a talented mountain climber, an evocative writer, and a skilled photographer. All of those qualities combine to make The Tomb of Chewang Nima … a tremendously engaging adventure story."
"His interplay with his climbing partner is hilarious."
"Filled with insights and anecdotes of daily life on the trail not commonly encountered in climbing books, The Tomb of Chewang Nima will enchant the novice and experienced alike."
"Excellent read and extremely good value for money, thoroughly recommended! I have read all the author's diaries so far and every one has whet my appetite for some high altitude trekking!"
"I'd recommend Mark Horrell's books for anyone planning a mountaineering expedition who wants to get a sense of what it's really like – especially the rhythm of travel, climbing and hanging around base camp."
"Yet another class piece of writing from Mark. I've enjoyed every book so far and I'm slowly working my way through the rest."
"It has all his trademarks of lively and engaging writing, honesty and humour, as well as dealing with the more serious aspects."
"Mark writes well and I enjoy his observations of those he is with and those he meets, both natives of the lands and those who climb."
"Mark once again takes you along on one of his many trips to Nepal, and with his down-to-earth style and acerbic wit, he makes it a fun journey … The photos he includes are always beautiful, and they leave you wanting more. "