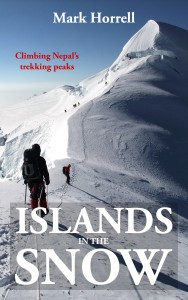 ISBN: 9781301294824 | ASIN: B0061BT9XG

Goodreads | Buy this book | Praise from readers
See all books in the Footsteps on the Mountain Travel Diaries series
About this book
In the summer of 2009, I arranged to go on an expedition to Gasherbrum, an 8000m mountain in Pakistan, with one of my mountaineering friends, Mark Dickson. As neither of us had climbed an 8000m peak before (although Mark had had several attempts), some serious training was required, and we both agreed the best way to prepare for an expedition was by going on another slightly easier one.
When Mark suggested we do a circular route in the Khumbu region of Nepal which involved climbing two trekking peaks – Mera Peak and Island Peak – and a crossing of the difficult Amphu Labtse pass, I immediately agreed. While I had climbed Mera in 2004, and Mark had climbed Island in 2005, neither of us had done both or crossed the Amphu Labtse, but we both wanted to. After the climbs, it would also be a good opportunity for me to go off and do some trekking of the Khumbu region by myself, as it's an area I'd never really explored.
In addition, I felt I still had some unfinished business on Mera. Like everyone else who ever climbs the mountain, I had climbed the central summit Mera Central, although most maps of the region mark the northern summit Mera North as slightly higher. Had I climbed the true summit of Mera Peak? The only way to find out was by going back there ….
Buy this book
Praise from readers
"I particularly like this author's relaxed style because you feel that you are reading about an expedition you went on. When you are trapped in the office or on the train, this gives you your much needed mountain-fix."
"I really enjoyed this book. It gives what feels like a realistic portrayal of walking in this wonderful landscape, with just enough of the realities of a trek to ground you. His touches of humour lighten it too. More power to this inspiring writer's elbow. I have already started on my next book by him."
"I've become quite addicted to the Footsteps on the Mountain diaries. This is the fourth or fifth that I've read and it's written with a comfortable, easy style."
"It was a great read and highly recommended for anyone thinking of going to the area."
"I enjoyed this book.I recommend it for anyone contemplating a trekking trip to Nepal's trekking peaks.The author really makes each day interesting and tells it like it is … The author is to be commended for making this a 'good read'."
"Nice job, Mark Horrell! Entertaining, and brought back cool memories!"
"A well written diary, absorbing throughout."
"Loved this little book. Not only did it bring back memories of my last time in Nepal it also gave me an insight into my next trip out there to climb Mera Peak."
"I found his honest thoughts about customs, beliefs and the actions of others refreshing."
"Mark did a fantastic job of writing about his experience on Mera's summits and Island Peak. Very enjoyable."
"Another triumph for Mark Horrell. A fascinating insight into the tantalizing Himalayas that Mark obviously loves so much … His descriptions of these majestic mountains are always filled with a profound respect, and every page is truly spellbinding."
"This book is the next best thing to climbing the mountains yourself. I can recommend all in the Footsteps on the Mountain series."
"A great read, which had me looking out my trekking map from Nepal, revisiting some fond memories of an amazing place … Well written – a refreshingly honest account … I heartily recommend this book."
"So far, everything I have read by Mark Horrell has been a winner. An interesting writer with an equally interesting style."
"Another good read from Mark. He certainly likes his mountains and is a good communicator, understood by even people who are not outdoor enthusiasts. "