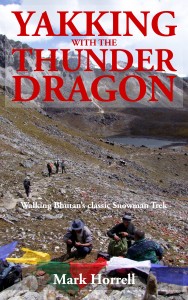 ISBN: 9781301007363
Goodreads | Buy this book | Praise from readers
See all books in the Footsteps on the Mountain Travel Diaries series
About this book
Imagine a land of no plastic bags, where smoking is illegal in every square corner, and people chew betel nuts to get their kicks instead, which leave them with comical red tongues that give the game away. Suppose the economic welfare of this land is measured not in Gross Domestic Product, but a commodity known as Gross National Happiness, and the state religion preaches non-violence, resulting in a surfeit of stray dogs that nobody has the heart to put down. Imagine a ruling elite so benevolent that the king stands down every 20 years to give his son a chance to have a go at reigning.
Supposing this remarkable land really existed, and that it happened to contain some of the most dramatic mountain landscapes in the world. I'd just have to go there to climb some mountains. Well,amazingly, it does – it's called Bhutan, and it nestles at the eastern end of the Himalayas, between the jungles of India and the desert plateaus of Tibet.
There are just two small problems with this mountain paradise. You're not allowed to climb any mountains because the inhabitants respect the mountain deities which live at the top of them, so you have to go trekking instead. And secondly, the country's yak population is among the most dangerous in the world, making trekking a hazardous business.
I decided to travel there and brave its feisty yaks. I was fortunate enough to have a group of Australians as my travelling companions just a couple of weeks after England had won back The Ashes, which was an added bonus. This is the story of my journey into this magical kingdom …
Buy this book
Praise from readers
"I am a fan of Mark's travel writing. Whilst enduring my daily commute in London I can escape into the mountains with these books."
"Genial diaries pitched at adventurers-in-the-know."
"Makes me want to get out of my armchair and start trekking. Walking boots waiting! Excellent quick read."
"Written in his usual style that I find very entertaining … a great read. I would imagine he would be a very entertaining travel companion on a trip."