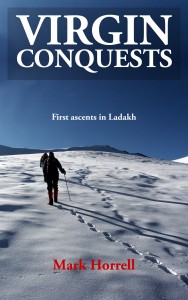 ISBN: 9781301854851
Goodreads | Buy this book | Praise from readers
See all books in the Footsteps on the Mountain Travel Diaries series
About this book
Fighting fit and fully acclimatised after a successful ascent of Muztag Ata in western China, I made a return to Ladakh in Northern India, where I had climbed a trekking peak called Stok Kangri two years earlier.
After a few days' rest in the relaxing town of Leh, near the banks of the Indus and surrounded by mountains, I set off with a new group of companions across the Khardung La, reputedly the highest motorable road in the world, and spent two weeks trekking in a remote valley near the Pakistan border.
My objective was to explore the valley, where dozens of 5000 and 6000 metre mountains remain unclimbed, and maybe get to the top of some. Ladakh is a dry desert region on the edge of the Tibetan plateau; a place with very little precipitation. It snowed for days, and then snowed some more. But would it snow enough to stop me conquering a few virgin peaks?
Buy this book
Praise from readers
"It follows the winning format from the author and was both funny as well as informative."
"Good value for money and well written in a chatty style."
"A real contrast to most of the mountaineering books I read … a gentle analysis of guided treks and the interactions between guides and clients, local people and even their dogs.
I'll be looking out for more in the Footsteps series."
"Another first class read from Mark Horrell … he tells his story with humour and excitement. I always feel I am walking alongside him … He always, always leaves you wanting more."
"This short piece is a very quick read, and an enjoyable one. The photos are, as always, quite beautiful and left me wishing for more … I'm really glad that Mark Horrell has taken the time to keep these diaries about all of his adventures."
"I just enjoy all of Mark Horrell's fascinating adventures. I get to be the armchair traveller while he explores the roads less travelled trekking across territory and sharing the experiences in a clear, easy to read and comfortable style."