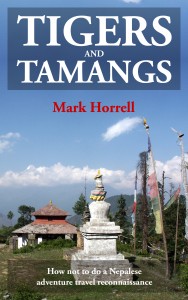 ISBN: 9781301902156
Goodreads | Buy this book | Praise from readers
See all books in the Footsteps on the Mountain Travel Diaries series
About this book
"We're going to spend a few weeks exploring some remote parts of Nepal," said my friend Tina when I met her at a restaurant in Kathmandu. "Why don't you join us?"
I'd just finished my job the previous week and didn't have anything better to do with my time, so when Tina invited me to join her and partner Siling as they went on a reconnaissance to obscure parts of Nepal gathering data for her trekking company The Responsible Travellers, I didn't need very long to think about it.
When I returned to Kathmandu after a month in Tibet, we set out for the west of Nepal to look for wildlife in Bardia National Park, and a slightly bizarre set of escapades involving the Nepalese army, a tame rhino, and a surreal rafting trip ensued, all the while carrying out a desperate crusade to see a tiger.
After returning to Kathmandu via Lumbini, the birthplace of the Buddha, I set off trekking with Siling and his friend Maila in the Langtang and Helambu regions north of Kathmandu. The mountain boys set off at a brisk pace, determined to test my fitness after my expedition to Everest. But could I keep up with them?
Buy this book
Praise from readers
"The author superbly describes his treks through some beautiful parts of the world. A nice simple easy read. Your Kindle deserves this."
"I have enjoyed each of Mark's books that I've read. They are great value for money … I really enjoy his style of writing as you join him on one of his many expeditions to far flung corners of the world. "
"A real adventure. The author has a wonderful way with words and takes the reader along in an easy manner. "
"No moralising, no bragging … I have recently spent time in Nepal and found this convincing, interesting and fun to read. Recommended for anyone planning a trip."
"Another well written and informative account of Mark Horrell's adventures in Nepal. He writes with an assured and accurate style, highly recommended."
"Horrell finds himself exploring a remote area of Nepal and does so with a witty dry humor."