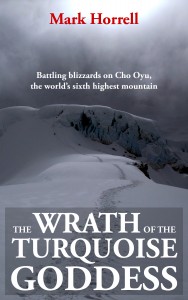 ISBN: 9781301802159 | ASIN: B006F342QE

Goodreads | Buy this book | Praise from readers
See all books in the Footsteps on the Mountain Travel Diaries series
About this book
In the Autumn of 2010, I set off to Tibet with a dozen other hopeful mountaineers, including an Olympic rowing champion and a former Welsh rugby international, to climb 8201m Cho Oyu, the sixth highest mountain in the world, whose name translates as the Turquoise Goddess in Tibetan.
Cho Oyu is considered to be the simplest and safest 8000 metre peak in the world, but it wasn't living up to its reputation. Battered by blizzards for weeks, climbers were forced to wait patiently at base camp until the weather suddenly turned and perfect blue skies emerged.
Hundreds of climbers were ready to ascend, but the Turquoise Goddess had become a death trap, with powder-snow slopes ripe for avalanche. This diary tells the story of how events unfolded on what was to prove one of the most extraordinary climbing seasons Cho Oyu has seen.
Buy this book
Praise from readers
"Another great read in the 'Footsteps' series. I am loving them … I get to travel through the world's most beautiful landscapes thanks to Mark's writing skills."
"Mark's dry, self-deprecating humor and entertainingly realistic anecdotes will make the mountains and those who seek to tame them come alive for you in living color, warts and all. I can't wait to read the rest of his work."
"Nobody writes in such beautiful detail about the scenery and vistas as Mark Horrell, and always so lighthearted about his fellow companions."
"He is a great story teller and I can imagine I am with him on his travels. Love all his books."
"It is almost like the author is sitting and talking with you about his travels. Entertaining and well worth the price."
"Very well written. I had to get blankets while reading because I was so 'there'. Great storytelling."
"You will get his style and just plain enjoy his descriptions of some distant destination … I would love to be have been able to live the life he has!"
"Fun observation of surroundings and others, and the human interaction."
"Once again, I found Mark Horrell to be funny, down to earth, and refreshingly honest in his descriptions of places and people seen, characters dealt with, and craziness endured. He is becoming one of my favorites now, and I always leave one journey looking forward to the next. "
"A short review. Brilliant."