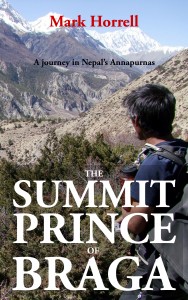 ISBN: 9781301182428
Goodreads | Buy this book | Praise from readers
See all books in the Footsteps on the Mountain Travel Diaries series
About this book
The Annapurna Circuit was enjoying a record year, with more tourists than ever before. In the big tourist lodges in Manang, trekkers were having to sleep on the floor.
Slightly to the north of the Marsyangdi Valley, just off the bustling tourist trail, a narrow gorge guarded by sheer cliffs hundreds of feet high leads to a hidden valley high on the Tibetan plateau, a region remote enough for Khampa guerillas to use it as a hideout when they were fighting Chinese Communists in the 1970s.
This is the Naar Phu valley, a land of mediaeval villages hewn into rock, isolated Buddhist monasteries and snow-capped mountains. It's an area once closed to tourists, but now open to explore for those with restricted permits.
It's a place of surprising colour which I felt privileged to explore, but it wasn't the only highlight of a remarkable trek, which saw one of the best views the Himalayas have to offer, a knife-edge summit, and the bleak and lonely Tilicho Lake, reputedly the highest lake in the world.
Oh, and some crazy horse racing. There were so many highlights; all I needed was someone to show me a way through it all.
Buy this book
Praise from readers
"At times humorous and at others like a geography and history lesson this is a must read book for your Kindle at a great price."
"Another fantastic book from Mark Horrell. He never lets you down with his well researched and exciting experiences … You could truly be walking alongside him and seeing all the fascinating and spellbinding things he sees."
"The author's love for the mountains shines through."
"Witty and self-effacing, Horrell captures the reader and drags you along for the ride. A ride you should enjoy."
"This one was a quickie but just as much fun as the longer trips. Once again, the inclusion of photos is a huge plus, since they give you a little taste of what he and his friends saw."