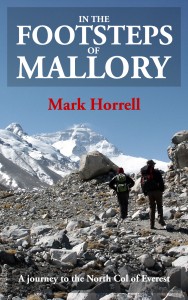 ISBN: 9781301108510 | ASIN: B00642C24A

Goodreads | Buy this book | Praise from readers
See all books in the Footsteps on the Mountain Travel Diaries series
About this book
"We saw the great mountain standing up from its base at the end of [the valley], a more glorious sight than I can attempt to describe … the most steep ridges and appalling precipices that I have ever seen … I can't tell you how it possesses me, and what a prospect it is."
These are the words of the pioneering British mountaineer George Mallory when he first set eyes on Everest as he trekked up the Rongbuk Valley in 1921. He failed to get very high up the mountain that year, but discovered the route up to the North Col which expeditions to the summit continue to use to this day.
In April 2007, I had just left work and was setting off on what was to prove an extensive caper around the mountainous regions of Central Asia. I wanted to see Everest from its Tibetan base camp, one of the most famous mountain views in the world, but I also wanted to climb a little higher up the mountain and have a sense of what it might have been like for Mallory.
The expedition to over 7000m on the North Col of Everest, aiming to climb a separate 7000m summit called Lhakpa Ri in the process, was a new experience for me, for I'd never been that high in my life before.
The ascent to the North Col was entertaining enough and a real highlight, but I was also blessed with some interesting travelling companions who provided a number of comic interludes …
Buy this book
Praise from readers
"Fun short Everest tale"
"Excellent series of books, a travelogue of wanderings through the Himalayas which is amusing, interesting and inspiring, especially for anyone with a dream of going there themselves."
"I have now read five of Mr Horrell's books and each one is a delight. I am not a climber but I love his easy British humorous style. Read on!"
"Mark Horrell writes in a refreshing down to earth way. He evokes the trials & elations of his trips, making you feel you are with him. A bit of a classic diarist and travel writer of the old school. Highly recommended."
"Really enjoyed this as my first Kindle book. Well written and concise with some nice photos."
"Mark Horrell writes in a refreshing down to earth way. He evokes the trials and elations of his trips, making you feel you are with him. A bit of a classic diarist/travel writer of the old school. Highly recommended."
"Well researched and another spellbinding book about the beautiful and tantalizing Everest … Mark's humour and humility always shines through."
"I do really appreciate the level of nitty gritty detail in these memoirs … This is something that most mountaineering books skip … Thanks, Mark, for clearing up these mysteries!"
"Great read and good insight into what happens up there."
"Another funny, honest tale of Everest by a great writer. Looking forward to reading more of his travel diaries soon."
"He seems like the kind of guy you'd want to have a beer with and just listen to his mountain tales – he doesn't put on airs, he doesn't try to whitewash the nastier parts of these trips … and he definitely gives a very realistic feeling of what it would be like to go on one of these treks."