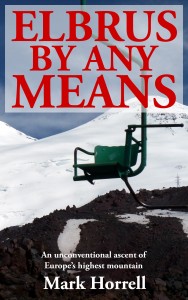 ISBN: 9781301665822
Goodreads | Buy this book | Praise from readers
See all books in the Footsteps on the Mountain Travel Diaries series
About this book
The British mountaineer Wilfrid Noyce once said the sport of mountaineering has no rules and only one absolutely general principle: that of "getting up".
He probably wasn't thinking of Elbrus when he said this. The highest point in Europe is a curiously incongruous mountain, a dormant volcano standing on the northern fringes of the Caucasus Mountains. Its twin summits tower over the surrounding peaks by more than 1000 metres, but while the jagged rocky summits, narrow ridges and steep hanging glaciers of the main Caucasus Range present a tough climb, Elbrus is a gentler proposition.
I was to find out precisely how gentle when I boarded a cable car at the village of Azau, a ski resort in the Baksan Valley on the southern side of Elbrus, the first of many forms of transport he was to take across both summits as he traversed the mountain to its wilder northern side.
This is the humorous account of an unusual ascent of Europe's highest mountain, and will appeal to anyone with a taste for adventure (and a disregard for cheating).
Buy this book
Praise from readers
"I have read all of Mark's travel diaries now and I have enjoyed all of them. This one was just as good as the rest."
"Thanks again Mark, another good read."
"I enjoy Mark Horrell's diaries of his climbs. They are entertaining."