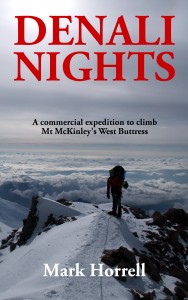 ISBN: 9781310404306 | ASIN: B00MNSOUJO
Goodreads | Buy this book | Praise from readers
See all books in the Footsteps on the Mountain Travel Diaries series
About this book
The sign behind the desk in the National Park ranger station in Talkeetna, the gateway town for Denali, North America's highest mountain, had some news which could be interpreted one of two ways depending on whether you were a pessimist or an optimist.
79% of climbers had reached the summit that season, and the normal success rate was just 50%. Surely that meant it was a good year to climb Denali?
There had been an unprecedented spell of good weather on the peak known as Mt McKinley, one of the Seven Summits, a peak notorious for its severe conditions and cold temperatures that trapped climbers in storms for days on end. This year people were climbing straight up and reaching the summit without a hitch, and coming back down again days ahead of schedule.
But it would take two weeks of hauling 30kg sledges while carrying 20kg backpacks before our team would be in a position to launch an attack on the summit ourselves, and we knew these statistics evened themselves out eventually.
Would the weather hold, or would we find ourselves fighting to survive in the teeth of a storm?
This is an account of my expedition to climb Denali's West Buttress as part of a commercial team, and contains lots of useful advice, like not falling asleep while using a pee bottle, how to avoid bonking on the trail, and how to make a sledge travel in the right direction by shouting at it.
Buy this book
Praise from readers
"This should be a part of any climber's Denali prep. Also a great read for those new to expedition style climbs, who might be unaware of the joys that await them"
"Mark always puts together a good mountaineering story which is underpinned with humour. An excellent read just like any of his blogs."
"As usual Mark's books are beautifully written, very humorous and you feel like you are there experiencing the mountain. Having done some mountain climbing myself I can understand the hard work and suffering involved which is worth it for the beauty of the mountains."
"This book manages to get across the joys in climbing mountains … I have no qualms about recommending this book to anyone with a love of the outdoors. Enjoy."
"I've enjoyed many of Mark's books, and I think this is one of his best – as an armchair climber, I really felt I was getting the full experience, and as usual Mark's writing manages to be both lively and down-to-earth. Strongly recommended!"